Aaron Barnett's French restaurant St. Jack, is now starting preview dinners.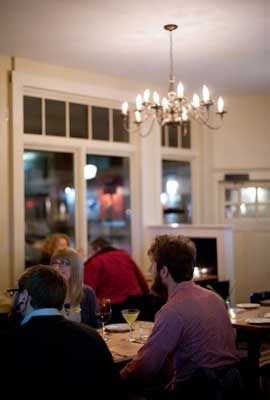 From a secret sign-up form, "Chef Aaron Barnett's unique tasting menus will feature rustic dishes from the countryside of Lyon, the heart and soul of French cooking. Dishes on offer will include such delicacies as Fried Rabbit with Celeriac Remoulade, Honey, and Lemon; Whole Roasted Trout with Warm Lentil Salad and Browned Butter Vinaigrette; and Sweetbreads with Cauliflower Puree, Bacon, Leek & Caper Vinaigrette…"
Aaron has a pretty extensive interest in modern French cooking, combining that cuisine with influences from many other areas. As far as I know, his last chef position was at 23Hoyt, just before their change in direction towards "gastropub" cuisine. He'll be joined by pastry chef Alissa Rozos most recently from Bluehour (which seems to be hemorrhaging employees). The opening is scheduled for December 20th, 2010.
St. Jack is another restaurant in the ChefStable development group, who has been working with Foster Burger, Grüner and Ping.
The restaurant is located at 2633 SE 21st Ave in Portland. It has a capacity of about 50, and according to the liquor license, will offer sidewalk dining during the warmer months. We look forward to bringing you a review!