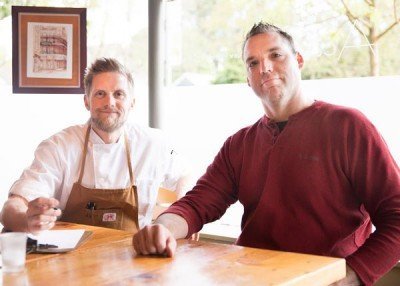 Owner Adam Higgs of the popular Acadia Bistro on NE Fremont, has sold the business. It will be taken over as of August 1st, by Seamus Foran, who has been his sous chef for the past eight years.
Here is the official press release:
May 6, 2015 – Portland, OR – After a decade of cooking some of Portland's finest, most soulful New Orleans cuisine, Acadia Bistro chef/owner Adam Higgs is ready to hand over the restaurant to his next-in-command and start a new venture.  Seamus Foran, who has been by chef Higgs' side in the kitchen for the past eight years, will be taking ownership of Acadia as of August 1st.  Until that time, Higgs will be managing the front of the house with Foran assuming the chef de cuisine spot.

A native Portlander, Seamus Foran has spent much of his adult life in kitchens, earning his stripes as a dishwasher at O'Connor's in Multnomah Village.  Prior to Acadia, Foran cooked at Tucci Ristorante in Lake Oswego, until chef Higgs plucked him up and mentored him into his sous chef.  Since then, Foran has been through it all with Higgs – rowdy Mardi Gras celebrations, bustling Portland Dining Months, and most recently conceived and led one of Acadia's most successful pop up dinners, "Hogtoberfest."  Foran's intention is to stay true to the regional Creole and Cajun menu that has been in place since Higgs took ownership in 2004, maybe with a few experiments thrown in now and again, punctuated by his discoveries on last year's research trip to New Orleans.

For his part, Adam Higgs is feeling energized for his new chapter after 25 years behind the stove.  He plans to pursue his longtime love of distilled spirits and is currently scouting locations for a possible distillery.  Foran is already saving space on the bar shelf.

About Acadia

Located in the Sabin/Irvington neighborhood of Portland, Acadia has been serving modern American cuisine rooted in Louisiana food traditions since 2001.  The restaurant uses locally-grown fruits, vegetables and meats, as well as exclusively wild caught seafood from the Gulf coast and Pacific Northwest.  The restaurant is located at 1303 NE Fremont St. in Portland.  For reservations, please call (503) 249-5001.  www.acadiapdx.com.