Note: 1/2016 – This restaurant has been sold, and I am hearing much better things about it. Take this review with a grain of salt.
When I was growing up, my mother used to make jambalaya on a regular basis. It was one of my favorite dishes, and I still make it now and then using her old recipe from the 40's. With fond memories of that dish and New Orleans cuisine in general, I was excited to be reviewing Acadia. Though I hadn't been for several years, the cooking at this little restaurant held good memories and had been on my recommended list for some time.
People frequently ask me what the difference is between Cajun and Creole. While it used to be quite pronounced, the cuisines have blended together so much, it is hard to define it anymore. A quick bit of history will make this clearer.
Acadians are descendants of 300 French immigrants who settled in the Nova Scotia and Prince Edward Island areas of Canada. They arrived in Acadia and made their homes in the area of Port Royal. In 1710, Acadia was passed from France to England, and in 1755 the Acadians were expelled under an act known as Le Grand Derangement (the Great Disturbance). Many of the refugees settled in the French colony of Louisiana, where they became homogenized with other ethnic groups. Creoles, on the other hand, were descendants of early French and Spanish settlers in the Gulf States. The word comes from the Spanish criollo, a "child born in the colony".
These two groups and others left their mark on the cuisine and culture. The Spanish gave Creole food spices and paella, the forefather of jambalaya. African slaves brought "gumbo" and okra, and the French added charcuterie, leading to the famous andouille and other sausages, and bouillabaisse, which also played a part in the creation of gumbo. American Indians added corn, crushed sassafras (also known as filé powder), and bay leaves to the mix. Creole, then, is a mélange of cooking from different cultures around the world.
As you can see, both groups were greatly influenced by their roots, yet in many ways blended with each other, which makes it difficult today to define clear lines of what is Creole and what is Cajun. Though Acadia Restaurant, by name should be Cajun food, the menu is truly a blend of dishes from both cuisines.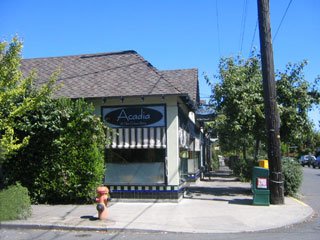 Enough history, let's get on with the review. Acadia is quite pleasant and homey with lots of earth tones, complimentary artwork, and subdued lighting; I'd say they seat about 40. Additional tables are available on the sidewalk out front. The restaurant can be rather intimate on slow nights, though a bit loud on busy nights. The dining room includes a comfortable bar area, where one can drink or have a meal alone, without feeling awkward. All of the staff is quite friendly, and on every occasion, I have felt welcome.
The wine list begins with an omission that drives me crazy: no vineyard designations. These days, wineries may put out quite a few bottlings, some of which are much better than others. Other than that, the list is fine, albeit not terribly exciting. Unfortunately, it is difficult to calculate markup without more information. They have a selection of specialty cocktails including the traditional tourist drink, the hurricane and some martinis that don't seem particularly Southern. I ignored most of them and tried a Pimm's cup which was terribly out of balance with too much cucumber and a bare hint of soda and a sazerac which was overly sweet.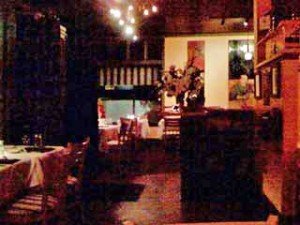 Let's start with some of the better options. They are famous for their New Orleans style barbecue shrimp. You get a large bowl of buttery, peppery broth, ringed by plump head-on shrimp. The shrimp are tender and properly cooked, with crusty French bread on the side for soaking up the leftover sauce. This is a great start, and I'd have no problem making a meal out of them. Next, I tried the pâté, which is accompanied by excellent house pickles, really good Creole mustard, and crisp little toasts. No problems here, a classic dish that was just fine. Oyster shooters are a typical New Orleans tourist dish. I've never quite understood why they are so popular. To me they are more a frat house "look at me, I'm shooting an oyster" than something to be taken seriously. For the most part, you can't taste the bivalve, so what's the point. Anyway, the Acadia version is better than most. Picture a shot glass with a single oyster, a splash of house-infused jalapeno vodka, and a bit of cocktail sauce.
This is where things begin to go downhill. I've tried two of three salads, an uninspired house version of mixed greens in dull vinaigrette with crumbled egg, and an unremarkable Caesar that was a waste of good lettuce. Of the two, I'd go for the house.
This couldn't be a Creole restaurant without seafood gumbo, and though Acadia makes an effort, for my taste, it falls flat. First of all, the dark roux has an odd, off-taste that doesn't belong. While there is slight flavor from a shellfish stock, it was nearly impossible to find shellfish itself. This is gumbo; it should have plenty, yet in two different meals, we found one solitary shrimp, and another time something that looked like a clam. Maybe they are forgetting to stir it before serving, but the lack of seafood aside, the poor roux made the whole dish unacceptable.
Acadia redeems itself somewhat with the cayenne grilled drum fish, though there was no particular spice to the meat. It was properly cooked and the flavors fairly balanced, though as with almost everything else, it was so over salted it was almost like a crust. The same could be said about the shrimp Creola. Though it is nothing special, it has a decent shrimp flavor, and a reasonable tomato sauce served over rice.
At lunch, they serve a étouffée, a Cajun stew of crayfish and vegetables on white rice. The stew is usually cooked over a slow flame in a single pot, or, as the French say, a l'étouffée. In a restaurant, this can lead to problems, in this case, the crawfish was overcooked and mushy. Beyond this flaw, the sauce was so over laden with butter, there was nothing light about it. Add an abundance of salt, and it was another out of balance dish.
I decided I'd get away from seafood, and try something that is the pride of every Cajun restaurant – jambalaya. This version is rather spicy, with large pieces of andouille sausage which are somewhat unusual, because traditionally this sausage is used for seasoning and not added in such large pieces. From the start, this threw off the balance, but it didn't really matter – I had this dish three times, and on each occasion, it was so over salted, it was all I could do to make a polite dent. About the only good thing I can say is the portion size is very large. Overall, this dish was just awful and left my mouth burning from the sodium ($9.95 at lunch).
I decided this over salting must be an aberration, that no restaurant could get away serving something food of this quality, so on another evening, I decided to try their "Cupa – Cupa – Cupa", to get a sample of several of these items again. The three cups consist of more of the seafood gumbo (with the solitary bit of clam), more of the salt encrusted jambalaya, and a cup of red beans and rice, which were a mushy, salty, undistinguished mess. I was stunned and felt lousy for the next 24 hours.
Let's get to the desserts. I've tried three: a bread pudding that I thought was ok, though others at my table felt it was too sweet. Per the menu, it is their "own recipe combining crème brûlée custard and bread pudding, with a white chocolate Frangelico sauce and toasted pecans". I'd say that is a fair description; it really is like custard. They have a mixed berry crisp, which is only crisp in title, the filling flavorful but again a bit too sweet, and the fruit somewhat soggy. Finally, we had "Paula's Gooey Butter Cake", a recipe that starts with box cake mix. Picture a somewhat undercooked yellow cake, with an overly sweet cream cheese layer, sitting in an overly sweet lemon sauce, topped with sweetened whipped cream. Words defy me.
A few words about service. It is gracious, prompt, and the staff generally seem like nice people, though some servers have a problem remembering who ordered what. However, I have a huge issue. At all of my meals at Acadia, I've never finished more than half of what was on my plate, yet have never been asked if everything was ok. Instead, I've merely been offered a to-go box. With one of the cocktails, I took a couple of sips and that was it, yet again, it was removed at the end of the meal without comment. It is almost like they are afraid to ask for feedback.
When Acadia first opened, I met the owners and liked them very much. Going back a few years later, I expected the same good experience. Instead, this was one of the most painful series of meals I've endured since I began this site. Every time I've gone, my body felt lousy from the overuse of salt and lack of restraint in butter. Yes, I know this type of food is supposed to have lots of butter, but the chef here doesn't seem to know anything about balance. I don't know what has happened, but this is a chef who has lost his way. How some of these dishes made it out of the kitchen I can't fathom. Why people are still going here I'm not sure. All I know is, I'm not likely to go back.
Grade: C
Phone: (503) 249-5001
Address: 1303 NE Fremont St, Portland, OR 97212
Website: AcadiaPDX.com