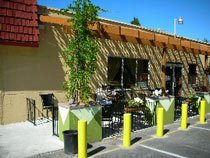 Updated 10.12 – Note: Based on my past few experiences, this restaurant has gone downhill. Your experience may vary from this review. If not, please comment!
There have been a few rumors floating around about Aladdin Café lately. I decided to make some return visits and update my review from last winter, and I'm glad I did. Happy to say, things have only changed for the better.There have been a few rumors floating around about Aladdin Café lately. I decided to make some return visits and update my review from last winter, and I'm glad I did. Happy to say, things have only changed for the better.
Aladdin's Café opened in early December 2006 on the side of the old FoodVilla, just a few blocks north of Kennedy School on NE 33rd. You don't go to Aladdin's for ambiance. Not that there's anything wrong with it; the interior is bright with multi-colored walls and a mix of Middle Eastern and Egyptian artwork decorating the space. However, it is mostly utilitarian, it's purpose being to serve food, and they do it very well. A notable addition since they opened is the small patio area out front, with about six tables. They've done a very nice job with limited dollars, and it's a nice place to hang out on a warm evening. Another plus, Aladdin's now has beer and wine; a great compliment to the food.
If Karam is the gourmet end of Portland's Lebanese (Syrian) food, Aladdin's is the street food. They make unique dishes, and serve them at prices so reasonable, it's easy to get carried away and order more than you can eat just to try all the interesting things. Take, for example, the falafel. Morsels of ground chick peas, fava beans, garlic, and spices are quickly fried in very hot oil. The result is a very crisp falafel ball with a molten interior that snaps as you bite into it. You can get a large bowl for $4.25. Sometimes the simplest dishes tell the most about a restaurant. The baba ghanouj is loaded with good eggplant flavor, balanced with the tahini and lemon. It comes drizzled with olive oil ($4.25). I've seen "hummus" spelled many ways, hummous, hommus, but never the way they have it as homous. Either way, it doesn't really matter. Their version is very smooth and balanced, a bit more processed than most, but excellent, nicely balanced flavors, the lemon giving it a bright fresh flavor ($3.95). To taste a range of appetizers, try the mazza combination, a platter with tabouli, homous, baba ghanouj, stuffed grape leaves, and falafel ($8.50). It's a nice plus that the tahini, used in most of their dishes is bright and tangy. Most items have just the right amount, and aren't drenched in it to meet American tastes.
Aladdin's pita bread stands out from the rest of the Lebanese restaurants in town. It is baked fresh with every order, turning from round little balls of dough to wonderfully hot and delicately crunchy brown discs that are rushed to your table right out of the oven. I think this is the best version in Portland; not too thick, with some nice browning – don't miss it. The same bread is used for all their sandwiches, and they don't disappoint. I love both the falafel with lettuce, tomatoes, onions, pickles, and piquant tahini sauce ($4.50), and the lamb shawarma – thin little slices of lamb with tomatoes, pickles and tahini ($4.95). The Kafta (or kofta) sandwich is another favorite. Kofta is a "meatball' of curried minced meat. Here they are redolent of cumin; mixed with all the other ingredients like pickles, parsley, and tahini, all the textures work together to make it a terrific introduction to Lebanese food ($4.95)
A selection of traditional salads are available. One of my benchmarks is the fatoush salad – lettuce, cucumbers, tomatoes, parsley, green peppers, and onions. It comes with little 'chips' of toasted pita bread which give it a nice crunchy texture, and is finished with sumac, garlic, olive oil, and lemon juice. This will really be a good salad during tomato season, but with all the good spices, it is still worth getting now. You get a portion big enough for two ($4.95). The same thing can be said for the tabouli salad. The parsley is very finely chopped, with tomatoes, onions, and bulgar wheat. It all comes together with a mix of lemon and olive oil, before being mixed with their "special spices", the bulgur giving it a nice chewy texture.
Safeeha is like a Lebanese version of pizza. The dough is rolled out thin and covered with a mixture of ground beef, tomatoes, parsley, chopped onions and lots of spices. This is scattered sparingly over the top, and the whole thing is baked crispy. You get a combination of perfect texture and balance between bites. The result is an explosion of different flavors in every bite. This isn't a dish normally found around Portland, and it's too bad. I could eat it on a regular basis, and it is a deal at $3.95!
Finally, I've tried both the chicken and lamb shawarma plates ($8.50). They start with a large mound of basmati rice and pile on the shawarma, thin bits of lamb or chicken off the grill, mixed with a garlic, tahini dressing. These are not the best versions I've ever had, but are certainly serviceable, and for the price, you can't beat them.
Not that you are going to need it, but traditional desserts are available. There is, of course, baklava, but the one that gets me every time is like a flat mound of shredded phyllo, built around a thin layer of cheese, dribbled with honey, and then baked. It's really good, and with a cup of Turkish coffee, makes a fine end to a meal that is easily worth the price.
This is not a destination restaurant, but it can be quite good. If you are anywhere near the neighborhood or are into Lebanese food, you need to put it on your list.
Address: 6310 NE 33rd Ave, Portland. Or. 97211 Google Map
Phone 503-546-7686
Hours: Monday to Friday 11:00am – 8:00pm, Saturday 12:00pm – 8:00pm, Sunday 12pm – 8pm.
Website: AladdinsCafe.com