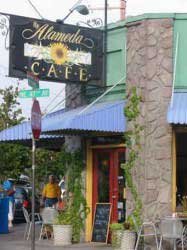 I'm going to start here with a confession: My first impression of the Alameda Cafe, before I even sat down, was that it was full of itself.
That's pure stereotyping, I admit it. When I see white tablecloths, paintings of flowers on the walls, actual flowers on the tables, the staff wearing black, and bottles of wine in a display on the counter, I think "Great, welcome to Pompous Valley." Had I looked at the menu and seen an omelet with blue cheese, benedict with chili-infused hollandaise, and French toast named for Santa Fe, I might have left. And then there's the name: Alameda, synonymous with Old Money. Blech.
Then I sat down and noticed that on top of that white tablecloth was paper for kids to draw on with crayons. Then I saw a special of eggs, toast and potatoes for $4.95. Then I saw said special go by, on its way to another table, and it was hefty. Then I saw that all the omelets, and even the benedict, were less than $9. Then I thought, "Hey, being kid-friendly and serving big portions for reasonable prices isn't pompous!"
Now, I wouldn't exactly call the place down home, or cheap, and I'm still not sure what to make of its signature "French toast," but I like it. When the food is good and the feeling is friendly, I'm okay with spending a couple extra bucks. I have found the service to be good, the wait nonexistent (even on a pleasant Sunday at 10), the bacon crisp and peppery, the potatoes big and chunky and oven-roasted, and the prices only about $1-2 above average for Portland.
The Alameda feels like a cross between fine dining—it's mostly a dinner place—and a neighborhood breakfast place with kids. It's also a little bit French, and a little bit American Southwest. And therefore it suits the neighborhood perfectly. In fact, one reason I have a hard time putting my finger on this place is that I have the same problem with the Alameda neighborhood: Is it the grand homes along Alameda Ridge? Is it the streets north of Fremont without sidewalks? Yes and yes. Is it Stanich's old-school burgers? Is it Starbucks and the Alameda Brew Pub? Yes and yes, again.
Such is this cafe's food, which is part stylish (the Southwestern Benedict also comes with sweet and spicy corn bread) and part, well, kind of down-home. You can, for example, build your own omelet with any three ingredients for $7.95 with potatoes and toast; additional ingredients are 75 cents each. More places should make this perfectly reasonable concession to common sense.
They walk this line between local and fine throughout the menu. The Alameda has goofy stuff like an Alameda B.E.L.T.: cheddar, bacon and hard eggs with lettuce, tomatoes and mayonnaise on sourdough toast. And there's the Klickitat Omelet with blue cheese, apples and bacon. And there's a braised mushroom omelet with spinach and Swiss cheese—which you should stay away from unless you love mushrooms. My friend Beth reported that the egg in the omelet was thick, tender and fluffy, but not airy. And they prepare their hollandaise with par cooked eggs; I don't even know what that means.
But then there's the basic scrambles with cheese, mushrooms and onion; a Belgian waffle that's only $4.50; oatmeal with bananas, raisins and brown sugar for $4.50; and granola or yogurt with fruit for $5 or $6.
And then there's the French toast. Giving in to their elegant, stylish side, they couldn't just do French toast; they had to fancy it up somehow. And yet they didn't do anything too fancy. They make it with thick baguette bread, dipped just enough to hold a crust of cinnamon-sugar crushed corn flakes, then fried so, as Beth said, it looks like pieces of cod.
The first time I had this, I wasn't impressed. I like my French toast soaked, and this is dry in the middle. The second time? Well, now I'm thinking that the cinnamon is a nice touch, the crunch of the crust plays well with the soft bread, the syrup takes care of the moisture, and it reminds me simultaneously of Navajo fry bread and breakfast cereal with Saturday morning cartoons. Clearly, more research is required.
By the way, it's called "Santa Fe Railroad French Toast" because, apparently, the recipe originated on the old Santa Fe Railroad. Whether it's even French toast at all is in question, I'd say. But I don't care. I also don't care why the place tries to be kind of elegant and neighborhoody, either. I'm just glad it's around.
Alameda Cafe
Address: 4641 NE Fremont, Portland, OR 97213: Google Map
Hours: Daily 8 a.m. to 9 p.m.; breakfast until 11:30
Phone: 503-284-5314
Payment: Everything
Reservations? Not for breakfast
Large groups? With notice
Wait: None that I've seen
Price Range (typical meal with coffee and tip): $12-14
Coffee: Stumptown
Other drinks: Mimosa, tea, fresh-squeezed juice
Wi-Fi/Internet? No
Feel: The French Invade New Mexico
Seating: 50ish
Changes/Substitutions: Within reason
Portion Size: Hefty
Feel-goods: Some veggie options and tofu for the build-your-own omelet
Health Options: 2% milk