Note: This establishment has closed

"When it Alu going to open?" my husband asked last week, of the sliver of a building on NE Martin Luther King Blvd. just south of Stanton St., which seemed months under construction. Through the grapevine, I already knew the chef was Sandro Di Giovani, formerly of Noble Rot and Pok Pok; that the food was German; that the upstairs would have the feel of a speakeasy. That Alu is within walking distance of our house may have fueled my husband's anticipation. I'd heard there'd be a soft opening this week and was making plans to go when I got a call from my friend Rob, who's been out of the country for five months, asking if we wanted to meet at Alu. But… when did it open, and how did he know?
"I think three weeks ago, and you're always so slow," he said, when we met him in front of the Alu, its silver facade holding a wide, wide door hinged top and bottom at the center, so that it spins open; very secret club; very Batman. While the staircase to one's right – with a view of a fireplace behind glass, and the beckoning of bossa nova – told us the action was upstairs, I first roamed around below, through a dining room that smelled of cedar and lined with long low communal tables, a room made for sitting late into the night with many friends and many steins of beer…
"Come on," said my husband, motioning me up to the bar, with its silvered wood walls and gilt ceilings, ceilings so gorgeous they looked like foil wrapping paper from Saks Fifth Avenue; ceilings so meticulous the paint appeared to have been hand-dabbed over a period of months. This gold pings off the room's chandeliers, chandeliers the size of bunches of grapes and wagon wheels, and casts a glow on a series of ornately framed mirrors of the sort you might see rendered in a 19th century society portrait of Mrs. Vanderbilt.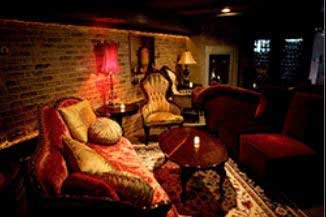 We settled on a velvet settee across from the little bar, where a man was whispering into his date's hair. "This is unbelievably sexy," I said, as the waitress delivered four sheets of menus, one each for wine; beers, cocktails and food. We asked about many dark beers; she didn't know; I asked about a rouge cuvee reserve; she wasn't sure. Sandro, with a shock of black hair and a heartthrob's handsomeness, overheard my request and delivered a small taste. Then he went back to the kitchen, the size of a closet, in which he is hoping to turn out the sort of food his German grandmother made.
"Ooh, napkin rings," I said, as we moved to one of the room's four dining tables. The waitress laughed.
"Everybody comments on them," she said, and I wondered, why is that? At another place, you'd look at this ring of stainless steel and think, pretentious, or, why do I need this? But at Alu, they are part of the art direction, something to play with as you contemplate what to eat.
"The menu sort of doesn't match the room," said Rob, and I thought, he's halfway right. What I wanted – what the intimacy of the room was telling me to want – were many glasses of wine interrupted by small bits of food I could pop into my or my lover's mouth. And we did get that, with a cold cut plate of coppa, speck, salami and chorizo, and also, a plate of cheeses, which included a Cropwell Bishop Stilton that had smoke and sweetness, cream and salt. But Grandma also bequeathed bratwurst and spinach ravioli as large as turnovers, which the guys liked more than I; and a venison pot roast with spaghetti-length spatzle, a hearty dish that seemed more geared for ski lodge than speakeasy. No matter: as the men ate, I finished my husband's Hirschbrau Neuschwansteiner Bavarian lager, and a slice of German apple rum custard cake mit schlag, made lovelier for its surprise note of citrus.
"You're right on MLK, but you feel a million miles away," said Rob, as he was right. It's as though you've slipped into a little pan-European pocket in time. My only reservation in writing about Alu is I'd prefer no one else knew about it; that it remained our private hideaway. Ah, well.