A few notes: On the annual survey, 30 restaurants received substantially more votes that the other nominations. For that reason, I'll limit this list to those. They are listed in reverse, by the number of votes received. The top ten will be in their own special post.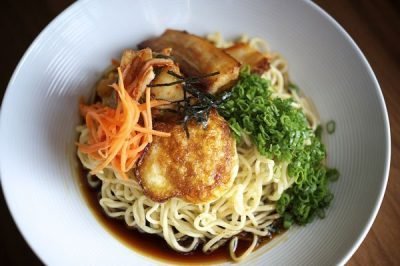 25.Wafu – Trent Pierce, previously chef of the much-loved Fin, opened Wafu, a "Japanese style" noodle bar, late last summer. Like Boke Bowl, they feature ramen, though they have other small plate choices which are more "upscale", like the terrific edamame, elevated by steaming with spices and soy. Start with the beef tartare with ginger, daikon, spicy mayo, shiso, wasabi tobiko and taro root chips. It comes at you in a heady rush of tastes and textures.
I like any of the ramens, the house noodles garnished menma (fermented bamboo shoots), kamaboko (pureed white fish cake), scallion, poached egg and black garlic oil gets my pick and is just $10. But my favorite dishes are the ceviche, quail with fruity blackberry mustard, steak skewers, the best tempura I've had in Portland, and the buttery seared lamb's tongue. The menu is varied with lots of interesting choices, though quality from night-to-night seems to vary more than it should.
Though the cocktails are generally well-composed, if you haven't been exposed to saki before, try getting a flight of three; it's a great way to learn. Check the board for the specials – I haven't had a bad one yet! Many of the dishes are gluten-free and are marked as such on the menu.
Address: 3133 SE Division St., Portland OR 97202.
Phone: (503) 236-0205
Hours: Mon – Sat 5pm-10pm
Happy Hour:
Reservation Policy: 
Noise Level: moderate
Price: moderate
---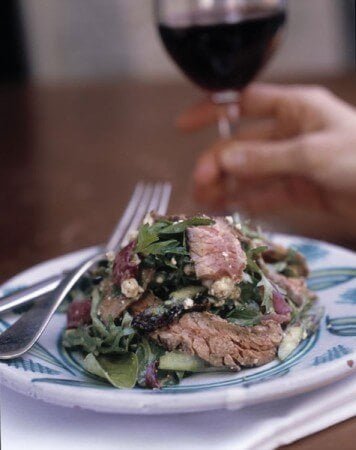 26. Park Kitchen – For years Park Kitchen was on the list of every foodie visiting Portland and for good reason. The kitchen consistently puts out interesting, innovative food every night. They were the recipient of my 2006 Restaurant of the Year. Unfortunately, the restaurant doesn't draw the crowds it used to; most people I know complain that the food has become too expensive, but now and then I drop by for dinner at the bar and still enjoy the interesting combinations of flavors and the excellent staff.
A good chef can close his eyes and taste a dish before he ever makes it. This skill is made up of knowledge of the chemistry of food and how things work together; a perfect memory of ingredients. Two descriptions of dishes for you to taste in your mind: "Parsnip soup, almonds and caperberries". It is stunning, a smooth earthy puree, with a drizzle of grassy olive oil to brighten a winter day and almonds to give it an unexpected crunch. As I dug in, l found surprising little bursts of flavor from the capers. Just when I thought I'd figured out the palate, another burst of flavor: tiny tart circles of kumquat were scattered through the base. It achieves perfect synergy between components. Here's another one."Pork, cabbage dolmas, and kumquat relish". The pork is moist, and tender, simmering in a lovely fan across the plate. As I take a bite, the sauce brings my conversation to a halt. It's green… buttery…. I can't wrap my mind around the flavors, so stop the waitress. Turns out it is spinach juice, duck liver, and butter. Good God, it's one of the best things I've eaten in ages. Then it gets better; more thin slices of kumquats, a perfect counterpoint to the silky sauce, dot the plate. Moving on, I try one of the dolmas. The cabbage is so thin it looks like a net; it reminds me of tripe. I ask for bread to sop up the leftovers.
For the complete experience of the best the kitchen has to offer, try the tasting menus: the small plate menu is $40, the small and large plate menu is $50. You can read my 2006 review here.
Address: 422 Northwest 8th Avenue Portland, OR 97209  Map
Phone: (503) 223-7275
Hours: nightly 5pm – 7pm
Happy Hour: at the bar, Mon – Sat 5pm-7pm
Noise Level: moderate
Price: expensive
---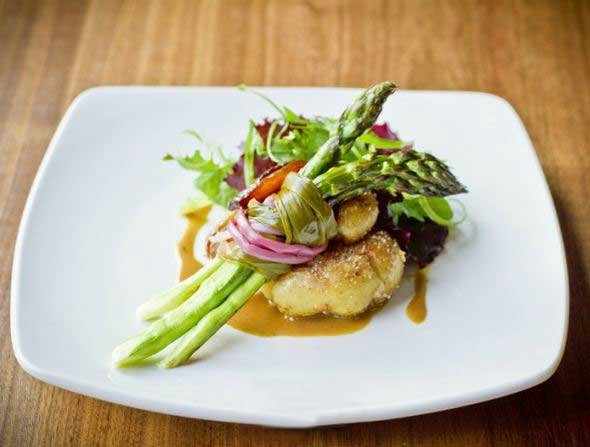 27. Natural Selection – This new vegetarian/vegan restaurant is taking the community by storm, winning over vegetarians and meat-eaters alike. The chef's selection of colors, textures and flavors are impressive. He uses flowers from various vegetables along with dried items to intensify flavors, textures and to add color – this is a painting on a plate. Put yourself in the kitchen's hands and try the four-course pre-fixe dinner for $35. The recent selection consisted of corn & mascarpone agnolotti with sea beans, watercress, truffle oil and corn broth, a fresh bean salad – endive, peppers, walnuts, egg and olive vinaigrette, squash, garlic scape & potato gratin with beets, carrots, fava beans and salsa verde, and apricot & brioche bread pudding with blueberries, lemon balm and a vanilla creme fraiche. Still hungry? Try the bright peach and apple crumble – summer on a plate.
Selections are also available a la carte, and portion sizes are larger than you might expect. This is not your average vegetarian restaurant!
Address: 3033 NE Alberta St., Portland OR. 97211.
Phone: (503) 288-5883
Hours: Wed – Sat 5:30pm-10pm
Happy Hour: n/a
Reservation Policy: 
Noise Level: moderate
Price: moderate
---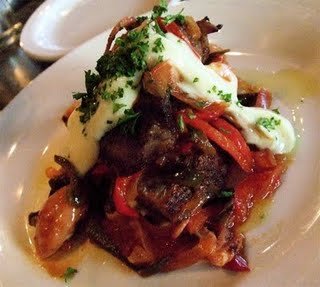 28.Beaker & Flask – Kevin Ludwig's original concept for Beaker & Flask was for an excellent cocktail program, and a small selection of good food to match. As the crowds packed through the doors, he realized that the food could also be a major focus, and expanded the menu.
The space is quite nice. A beautiful curved wall of windows takes up the west side of the restaurant. The dark-colored booths are comfortable and big enough for groups. Mint green has been used both on the walls and on the tile under the bar, for a relaxing effect. Slick polished concrete floors and an unfinished ceiling pay homage to the building's industrial past.
I can't possibly review Beaker & Flask without spending some time on the libations. Kevin takes the art of blending drinks seriously, and whether you are looking for a traditional cocktail or a more modern drink, you can be sure whatever they put together will be made correctly. Cocktails are served in vintage glassware, a nice touch. With some of the drink specials, the combination of ingredients may seem a bit off-putting at first, but take a leap of faith; find a base liquor you like, and try one of the specials. Great care is taken not only in the quality of the liquor, but many of the ingredients are homemade, and even the ice cubes are matched to the type of drink being served.
If you have followed this site for any length of time, you know that, in general, my mantra is less is more – keep things simple and let quality ingredients speak for themselves. Unfortunately, many chefs don't adhere to this principle, and tend to overload dishes with an abundance of ingredients to show off their mad skills. The chef seems very comfortable in the kitchen and doesn't play this game. Instead, he selects ingredients based on the best available, and fashions dishes that showcase the different flavor combinations.
Try the sweetbreads. Early this summer they were pan-seared and served with a medley of spring vegetables and bacon chowder. The glands are clean, creamy and loaded with flavor. More recently, they were paired with Dungeness crab, late summer corn and shell bean succotash. Don't miss them. I've eaten so many pork cheeks at Beaker & Flask that pigs for miles around must have lost their dimples. As of this writing, they are served on crisp bread with bright braised peppers and onions, amazing tender pickled octopus, earthy cheeks and a creamy yellow aioli. A dusting of green herbs gives a splash of color, and a slight spiciness provides a pleasant finish. While the combination of beef cheeks and octopus may seem a bit strange, the first few bites will win you over. On another evening, they were running pan-seared halibut, which arrived laying alluringly in a purée that burst with carrot flavor. The fish was sprinkled with bright green English peas, and topped with a lovely little mound of bay shrimp. Crème Fraîche finished the dish, providing a creamy backdrop for the carrot flavor. The fish was moist and crisp, all the colors and flavors contrasting beautifully without overpowering each other.
You get the idea – Beaker & Flask is a force to be reckoned with. You can read my complete review here.
Address:  727 Southeast Washington Street Portland, OR 97214   Map
Phone: (503) 235-8180
Hours: Mon – Sat 5pm – 11pm
Happy Hour: Daily at the bar, 5pm-7pm
Reservation Policy: 

OpenTable

Noise Level: moderate
Price: moderate
---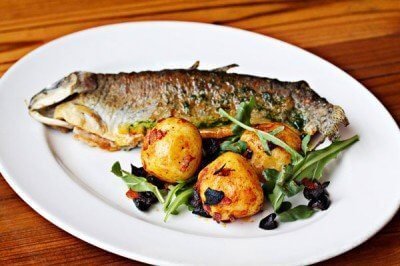 29. Lincoln has not only become a neighborhood favorite but Portland-wide as well. Owners David Welch and Jenn Louis strive to keep the Mediterranean-based menu interesting to foodies and approachable to everyone. From my experience, the food has gotten better and better over the years as they've found their footing. Jenn was recently nominated for a James Beard award, and Food & Wine named her as one of 2012's Best New Chefs, which I think has led to new confidence on the part of everyone working at the restaurant.
The space is modern yet warm, and I've never experienced anything but excellent service. The menu pays great respect to whatever ingredients are in season, letting them speak for themselves. This summer the current offerings include fried zucchini with green tomatoes, aioli and pecorino Romano, a salad of summer lettuces with blackberries and preserved lemon, and a panzanella salad of toybox tomatoes, bacon and buttermilk blue cheese.
Favorite appetizers include a throwback to a dish I used to make as a kid – "baked hen eggs" – this week with cream, Castelvetrano olives and herbed breadcrumbs. Others are grilled octopus with fennel, Taillades olives, summer lettuces and pimenton, and zucchini and squash salad with ricotta, lemon and mint.
Pasta is hand-made and is always part of the menu. Half courses are available. Different versions rotate depending on the seasons. Recent choices are buckwheat fettuccine with rabbit ragu, and ricotta cavatelli with corn, zucchini, basil pesto and Romano. Jenn is currently working on a book about gnocchi, and her interest shows; the pasta are some of the best items on the menu.
Though I really enjoy the appetizers and pasta, proteins are not forgotten. A friend just raved about "an outstanding albacore tuna with frikeh, fennel, lemon cucumber, mint and olivada". The rib eye steak is always a good choice, cooked just as ordered with a topping of blue cheese butter. You can't go wrong with the crackling, roasted half-chicken with shoestring potatoes and freckled romaine.
I love going to Lincoln with friends on a warm summer evening, enjoying the breeze drifting in through the big roll-up doors, good wine and good food.
Address: 3808 North Williams Avenue Portland, OR 97227
Phone: (503) 288-6200
Hours: Tue – Thu 5:30pm-9pm
Happy Hour: Tues – Fri 5:30pm-7pm
Noise Level: moderate
Price: moderate
---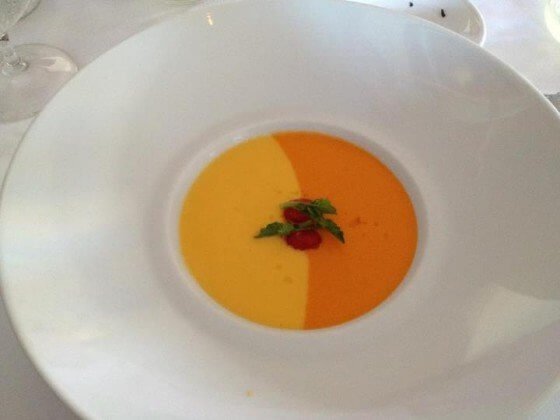 30. Noisette –  Chef Tony Demes has worked under famed chefs Thomas Keller, Michael Romao, Roland Cheneau and David Bouley. In 1995 he opened the lauded Couvron in Portland, which was known for its hours-long tasting menus. In the late 90's Demes closed the restaurant and opened a NYC version, but then returned to Portland in 2010 to open Noisette, a restaurant with cooking based on French technique, featuring local ingredients.
The menu is made up of small plates, so you can compose your meal by what dishes interest you. However, be prepared to order 3 or 4 plates or you will leave hungry. The cost can add up quickly, and those who are not familiar with the concept of small tasting plates will probably not appreciate this restaurant.  If you want a truly romantic experience, the entire table can order the eight-course tasting menu for $75 a person; in the long run, I think it is a better deal. Recently the fixed menu consisted of Oregon line-caught albacore, Maine dayboat lobster, organic butternut squash soup, a BC diver scallop, Idaho white sturgeon, Moulard duck magret and liver, Oregon Natural New York strip steak alongside Painted Hills braised short ribs, finished with a Noisette Souffle for dessert.
Address: 1937 NW 23rd Place, Portland OR 97210.
Phone: 503-719-4599
Website:
Hours: Tues – Sat 5pm-10pm
Reservation Policy:
Noise level: Can be loud when busy
Price: Expensive