PFD Restaurant of the Year, 2006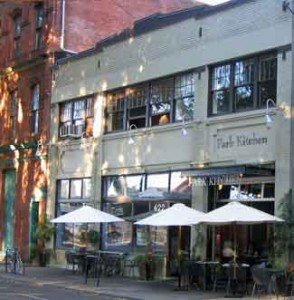 Don't tell his wife, but Scott Dolich is having an affair with kumquats. Not some blond bimbo from the Pearl, but rather a tart little fruit from Southern California. I, for one, couldn't be more thrilled.
When I was growing up, my parents had a little kumquat tree on the front patio. Every year it would get loaded with fruit, and I'd lie on my back on the soft moss, throwing them into the air, trying to catch them in my mouth. They were wonderful little fruit bombs, loaded with explosive citrus flavors; a juxtaposition between sour and rind. To this day I remember the flavor, but never really thought of using them in cooking. That's the difference between me and Scott. He's a damn good chef that never stops thinking about new ways of pairing ingredients. Right now, kumquats seem to be his muse, brightening many of the items on the menu over these dreary winter days.
Park Kitchen's creativity begins at the bar. Scott seems to surround himself with equally creative people, and lets them do their thing. Bartender Kevin Ludwig was voted by Portland Food and Drink readers as the best in the city. At first glance, his drink menu may not seem too enticing. Hmm… "Salt and Pepper: gin, Peychaud's bitters, fresh grapefruit and lime, up with a salt rim" um, no thanks. Blueberries for Sal: gin, maraschino liquor, Gary Regan's orange bitters and preserved blueberry, shaken and served over ice with soda". Sounds too sweet; I'll pass. "Celery kamikazes" What?! So many sound over the top, but when you try them, you realize that Kevin is literally a genius behind the bar; a worthy opponent for the chess game that Dolich plays with all employees. It's the small touches that show the passion and dedication. I've always been a fan of the pear brandy sidecar. One night it was a bit different, a bit more rounded. When I asked, the bartender said he'd started adding a dash of real pear puree. Not a big deal, but it shows he's always thinking; there is always room for improvement. The same thing goes for tonic water. I've never given it much thought, until Kevin started making his own from scratch. Is there another bar in town that makes their own? Taste it next to the bottled stuff, and you'll never go back.
Over all the years, I've never gotten a drink from Park Kitchen that I didn't enjoy.
A good chef can close his eyes and taste a dish before he ever makes it. This skill is made up of knowledge of the chemistry of food and how things work together; a perfect memory of ingredients. Do you have that ability? Here are two descriptions of dishes for you to taste in your mind. "Parsnip soup, almonds and caperberries". This is a stunning soup, a smooth earthy puree, with a drizzle of grassy olive oil to brighten a winter day and almonds to give it an unexpected crunch. As I dug in, l found surprising little bursts of flavor from the capers. Just when I thought I'd figured out the palate, another burst of flavor: tiny tart circles of kumquat were scattered through the base. It sounds strange, but achieves perfect synergy between components ($8). Here's another one."Pork, cabbage dolmas, and kumquat relish". The pork is cooked just the way I like it, moist, and tender, simmering in a lovely fan across the plate. As I take a bite, the sauce brings my conversation to a halt. It's green… buttery…. I can't wrap my mind around the flavors, so stop the waitress. Turns out it is spinach juice, duck liver, and butter. Good God, it's one of the best things I've eaten in ages. Then it gets better; more thin slices of kumquats, a perfect counterpoint to the silky sauce, dot the plate. Moving on, I try one of the dolmas. The cabbage is so thin it looks like a net; it reminds me of tripe. I ask for bread to sop up the leftovers ($24).
Sometimes I'll go in for dinner, and notice a dish on the menu that sounds "interesting", but not necessarily like something I'd order. Most recently, the dish was a salami salad. It just didn't sound appealing, but I gave it a try. Recently, they have found a great new source for salami. Most chefs would throw it on a plate as part of a charcuterie, with a drizzle of olive oil. Scott made a dish of frisse, salami, sliced artichoke stems, poached fingerling potatoes, and sunchokes tossed in stone-ground mustard vinaigrette on a puree of artichokes. The textures of the dish all play off of one another – the salami hard and crunchy, yet packed with flavor, each of the other ingredients bringing a contrasting texture and flavor. Many of these items can be found in a charcuterie plate, but I've never seen them combined quite this way ($9.50).
Duck with root beer spices and cornbread pudding seems to make an appearance once a year. If I hadn't read the menu description, I'd still be trying to figure out the flavor from the root beer reduction. I'd guess there was a bit of vinegar in there too, giving it a slightly acid balance. The combination of ingredients made for a fabulous medley of flavors. The accompanying cornbread pudding was incredibly great ($24.50). A meal a few weeks later, started with "grilled sweetbreads and fresh bay from Leather's garden". The story goes that Scott had been coveting bay leaves from Leather Storrs backyard. One day, when he knew Leather was gone, Scott went over and stole the bay, and then put it on the menu to rub it in his face. Sounds like something I'd do to one of my close friends. The result is a dish of wonderful buttery sweetbreads on a bed of mild sour kraut, surrounded with bay cream sauce and Brussels sprouts that were packed with flavor. I didn't even realize how much I liked Brussels sprouts, but then I'd never had them cooked quite so perfectly ($11). Another incredible dish is more simple on the surface, but all eight of my dining companions raved about it: a simple lamb over cooked greens in romesco sauce. We'll work from the bottom up, starting with perfect greens – absolutely perfect. On top of that, little chunks of braised lamb, cooked until they fall apart, a nice, slightly gamey flavor permeating the meat. Finally, large slightly pink slices of more lamb; less gamey this time, providing contrast to the other meat ($23.50). Surrounding everything is the best romesco sauce I've had in ages; not that bland characterless excuse that so many restaurants use, but a real version with lots of depth.
I don't think Dolich ever stops thinking about possibilities of food. A few years back, he was having a barbecue with his kids. I'm told he was grilling pork while holding a plate of watermelon, and was wondering what barbecue dishes could be combined in the restaurant, to make a "picnic on a plate". What if he combined watermelon and pork? This flash of an idea led to a brilliant dish – pork two ways with watermelon sauce. Close your eyes and taste it in your mind. I can't do it, or at least I couldn't before I tasted it, but that is what sets this chef apart from most others in town. He took two flavors that no one would ever expect to find together and turned out an ethereal dish. That type of thinking is what keeps Park Kitchen on the cutting edge of Portland cooking. So go the dishes at Park Kitchen. They combine standard ingredients in unusual ways that raise them above the level of most every other chef in town.
Park Kitchen started opening for lunch about a year ago, when the banquet room was added. I gave it a try a few months ago, starting with a salad of beets, oranges and fresh goat cheese with almond tahini. Most of the time, restaurant versions of beet salads disappoint me, but these were perfect, the tahini dotted with an orange vinaigrette that made me do a double-take ($9.50). In a review a year ago, I was disappointed in the hot dog served at lunch. They kept tweaking it, and now it's great; moist, flavorful, gently snapping under my teeth with each bite. The bun is perfect, the slightly sweet house made catsup and crispy, salty homemade potato chips tie everything together. One thing bothered me though. The whole time I sat there eating, I couldn't help but notice a little wedge of beet sitting on the plate. I kept asking myself, who would pair beets with a hot dog? Never one to leave much on my plate, I finally speared it with my fork, and popped it into my mouth; another perfect and unexpected combination ($7.50). Who would have known?
When Tara Tulley stepped in to replace Ellen Jackson, she had big shoes to fill. Ellen had a devoted following, and many were sad to see her go. At first, things were a bit rocky, but over time the quality and inventiveness have grown. For me, some recent highlights include her whimsical take on a Waldorf salad with celery like ice cream, a light and airy lemon pudding, a pineapple cake with goat cheese sabayon and mint syrup, a carrot quince strudel with pumpkin semifreddo and pepitas, a celery root cake with peanut sabayon and sherried raisins, and chocolate-caramel panna cotta with pear fritters (all $8.00). This is truly a kitchen were people are encouraged to think out of the box. Sometimes things don't quite work, but the selections tend to combine ingredients in unusual ways, and more often than not I leave with a satisfied smile.
Park Kitchen tends to divide people. A few weeks ago I was there with a large group of friends. Between us we ordered a good portion of the items on the menu. Afterwards, I compared notes on various dishes, and was struck by the divergent opinions. "The beet salad was wonderful." "The beet salad did nothing for me." "The pork was perfect… the pork was nothing special." This seems to be a common thread, not only by the people I have had the pleasure of dining with, but also by commenter's on this site. This is not pedestrian food. It frequently stretches the diner to think out of the box, and not every dish may be to your taste. This adventure in dining is one of the reasons I enjoy my meals here.
I've had dinner after dinner at Park Kitchen. 90% of the time, it's so damn good I want to thank everyone in the kitchen. 10% of the time it falls short, and I walk out the door disappointed, because I know they can do better. Occasionally, the two extremes are made up of exactly the same menu items, but on two different nights – the old consistency bugaboo. Still, in my experience this is a rare event; the good meals are outstanding, and I can overlook an occasional dud. Everyone has an off night now and then.
Back in January, we ran a poll: "What is your choice for restaurant of the year 2006?" Park Kitchen easily won the readers choice, and it is my choice too. I am frequently surprised by the ideas that flow from Dolich, Chef de Cuisine David Padberg, Bartender Kevin Ludwig, and Pastry Chef Tara Tulley. They set a standard of creativity that few restaurants can match. It shows from the bar, to the entrees to the desserts. To my palate, Park Kitchen is easily the most innovative restaurant in Portland. It is not difficult to have a meal that will leave you with happy memories. Service is superb; affable and relaxed, yet professional and efficient; the staff knows the ingredients of every dish inside out and generally seem happy to be there. Dinners here are part of my regular Portland rotation, a place I visit when I'm not "working", to have fun with my food, my friends, and to enjoy the interaction with employees. Highly recommended.
You can read our Monday Interview with Scott Dolich here.
Grade: A
Phone: (503) 223-7275.
Address 422 NW 8th ave., Portland, OR. 97209 Google Map
Hours: Mon-Fri 11:30am – 2:00pm. Dinner: Mon – Sat 5:00pm-close.
Website: Park Kitchen Website
Banquet room available