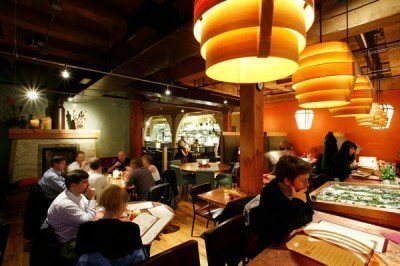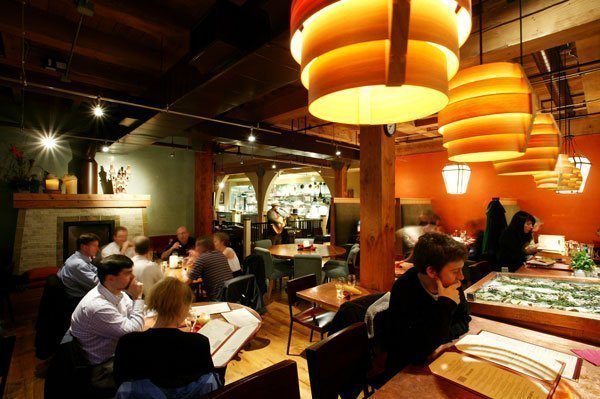 2017: this restaurant has tobogganed downhill since my original review was written. The food lacks the polish it used to have, and the prices have risen. The restaurant has been expanded over the years to use every square inch of space for seating – basement, upstairs and mid-level. At the same time, the kitchen doesn't seem to have been enlarged to handle the additional tables. This has resulted in meals which seem to have been composed for Instagram, not good taste, and is more akin to a cruise ship than a good restaurant. The food lacks the brightness and the complex flavors it used to bring to the forefront. Instead, we get blandness and a texture that seems like it is right out of a long evening in a sous vide cooker. Holiday meals are particularly abysmal and I don't recommend them. Actually, I no longer recommend this restaurant at all. It's an embarrassment compared to what it used to be. 
The old review is here for archive purposes. Take it with a grain of salt.
With the myriad of restaurants opening in Portland every year, it is easy to forget some of the older ones, which often are better than the latest gastronomic trend-setters. In my opinion, Andina is one of these, a restaurant that rarely disappoints, always intrigues and provides a great introduction to one of the world's great cuisines. After years of accolades, it would be easy for them to coast on their reputation, but it is obvious that they are always trying to reinvent themselves by keeping the staff trained, changing menus with the seasons and by offering challenging versions of traditional Peruvian dishes with their modern NovoAndina cuisine. The dishes are a dazzling parade of colors, from deep purple potatoes to the brilliant yellows of passion fruit, all dancing across the plates like an artists' palette.
The interior is a warm environment of comfortable colors that seem to have been chosen to compliment the food. The building is beautifully finished, with original old wood beams, Peruvian artwork, and theatrical spots that wash the walls with golden light. I especially like the effect in the evening, when the restaurant tends to wrap itself comfortably around you. As you enter, a balcony overlooks the picturesque downstairs, where there is a small private dining room and courtyard tables. The restaurant is so popular, reservations are a must. Most nights it is even difficult to get a table in the bar without a wait.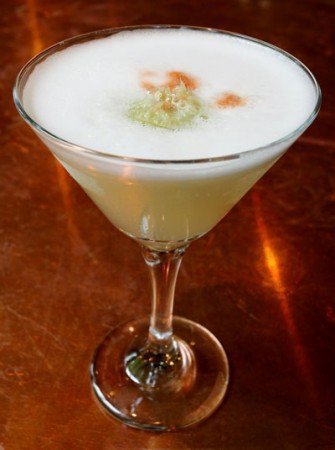 Eating here is an adventure of flavors and combinations you might not expect. This could make ordering a bit confusing, but the staff is knowledgeable and will help you through the process. They are quick to pick up on the special needs of anyone at the table, offering to bring vegetarian, vegan or gluten-free menus without prompting. On my most recent visit, I was having difficulty reading the small print on the menu, and they brought a tray of various magnifying glasses for me to use. Though service suffered a bit in the past, the bugs seem to have been worked out, and the staff is now some of the best in the city. The kitchen can be a bit slow at peak times, but not in a bad way. Drink orders arrive quickly, and you'll have bread with dipping sauces to munch on, and great people-watching while you wait for your food.
While you are perusing the menus, try one of the native drinks, starting at $12, such as a pisco sour with its egg white and bitters island over Don Cesar pisco liquor, or a darkly sweet caipirinha loaded with an intriguing combination of flavors from cachaca sugar cane liquor and lime. Pisco is the national drink of Peru, and will make you feel like you are somewhere exotic; a few of those and you really will be in another country.
Another interesting cocktail is the Sacsayhuamán, named after the walled complex near the old city of Cusco in southeastern Peru: habanero pepper infused vodka shaken with passion fruit puree and cane sugar, served up with a sugar rim and a cilantro leaf garnish. It's an interesting and enjoyable combination. For the less adventurous, you may find their version of the mojito – white rum shaken with fresh lime, mint, water, and cane sugar served on the rocks more appealing.
The wine list is extensive. Chilean, Argentinean, and Spanish wines make up the bulk of the list with a standard restaurant markup. There are twenty by-the-glass pours, a selection of ports and sherries and three beers from South America. Full-time sommelier Ken Collura, is very knowledgeable and ready to make recommendations. In addition, there are interesting no-alcohol regional drinks such as the chica morada, a cooling drink of purple corn with lime, pineapple, and sugar.
Start your meal with a good basket of house-made quinoa bread, accompanied by three ajíes (chili) dipping sauces $6. The choices change from time to time, but usually include ají de maracuya, a yellow sauce made from a purée of passion fruit that dances a fine line between sweet and hot, a habanero, or ají de huacatay, which combines toasted peanuts with an aromatic herb of the marigold family, or a green jalapeño cilantro blend that brings a bit more heat to the choices. They are all so different from each other, I can never make up my mind which one I like best.
Both the restaurant and bar menus offer a large selection of small plates and salads. You can choose from three sizes, running from $10 – $38.00. As an accompaniment to an entrée, the small is quite adequate. On occasion, I sat at the bar and made a good dinner out of two of them.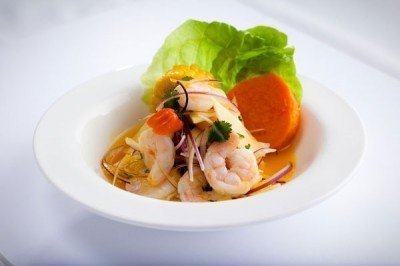 Several items make multiple appearances: ají amarillo, a Peruvian hot chili pepper which some people have said is the most important ingredient in Peruvian cooking, and yuca or cassava, which is a type of root, and a staple of the jungle region. Most of the dishes are a fusion of native cooking ingredients and more haute cuisine. Peruvian food is strongly influenced by both Spanish and Chinese cooking as well as that of other nations. This can make for an interesting array of choices to pick from, with something for everyone. Some standouts: the tortilla de patata y alioli de ají amarillo, a Spanish-style potato fritatta or tortillia, with ají amarillo aioli. The tortilla features wonderful, light fluffy layers of potato with a slightly spicy depth; it's just terrific. While many green salads are rather boring, the Andina ensalada verde Peruana made up of fresh greens topped with hearts of palm and whatever vegetables are in season is just terrific – large for the price, perfectly dressed in a balanced vinaigrette, the little seeds, palm hearts, and vegetables all giving an interesting interplay of textures. The small is easily enough for two to share. During the Spring and early Summer, try the esparragos Peruanos, fresh grilled asparagus brushed with olive oil and grilled for a nice smoky flavor. It is simple and unfussy, making any asparagus lover happy.
The yuca rellena a la huancaina – cheese stuffed yuca with an ají amarillo and cheese sauce is a good introduction to yuca. The rellana is a bit doughy but has gotten better over the last year. The accompanying sauce is interesting; a hint of pepper gives it depth without being particularly spicy. If you haven't had Peruvian food, you should try it for an introduction to the ever-present yuca.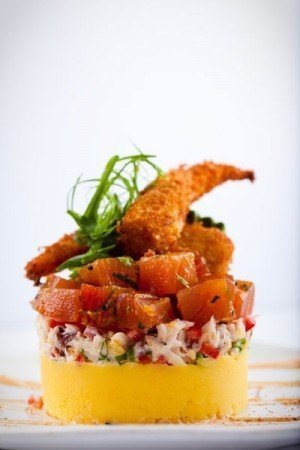 Causa is a traditional preparation of potato from Lima. The secret is using really good papa amarillias, or Peruvian potatoes. They are mixed with fresh key lime, pressed into a cake, stuffed with a savory filling and served cold with avocado. Andina has it with three different ways; I tried it with mixta nikkei: spicy tuna, crab salad and crispy shrimp. I could be satisfied with a large order of this for dinner! $10.50-$20
This part of the world is known for cebiches, a traditional Peruvian dish, where raw foods are "cooked" in key lime juice with onions, cilantro, hot peppers, and salt. As is traditional in Peru, they are served with cusco corn kernels, slices of camote (yam), and pieces of cancha (crispy corn nuggets) They have six seafood versions and another four vegetarian versions. I've tried the pescado 5 elementos which changes depending on the catch of the day ($20), and the mixto chorrillano mixed seafood and fish with celery, ginger, and garlic ($18). Both are very good, the fresh fish leaving a firm texture and an almost Thai-like interplay among the flavors.
The entrées are large, and I usually take home leftovers. They are, however, not cheap, with prices ranging from $24 for a basic squash stew, to upwards of $37 for more expensive options.
Food from Peru is heavy on beef and seafood, so you'll find a large amount of both on the menus. Though the choices rotate on a regular basis, every beef dish I've tried at Andina over the past year has been great. Some examples are lomo saltado ($23), which is tender strips of beef, wok-fried with onions, tomatoes, soy, garlic, and ají , served with rice and fried yuca. It is flavorful and shows the strong influence of Asian cuisine on Peru. Another dish that sometimes appears is entrecôte a la pimienta molle, a tender sirloin paired with purple potatoes, black quinoa, green beans, wild mushrooms and a molle pepper sauce. This is one of my favorite beef dishes in Portland; really tender with loads of beef flavor, cooked exactly as ordered. Bistec a la Peruana con humita verde, a marinated Cascade Natural rib-eye steak with huacatay butter is equally good. The meat is accompanied by a steamed corn husk "humita" a Native American dish from pre-Hispanic times, and a traditional food in Peru. It consists of masa harina and corn, which is slowly cooked in oil. Andina's chef stuffs it with a fresh corn puree, asparagus, wild mushrooms, and cipollini onions.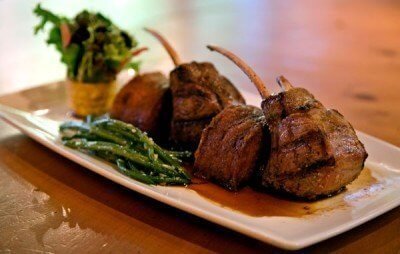 Last week I tried ajiaco de chayote con bistec. It's a 28-day dry-aged Carlton Farms rib eye steak, accompanied with three traditional sauces: uchucuta de tamarillo, aceite de parilla and picadillo de pepino melon, served with sautéed chayote, yukon gold potatoes and ají amarillo. The steak by itself was good, enhanced by little rivers of crispy-tender fat running through the meat. The three dipping sauces upped the ante, adding a whole series of extra dimensions. From my experience, it's hard to go wrong with a beef dish at Andina.
Another good choice is the lamb, currently corderito de los Andes. The restaurant usually does a good job with it, though on one visit I had to send it back twice to get it cooked properly. On a subsequent visit, it was just fine, and they comped a portion of my dinner. They use local grass-fed lamb arranged against Peruvian yellow potatoes, surrounded by a two cheese timbale. The meat is perfectly cooked, tender and juicy with just the slightest hint of gaminess, finished with a pepper demi-glace ($31). Even the organic free-range chicken breast turned heads around our table. Pollito al pisco con toques chorrillanos, or chicken brined in pisco and roasted with Peruvian peppers, tomatoes, and chickpeas – it's a perfect synergy of unusual flavors. Crispy quinoa coated potato croquettes and an acorn puree is served on the side ($26). As a health conscious friend put it "Even after I removed the skin, it is still one of the best, most flavorful chicken dishes I've ever had".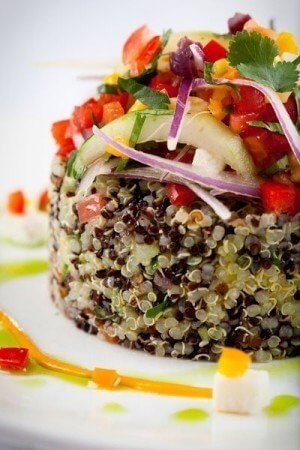 Fish is excellent at Andina. I recently tried atun con tacu tacu y aguaymanto, a seared yellowfin tuna crusted with black pepper and orange zest, served with lentil tacu-tacu, orange-endive "salsa criolla" and a cape gooseberry-aji-amarillo sauce. It was like a college class in harmony. I loved the presentation of a large piece of tuna, surrounded by four mounds of lentils, and a star-shaped array of little endive boats that were filled with flavorful orange segments. The gooseberries provided unexpected blasts of flavor.
A good choice that shows its Asian roots is halibut al rocoto y kion, a good sized piece of roasted halibut over a shitake mushroom, smoked bacon, and bok choy broth, topped with slivers of ginger, rocoto, and scallion basted with smoking hot sesame oil, served with more of that perfect asparagus and quinoa fried rice. Finally, conchas del Senor de Sipan, large bay scallops perfectly cooked, perched on top of wilted spinach and potato parsnip purée, with golden beet and crab meat "cannelloni", and a duet of red beet and passion fruit reductions. Though some of these dishes sound like they have an overwhelming number of ingredients, they don't feel that way when you eat them; everything just works.
Desserts have improved over the past year, and reflect the modern flavors of Peru ($8-$10). The flan de queso de cabra is a goat cheese and lemon cake, laced with seasonal berries, basil and habanero. The result is somewhat like a cheesecake, but a bit more interesting. It is lighter than I expected. A trio of crème Brûlée was very good, with passion fruit, a mango, and and caramel flavors. The ubiquitous quinoa appears again in canutos de quinoa y maracuya, crisp quinoa studded cannolis stuffed with passion fruit mousse, served with mango-lemongrass sorbet and caramel.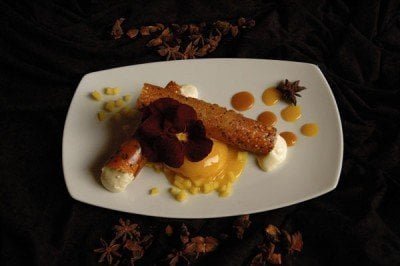 I think it is appropriate to talk a bit more about the bar area. It is completely separate from the restaurant and is inviting and comfortable. Almost every evening you'll find a few musicians playing. They tend to compliment the scene without overwhelming it by being unnecessarily loud.
The food at Andina rarely fails to impress, even catching the attention of Gourmet Magazine, Gastronomica, NPR, The James Beard House, etc. The scene is warm and trendy, the food beautiful to look at and overall quite good. They want to inspire a passion for the food and an interest in the country, and I'd say they have succeeded.