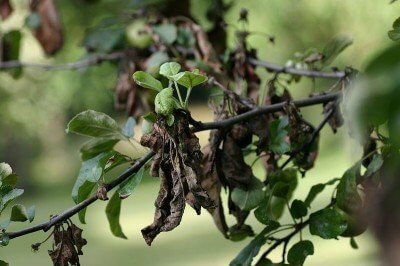 Antibiotics in organic fruit? According to the U.S. Department of Agriculture, organic fruits can be labeled as such even if they're treated with antibiotics, which are used to prevent disease a disease called fire blight. The blight occurs in the Rosaceae family, which includes apples, pears, quince, raspberries and other fruits.
Back in my agriculture days, this contagious disease was a huge problem. It would spread rapidly through pear and apple trees, leaving the leaves looking scorched, sometimes destroying entire orchards. In those days, I don't recall there being much we could do about it, other than accepting losses and being very careful to dip our shears into a sterilant every time we made a cut while pruning back infected limbs. Even bees, birds, rain and wind can spread the disease. Unfortunately, the bacteria can overwinter in infected plants, spreading again when the weather warms, and it is easy to miss new infections, which means many passes through the orchards are necessary to keep it under control.
These days the trees are sprayed with the antibiotics streptomycin, oxytetracycline and terramycin to prevent new infections, although overuse of those sprays have led to streptomycin-resistant bacteria in some states.
According to Earthfix.info, the National Organic Standards Board is meeting in Portland this week. Food safety groups are petitioning the board to ban the use of antibiotics in fighting the disease.
Perhaps due to my early agricultural background, I find myself conflicted on this question. On one hand, I have seen how this disease can ruin acres of fruit in a very short time. I've seen the pain on a farmers face who watches decades old trees laid waste by this disease. On the other hand, I abhor the use of antibiotics in food production, and do my best to avoid those products that contain them.
I'm guessing that a ban on the practice would result in even higher prices for these fruits, and will eventually lead to less orchards in production. However, as older orchards are replanted, new, more blight resistant rootstocks and tree varieties will be used to replace them. Of course it takes years to bring a new tree into full production. In addition, there are alternatives to the antibiotics coming down the pike, so there is hope.
What do you think? Should antibiotics be allowed to be used in "organic" crops?