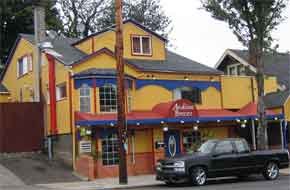 Arabian Breeze has now closed
Arabian Breeze: the name certainly conjures up romantic images, and for those not familiar with lots of different Lebanese foods, going through the menu at Arabian Breeze is an adventure. The restaurant is on Broadway and NE 32nd, just down from Sweet Basil. Think converted basement gone Syrian – low ceilings, lots of bright colors, Middle Eastern art. The center pillars have been put to good use by sandwiching a long community table between them. Smoke from hookahs occasionally lends a sweet smell from the large area upstairs. The menu is multiple pages with enticing descriptions and pictures. They specialize in dishes that are a bit different from the normal Lebanese fare around town. The first few times, we ordered whatever came to mind, trying things we hadn't seen before. It is nice to have a few dishes that are less common.
Service is very friendly. Most of the servers actually seem like they enjoy being there, however, that doesn't mean they know what they're doing. At times they can be truly clueless. For example, on our first visit: Water glasses sat empty for most of the meal, empty salad plates were never removed and we never did get an offer of dessert, just the bill. (Strangely enough, after two weekend misses, when we came back on Monday of this week, a different server was much better.) However, every time we visited, appetizers were delivered at the same time as the entrees. By the time we got out from under the deluge, some items were cold. Silverware is the really cheap stuff used in cafeterias – just awful. No alcohol yet; if the food had a bit more spice, this would be a major sin. I'm told the license is pending. Credit cards? Sorry, cash or check please. There is an ATM which will charge you a transaction fee plus whatever your bank adds on. Give me a break. Raise your prices 2% and get a machine… heck, raise them 3% and get some decent cutlery. These are the reasons Arabian Breeze will not be on my regular list of places to visit.
There are times in life that if the food is good enough, even with the worst service you'll still come back. Remember the Soup Nazi? Notwithstanding that I've totally slammed them, I do have good things to say.
The menu itself is excellent. Written for the Lebanese neophyte, it guides you through with great descriptions and pictures. Portions are very large; plan on taking some home for lunch the next day. You get a lot for your money – most entrees run around $8.00-$9.00 including a dinner salad. Unfortunately the salad is not the best, but hey, it's greens. It would be nice if they had some sort of sampler platter, but they don't so you have to jump right in.
Shortly after sitting down you will be served Sajh. A paper thin unleavened bread, made fresh and hot off the griddle, it is draped over a holder on your table and is just terrific. Go ahead and wolf it down, they'll quickly bring more.
The salad that accompanies each order was pretty pathetic; drowned in a garlicky dressing, it was slightly better on subsequent meals. Here is a roundup of the dishes we tried:
If you've ever been to Lebanon, you've had lagbna. It is a staple served as an accompaniment with most meals. Thick, fresh yogurt cheese with mint, thyme, and olive oil, surrounded by cucumber and tomato slices. ($5.25) Here they do a nice job with it, sending out a huge plate, though that is not always necessary, as it is served on the side of many dishes.
Under starters they have several types of sambousik. These are a close relative of the Turkish boerek, three traditional turnovers, stuffed and deep fried. Popular fixtures at Middle Eastern cocktail parties, they should be passed round within minutes after being taken from the hot fat in which they are fried. When done correctly the dough is nice and light. One meal we tried Spinach Sambousik ($5.50), a little turnover of pine nuts, onions, almonds, and spices. Unfortunately, it came heavy and fulsome, dripping with oil and quickly turning soggy. Another night I ordered the ground lamb sambousik with onions, pine nuts, almonds, and spices. This time it was much better. Frankly, though, I don't see what all the fuss is about. Traditionally they at least have pepper and allspice or cumin, but these versions do not have a lot of spices, and just seem boring to me. Maybe I need to try them after several cocktails for the right effect. Their falafel ($5.75) is another example of an average excuse for what can be an excellent dish. Don't order it here; go to Karam and get a version you'll remember.
Kafta ($8.25) is a large platter with lamb that has been ground and seasoned, then mixed with onions and parsley, made into kababs, grilled, and served with sumac spiced onions. This is a very mild dish; the meat is nice and juicy though not particularly lamb flavored; the liberal amount of rice pairs well with the kababs. Unfortunately, they don't taste nearly as interesting as the menu description, but still, it was a decent dish. The chicken kabab on the other hand was irresistible. Two large skewers of moist, tender chicken, sandwiched with peppers and onions over a mound of rice and a side of toom (a traditional yoghurt cheese in a garlic puree), it is the best entree I had in any of the visits and I would consider going back just to have it again ($8.25).
Freekah is special smoked, cracked green wheat that is imported from Damascus. It is an ancient way of enjoying some of the wheat crop before it was completely ripe and ready for harvest. The smoky flavor makes a wonderful platform for savory dishes. Here it is cooked with chicken, pine nuts, herbs, and spices ($8.75). Like other entrees, this is another large dish; I think a bit too mild in flavor, but unique and satisfying.
Desserts are a bit of a disappointment. The Baklava ($5.25) was only average. Perhaps a better honey would help. The "Family Recipe Layered Custard" was a huge concoction made of layers of chocolate and vanilla, separated by philo, topped with whipped cream and pistachios. It came out of the chiller too warm and was runny – I wondered if I would regret eating this later if you know what I mean. Namoura (also known as hareesa) a house-made cake of farina and coconut that's drizzled with orange blossom syrup should be warm and soaked through. Here it is room temperature, had little syrup, and had not been covered properly so was dry ($2.75).
I'd heard a lot of mixed reviews about Arabian Breeze so decided to check it out for myself. Even though there are good items on the menu and the prices are very reasonable, I don't think I'll be back soon. Instead, I'll wait to see if they can iron out the wrinkles. They need to deal with the service, come into the modern age and take debit cards, and finally tweak the recipes to add a bit more flavor so that the dishes live up to their promise.
Phone: 503-445-4700
Address: 3233 NE Broadway, Portland, OR. 97232

Google Map

Hours: Mon-Thurs11am-9pm, Fri-Sat 11am-11pm,  Sun 12pm-9pm. No credit/debit cards.
Website: ArabianBreezePortland.com