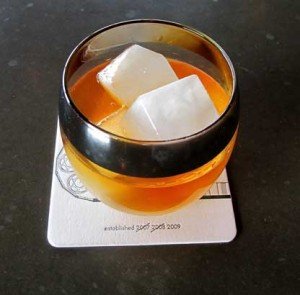 In case you missed my tweet last week, according to The Oregonian, Beaker & Flask, Kevin Ludwig's popular bar/restaurant in SW Portland has closed "for at least two months."  "Things haven't been working for a little while, but this happened suddenly," Ludwig told The Oregonian by phone Wednesday. "We're going to be closed, I'm going to redo the kitchen and hopefully reopen sometime in July."  The math doesn't quite work out here, but maybe I'm just slow.
This doesn't surprise me, but I sure hope he reopens; makes me nervous.
---
Speaking of alcohol, I don't drink nearly as much as I used to, but when I do I tend to imbibe at home. Why? Because it has gotten so damn expensive to buy cocktails. I was in the bay area not long ago and paid $18 for a Gin & Tonic (which wasn't particularly good), and have spent similar amounts in Los Angeles and Vancouver BC. In Portland they aren't nearly that high, but many of the times I do go out for a couple of drinks with a friend I cringe over the tab – four cocktails and the tip are a quick trip North of $50.
Washington City Paper asks "How Much is Too Much?"
José Andrés' new "cocktail lab" Barmini offers a drink for $25, which was bumped up from $17 two months ago when more premium ingredients were added. The "Big in Japan" consists of Japanese whiskey, muscat, Amaro, and a yamamomo berry, a marble-sized red fruit known as a "mountain peach" that grows only in Japan.

Bourbon Steak tops that with its $39 Centenaire Smash with Grand Marnier Cuvee de Centenaire, lemon juice, and mint served over crushed ice. And the new Penn Quarter seafood joint Azur briefly offered a $40 cognac-based drink. Meanwhile, craft cocktails at most upscale bars and restaurants in D.C. now average between $14 and $16. It's no longer unusual to find cocktails that cost more than entrées. Which may have diners wondering: Just how much is too much to spend on a single drink?

When PX owner Todd Thrasher joined Café Atlántico in 1996, the restaurant became one of the pioneers of the local craft cocktail movement. His concoctions, including a margarita with a salt-foam rim, went for $7.50. Today, that drink is $14 at Barmini. If inflation was the only factor driving cocktail prices up, it would cost a little more than $11.
When is enough enough? I'm not faulting bars here, I'd charge whatever I could get away with too, and I understand that with demand for more and more exotic ingredients drink prices have to climb. Still, I can't help but wonder, have the increasing prices of cocktails curbed your drinking?