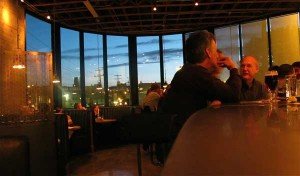 Bad news about Beaker & Flask. According to people 'familiar with the matter', the popular bar and restaurant will not be reopening.
Kevin Ludwig was well known from his longtime position as bartender at Park Kitchen. In 2010 he realized his dream, opening Beaker & Flask on SE Sandy to great fanfare. The restaurant and bar was a favorite of many, both because of the care the bartenders put into their drinks and the culinary skills of the kitchen. At the time it opened I wrote, "Beaker & Flask is a surprise, currently the only bar in Portland where the quality of the food matches the thoughtful detail put into the cocktails."
I'm sad to see it closed. It's a little punch in the gut to the Portland food scene. Hopefully Kevin will resurface somewhere. I use some of his drink recipes on a regular basis.