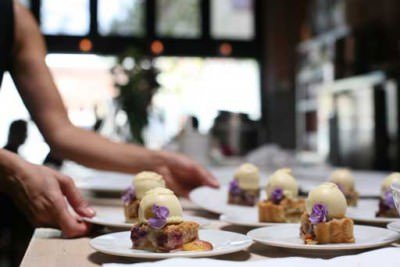 You read that right. Beast Restaurant is hosting an all dessert dinner for $150 per person. For that price you get the "Spring Fling", with six desserts by Beast's pastry chef Lauren Breneman, and Kir Jensen, formerly of the Sugar Cube, and now Milk Glass Market.
It should be noted that for the price, this panoply includes wine. It also should be noted that the first course is cheese, which I think is cheating – and it's savory!
A few notes to help you navigate the list. I swear, when you glance at the menu, something about the letter placement of "Spring carrot curd" makes it read Spring carrot turd". Just wait – I bet you'll do it too. For one startled moment I wondered what the hell that could be, and had visions of a tiny spoon and a tiny carrot orifice. But then I also wondered what feuilletine crunch and raspberry fizzles are, and why one would want to compress beets, so I did some research for you:
If you open a can of peanuts, and someone has eaten the nuts, all is left is the "salted peanut dust", so that mystery is solved.
I've found that, if I forget and leave the last few questionable strawberries that are in every basket on the counter, and then leave on vacation, I'll come back to strawberry dust.
It should also be noted that "malted milk crumb" is for the most part made out of Ovaltine with milk powder, flour, cornstarch, white chocolate and a few other things.
A "palmier", which is French for palm tree, is a fancy name for a pastry shaped like a palm leaf.
It turns out "Feuilletine is "a very thin crepe that is baked until crispy, then crumbled into flakes".
Chocolate sable throws me. Wikipedia defines it as "a marten with a short tail and dark brown fur, native to Japan and Siberia and valued for its fur". In this case, they seem to be dipping it in chocolate – an interesting approach, but I can't help but wonder… 
As far as "raspberry fizzles", well, Google doesn't find anything, so I'm just thinking Pop Rocks.
So what do you get for your $150? Here's the menu, complete with a handy translation:
Persille De Rambouillet (goat's milk blue)
Pickled green strawberries and compressed beets, and candied bacon palmiers – Fritz-Haag Riesling Spatlese 2013 from Mosel, Germany.
Translation: underripe strawberries, squished beets, sugary bacon on fancy pastry.
Lemon Semifreddo
Toasted candied fennel meringue, gingersnap-lemon baked Alaska, warm gingersnap cookie, Spring carrot curd. Stephane Tissot Macvin du Jura Blanc – NV Jura, France
So here they take some of those fennel seeds that taste like liquorice, stir them up with melted sugar so they are nice and sweet, mix them into a whipped egg whites, wrap that around a sponge cake and ice cream, quickly cooking it to brown the meringue (not to be confused with the dance named the Merengue, which is something else entirely). This is served while still warm with a tiny turd curd from a little carrot. 
Strawberry-Malt Tart
Chocolate sable, macerated strawberries, malted milk crumble, strawberry powder, malt cream – Azienda Agricola Negro Birbet Brachetto, 2015 Piedmonte, Italy.
So you get this animal thing, probably skin it, dip in chocolate, smush some strawberries, sprinkle some crumbled Ovaltine and stuff over it, scrape out the bottom of a strawberry basket, and add some gruel made from malted barley.
Milk Chocolate Pavé
Cacao-nib feuilletine crunch, bruleed foie gras, coffee caramel, salted peanut dust – Chateau Tirecul la Graviere Monbazillac 'Cuvee Chateau' – 2005 Bordeaux, France
Crumbled chocolate crepe, goose liver that has been quickly caramelized with a torch, caramel with coffee added, and the dust at the bottom of a can of peanuts.
Vanilla Roasted Rhubarb
Green almond yogurt, almond financier, rose granita, pea shoots – Renardat_fache Bugey de Cerdon- NV Savoie, France
A financier is kind of like sponge cake. Granita is an Italian ice. Mix with Greek almond yogurt and pea shoots. Doesn't sound very good to me, but what do I know.
Poppyseed-Lovage Pavolva
Sorrel sorbet, white chocolate raspberry fizzles – Dom. Huet Vouvray Molleux Bourg – 2007 Loire Valley, France
The leaves of a plant from the parsley family, with the leaves of another plant that is frequently used in salads, steeped to flavor a sorbet, with white chocolate, and Pop Rocks, all set in a basket made of baked, whipped egg whites. Sprinkle with poppyseeds.
Anyway, I'm sure this dinner will sell out, so if you want to get in on the extravaganza, you'd better book now – at http://beastpdx.com