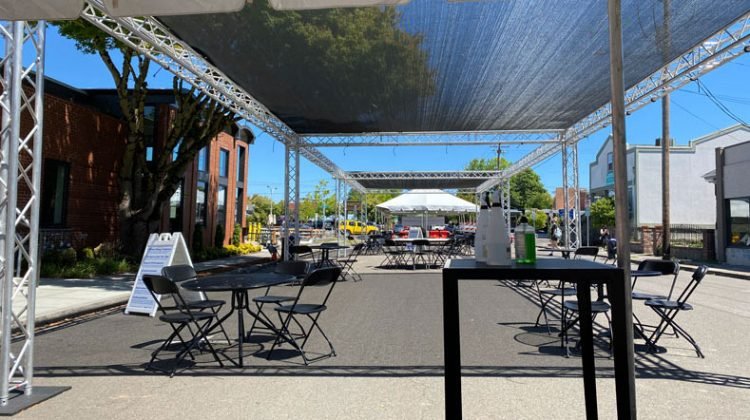 A few items of note to those of you who live in the Beaverton area. First of all, the city is working with the restaurants in the downtown area to allow them to add patio dining. Decarli, Lionheart Coffee, Top Burmese, Ex Novo Brewing, and Afuri all have spaced outdoor areas with more area restaurants being added every day. Lionheart somehow took over the entire block and added a combination of covered tents, shade cloth tents, and open areas. Big's Chicken has its own shaded patio area and Ikabod's had increased their patio space. Syndicate, a new wine bar and bottle shop on 1st street also has an outdoor area. You'll also find Ur Mediterranean, Nak Won Korean, The Whole Bowl, and more in the neighborhood.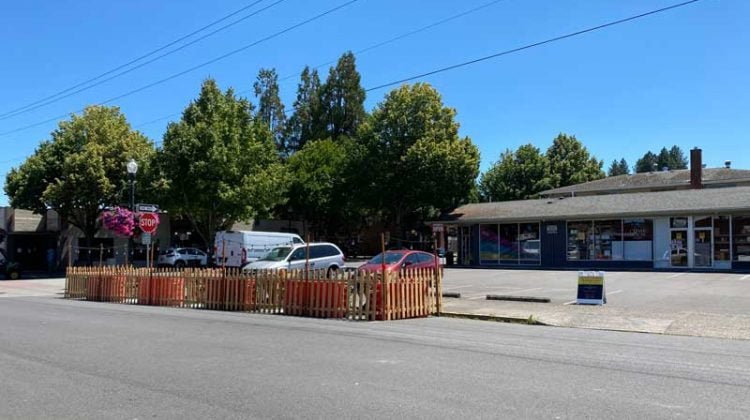 Lionheart Coffee Continues to Impress
Speaking of Lionheart, since my review back in February, I've been further impressed by the owners and staff. While they have been selling coffee to go over the past few months, they also offer a wide variety of beer, wine, and other beverages, coffee beans from local roasters, oat milk and even a handcrafted cheese board or a plant  – you can order online and pick it up, and they try to deliver it to you the same day. But the thing that blows me away is Lionheart has been making food available those in need at no charge. I've wandered in many mornings to see the huge table in the middle of the shop completely devoted to making sack lunches, which they place discreetly just inside the front door for those who are struggling.
Our free lunch program continues with lunches available every day at both locations. Please feel free to pick up a free lunch if you need one. No questions asked. If you need your lunch delivered, contact us via our social media accounts.

Every Thursday is 'Takeout Thursday' in Downtown Beaverton! With so many great restaurants to choose from, good luck choosing just one! We applaud the businesses in Downtown Beaverton for also making takeout meals safe and affordable. Focus on the food and allow us the chance to deliver your drinks to your doorstep! Follow our daily instastories to see our offerings of beer, wine, coffee and so many other great options that we have ready to deliver to you today!
Chefstable Opening in Beaverton?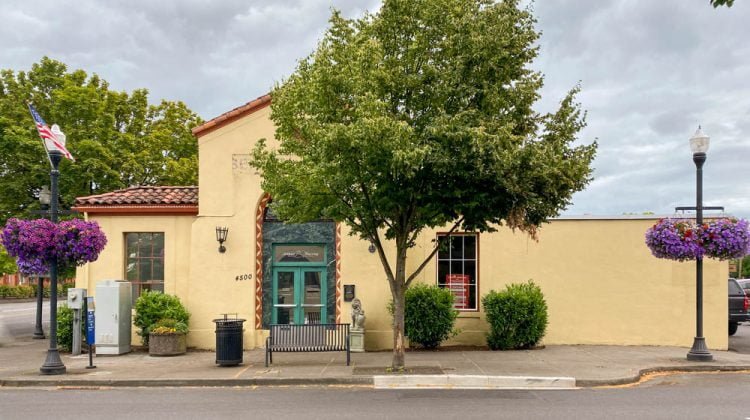 Moving on – The old ballroom dance building on the corner of SW Watson and SW Farmington is being redeveloped by the restaurant group, Chefstable. This was as of late 2019. Work has definitely started, though whether it will continue in the current landscape remains to be seen. I love that building and always thought it would be a good restaurant space. It was built in 1923 and has 18′ ceilings. I'm told the plan is for the restaurant to serve tapas (I'm assuming Spanish?), and to have a large patio area in the back, currently a parking lot. The city wanted to put three restaurants into the space as part of their growing "restaurant row". No idea if that is still the plan.
Finally, a personal note
When I was growing up my parents exposed me to a wealth of music. My dad played many instruments and regularly pulled me and my sisters into the music room for an impromptu sing-along while playing the banjo. When we were young it was mostly folk songs – The Carter Family, Pete Seeger, Woody Guthrie, Barbera Dane, Bud & Travis, and more. I still remember them all; extra points if you are familiar with the last two.
I have always turned to music when times are tough. It allows me to drain the grief, bring me solace, hope, and the energy to push through. All of the challenges I've faced over 60 years have been etched in my mind by the songs I was listening to at the time. Rare is the unfortunate person who has been on a long drive with me without being pushed to sing.
Lately, I've been listening to a lot of those old folk songs. Over history, they rose from pain, hope, and the beauty of our nation.
It's not easy dealing with things in our world right now. For many, this may be the worst time they will experience over their lifetime. For those of us who have been around longer, it shakes our foundations, the ones built of Polio, the Vietnam War, Kent State, the Watts riots, Watergate, 911… I am brought to tears by letters I'm getting from restaurant owners and workers; the stress and despair of those who are losing their livelihoods, the dreams dashed, families broken and bankruptcies pending.
We came together and fought that disease. We protested and marched against the war and the injustices served upon those who were oppressed. We tried to understand and support. We grieved together. We made it through.
When I recently heard Pete Seeger sing The Water is Wide, it gave me pause. In the late '50s, my parents took me to see Pete at the local park. I must have been fidgeting, and he reached down, pulled me onto his knee, and sang that song*. He said, "It reminds me of the ocean between human beings" and I saw it in a new light.
This is an overwhelming confluence of events, but we'll make it through once more. I'm pushing myself once again to understand the divisions, learn of the pain others are feeling, be less quick to anger, find hope in the dark, and to rise up in support of my fellow man. I can do this. You can do this. We can do it together. Our lives will change and will be haunted by these events, but someday we will begin to heal. Stay strong, wear your mask, exercise, and look within yourselves, for there you will find the answers.
*The same thing happened to me at the old Ash Grove in Los Angeles, this time with Joan Baez, but that's another story.