New Year, New List: Zusman's Best Restaurants in Portland – and the Overrated Ones
As Jerome J. Garcia and Robert C. Hunter once wrote, "The winter was so hard and cold, froze ten feet 'neath the ground." Portland's darkest season made me want to flee or sleep, in turns. But at last Springy things are sprung in Stumptown and everyone is looking for a good spot to eat.
Despite the City's best (and continuing) efforts to ruin dining out in Portland through aggressively myopic urban planning—witness the horrors visited on North Williams Avenue and Southeast Division Street—and the uncertain impact of an impending increased minimum wage, the 20-year-long expansion of local restaurant options has barely missed a beat. Go figure.
So, here we go again, with the latest update of my unvarnished Top 10 (and then some) of the best Portland restaurants. The upper echelon is mostly unchanged, but note plenty of movement in the next tier. I've included some sweets spots because dessert is the most important meal of the day or something like that. Also, scroll down if you want shout outs to well-loved sorta-but-not-quite restaurants. Also debuting here: my "All-Overrated Team," the places you hear about endlessly, often through the amplifier of potent PR and complacent or complicit media, that aren't nearly as compelling as "everyone" says.
The Top 10ish Portland Restaurants (in no particular order)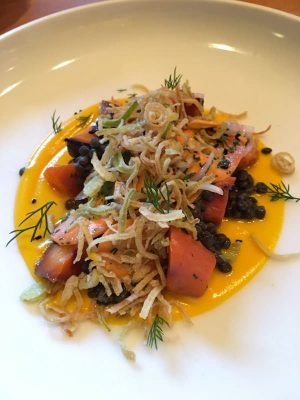 The Next 15 (or so)
Notable New Restaurants:
Hard to say who's really running Jackrabbit, the meaty, beaty, big and bouncy spot that went into the lobby of the Hilton Executive Tower earlier this spring. The "name" behind it is San Francisco celeb chef Chris Cosentino, with local exec Chris Diminno. Haven't seen either of them around since week one, though in fairness, the kitchen is hidden from view… Big's Chicken, chef Ben Bettinger's new coop, is slinging roast chicken and jo jos… Johanna Ware is back with Ware's at The Zipper micro eatery center on NE Sandy.
Kinda-Sorta-But-Not-Really-Restaurants…Yet
Everyone who eats at Mae, the Southern food spot compressed into the back room behind Old Salt restaurant, loves it and the folksy yarns from its guiding spirit chef Maya Lovelace. It's understandably a hot ticket, especially the fried chicken that Lovelace sometimes sells by the bucket to go. Otherwise score a seat for a multicourse meal, now served three nights a week.
The restaurant hidden behind a false door shtick has grown a little tired, but Earl Ninsom's regional Thai prix fixe menus served at Langbaan still wow the crowds that pack into the tiny space it shares with Ninsom's principal eatery, PaaDee, another Thai restaurant. Now that Langbaan is up to four nights a week, maybe it will be easier for most folks to check it out.
Contemporary Korean food isn't a particularly well-established branch of gastronomy, But Peter Cho's efforts at Han Oak are slowly changing that in Portland. Noodle and dumpling nights on Sunday and Monday feature the ultimate Asian stoner food, budae jjigae (with ramen noodles, cheese, spam, hot dog, kimchi, tofu and whatever in a moderately spiced broth) that actually traces its origin to the time of privation following the Korean civil war in the early 1950s.
When you try a cheesesteak from Grant's Philly Cheesesteaks, you're instantly transported to the City of Brotherly Love in all its downscale glory. Get the regular cheesesteak with grilled onions, sweet and hot peppers and provolone. Then get a side of Whiz (yes, fake cheese from a jar) for dunking, better to nosh away your sorrows as you watch any of the pathetic sports teams that call Philadelphia home.
The All-Overrated Team
My friend John Curtas, a food writer in Las Vegas, has his Vegas Bottom 10. But I'm a lot nicer than John and couldn't pen such a thing in ever-so-mellow Portland. Instead, I bring you a short compendium of the places your friend's friend who just moved to Portland from Brooklyn is apt to gush over, even if she hasn't been, because "everyone" says they're great, even though they're really not. It's nothing personal, and It won't hurt my feelings a bit if you go despite my warning, though I reserve the right to say, "I told you so."
Kenny & Zuke's Deli: A parody of the creative Jewish deli that opened 10 years ago.
Ava Gene's: Had some great dishes here, never a great meal.
Beast: Well past its pull date.
Screen Door: Great gobs of cheap Southernish glop.
Salt & Straw: The regular ice cream flavors are done better elsewhere. The clever flavors are mostly just gross.
Navarre: Minimalism run amok
Luce: A dubious ascent to national notoriety
Voodoo Donut: Just possibly the worst donuts ever made. For drunk punks and gullible tourists only.