New Year, New List: Zusman's Best Restaurants in Portland – and the Overrated Ones
As Jerome J. Garcia and Robert C. Hunter once wrote, "The winter was so hard and cold, froze ten feet 'neath the ground." Portland's darkest season made me want to flee or sleep, in turns. But at last Springy things are sprung in Stumptown and everyone is looking for a good spot to eat.
Despite the City's best (and continuing) efforts to ruin dining out in Portland through aggressively myopic urban planning—witness the horrors visited on North Williams Avenue and Southeast Division Street—and the uncertain impact of an impending increased minimum wage, the 20-year-long expansion of local restaurant options has barely missed a beat. Go figure.
So, here we go again, with the latest update of my unvarnished Top 10 (and then some) of the best Portland restaurants. The upper echelon is mostly unchanged, but note plenty of movement in the next tier. I've included some sweets spots because dessert is the most important meal of the day or something like that. Also, scroll down if you want shout outs to well-loved sorta-but-not-quite restaurants. Also debuting here: my "All-Overrated Team," the places you hear about endlessly, often through the amplifier of potent PR and complacent or complicit media, that aren't nearly as compelling as "everyone" says.
The Top 10ish Portland Restaurants (in no particular order)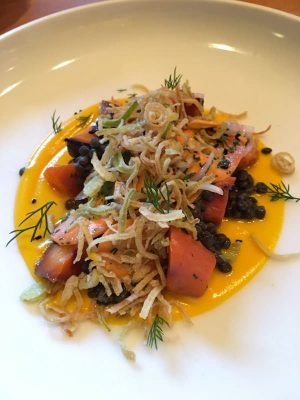 The Next 15 (or so)
Noraneko: The commonly-owned trio of restaurants offer, between them, Portland's best Japanese food. Composed dishes from Biwa, ramen and burgers at Noraneko, okonomiyaki (and booze) from Parasol all earn high marks for quality and creativity.
Grassa/Lardo: Fine dining chef from Back East moves to Portland, runs food cart, then opens first-rate sandwich shops and pasta joints. Deliciousness ensues. Fave sandwich: porchetta. Fave pasta: carbonara.
Pie Spot: The signature mini pies are notable for an insanely high crust-to-filling ratio, beautiful deep golden buttery crusts and easy-to-love fillings such as chocolate/peanut butter, pecan and marionberry. My go-to dessert venue serves savory pies, too.
Laurelhurst Market: A steakhouse that perfectly captures the ineffable Portland vibe. No pretense, nothing too fancy. Just great steaks (and a few other entrees), with an ample selection of salads, sides and sweets to finish.

Hat Yai

Hat Yai: Southern Thai food is hot, really hot. And they serve the uncut dope here along with yummy chicken, savory and sweet roti and a handful of other treats, all otherwise unavailable in Portland.

Cool Moon: Creative, but not disgusting, ice cream flavors, hold the hype. The kulfi, a cardamom/pistachio concoction is the standard bearer. Most varieties rotate but try to catch Midnight Munchies, caramel cocoa nib swirl or Thai ice tea.
Paiche: For those who fell in love with the ceviches of Lima, this is where you want to go. The few cooked dishes fare equally well under the watch of chef/dad/surfer dude Jose Luis de Cossio. The fish here is flown in fresh from Hawaii. There's another Peruvian restaurant in town that gets a lot of fawning attention. Go here instead. [Note: Paiche eliminated dinner shortly after this was posted, but it open until 3 pm.]
Pinolo Gelato: Have I mentioned I have a fondness for frozen confections? Fresh fruit sorbettos find their highest and best expression here. Between them and a selection of equally excellent gelati, I'd stack it up against the competition anywhere on the planet. Yes, including Italy.

Taylor Railworks

Taylor Railworks: Erik Van Kley is a flavor-combination conjurer with a flair for mixing ingredients and ideas from around the world. "The Boxer", featuring hamachi tartare and apples, and "Noodles al la Johnny" with crab and prawns are menu standards. Most everything else comes and goes. An under-the-radar star.

Pho Oregon: Seriously, kids, ramen is for lemmings and posers. If soup is on your mind, nothing beats a steaming bowl of the super concentrated beef broth here, heavily perfumed with five spice, cinnamon and whatever other magic they toss in the stockpot. Order the one with everything, including all the naughty bits.
Danwei Canting: The Beijing street food they serve here encompasses dishes from all over the PRC, altered only a little for Western palates. Though the year is young, this is my favorite among relative newbies. Try the hot, numbing chicken dish, la zi ji; shoestring potatoes and a dish of peanuts in sweetened black vinegar.
Tiffin Asha: The southern Indian dosas here are worth driving across town for. Your best alternative is way the hell out west in Hillsboro, and this is just as good. The menu's overall vegetarian and naturally gluten-negative focus will please all the special needs diners you still hang out with because they're otherwise nice.
Original Pancake House: The OPH has been slinging Brobdingnagian breakfasts, including their massive Dutch Baby and apple pancake, in deep Southwest Portland for close to 70 years. They were offering fresh fruit in season before it was fashionable.  If you're going to wait in line for a morning meal, skip the precious, mostly mediocre spots in town and head here. [FD: cash or check only, atm in the lobby]
Poke Mon: Dumb name, but superlative renditions of the Hawaiian marinated raw fish over rice specialty. Abundantly talented Colin Yoshimoto is the culinary guiding force here, a quick hop up Southeast Hawthorne, which easily bests the better-funded competition at twice rebranded but still forgettable "Quickfish" downtown.
Mi Mero Mole: Now down to a single Old Town outlet, this remains the primary in-town venue for the stewed meats and veg concoctions known as guisados, which can be used to fill enchanting tacos, burritos and other Mexican standards. MMM's owner, Nick Zukin, is a friend but has riled enough other writers to be unjustifiably ignored on most lists. Prickly personality aside, his dedication to the craft of Mexican cooking knows no bounds.
Notable New Restaurants:
Hard to say who's really running Jackrabbit, the meaty, beaty, big and bouncy spot that went into the lobby of the Hilton Executive Tower earlier this spring. The "name" behind it is San Francisco celeb chef Chris Cosentino, with local exec Chris Diminno. Haven't seen either of them around since week one, though in fairness, the kitchen is hidden from view… Big's Chicken, chef Ben Bettinger's new coop, is slinging roast chicken and jo jos… Johanna Ware is back with Ware's at The Zipper micro eatery center on NE Sandy.
Kinda-Sorta-But-Not-Really-Restaurants…Yet
The restaurant hidden behind a false door shtick has grown a little tired, but Earl Ninsom's regional Thai prix fixe menus served at Langbaan still wow the crowds that pack into the tiny space it shares with Ninsom's principal eatery, PaaDee, another Thai restaurant. Now that Langbaan is up to four nights a week, maybe it will be easier for most folks to check it out.
Contemporary Korean food isn't a particularly well-established branch of gastronomy, But Peter Cho's efforts at Han Oak are slowly changing that in Portland. Noodle and dumpling nights on Sunday and Monday feature the ultimate Asian stoner food, budae jjigae (with ramen noodles, cheese, spam, hot dog, kimchi, tofu and whatever in a moderately spiced broth) that actually traces its origin to the time of privation following the Korean civil war in the early 1950s.
When you try a cheesesteak from Grant's Philly Cheesesteaks, you're instantly transported to the City of Brotherly Love in all its downscale glory. Get the regular cheesesteak with grilled onions, sweet and hot peppers and provolone. Then get a side of Whiz (yes, fake cheese from a jar) for dunking, better to nosh away your sorrows as you watch any of the pathetic sports teams that call Philadelphia home.
The All-Overrated Team
My friend John Curtas, a food writer in Las Vegas, has his Vegas Bottom 10. But I'm a lot nicer than John and couldn't pen such a thing in ever-so-mellow Portland. Instead, I bring you a short compendium of the places your friend's friend who just moved to Portland from Brooklyn is apt to gush over, even if she hasn't been, because "everyone" says they're great, even though they're really not. It's nothing personal, and It won't hurt my feelings a bit if you go despite my warning, though I reserve the right to say, "I told you so."
Kenny & Zuke's Deli: A parody of the creative Jewish deli that opened 10 years ago.
Ava Gene's: Had some great dishes here, never a great meal.
Beast: Well past its pull date.
Screen Door: Great gobs of cheap Southernish glop.
Salt & Straw: The regular ice cream flavors are done better elsewhere. The clever flavors are mostly just gross.
Navarre: Minimalism run amok
Luce: A dubious ascent to national notoriety
Voodoo Donut: Just possibly the worst donuts ever made. For drunk punks and gullible tourists only.