The endless question: What are the best Portland restaurants?
I frequently get letters from tourists asking, "What are the Best Portland Restaurants?" Lists of such are a dime a dozen, so instead, we decided to do something different – the restaurants that we are frequenting. Some are new, some old favorites, but if you are serious about Portland food they all deserve your attention. Of course, we will regularly update this list as time passes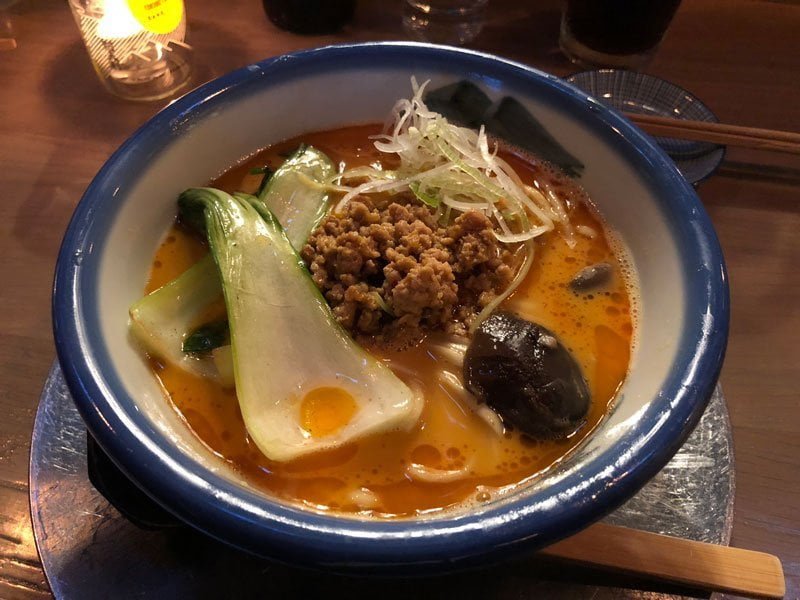 After years of few options, ramen focused restaurants have exploded onto our dining scene. Afuri, one of Japan's most popular chains, decided to open its first US restaurant in Portland. Though it has the pedigree, our first few visits left us underwhelmed. Now it's been over a year and the food has matured. Try the tonkotsu tantanmen ramen: spicy sesame miso tare, pork broth, garlic bok choy, leek, white soy shiitake mushroom, sesame chili oil, garlic ginger pork crumbles. Its spicy, satisfying broth is more complex than any other ramen I've had in Portland. You'll also find cold noodles for hot weather, various rolls, nigiri and sashimi. It's busy so be prepared to wait, but the restaurant is large and tables turn quickly. No reservations unless you are a party of 8 or more, but the space is so large you probably won't wait long. FD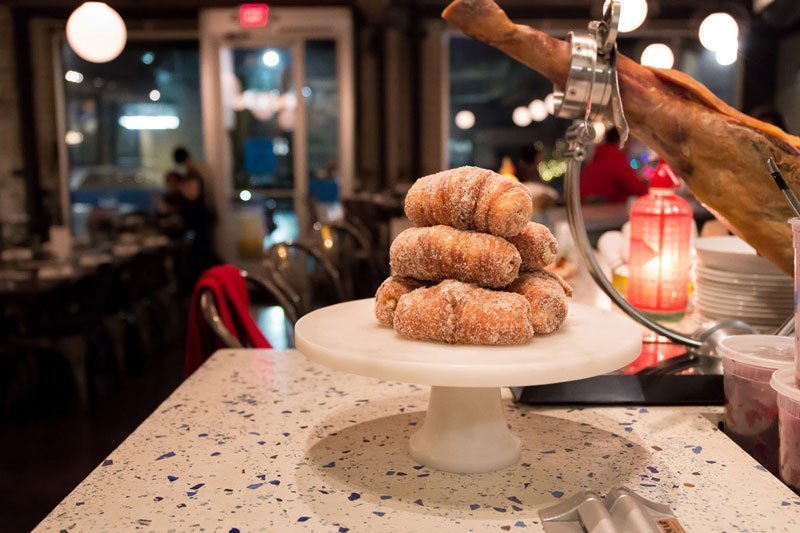 Though the place is always packed, it's hard to say how many Portlanders actually realize that Ataula is every bit the equal of Barcelona's best contemporary Spanish restaurants. Of course, that's chef Jose Chesa's heritage and every dish he creates is a compelling presentation of explosive flavors and satisfying textures. Michael Zusman
Ataula is not for those looking for fusion; this is the most authentically Spanish restaurant in Portland. Try the tortilla Espanola, paella or the rossejat, which are the best in town. Even better, the service matches the food. I've never left this restaurant without a smile.  FD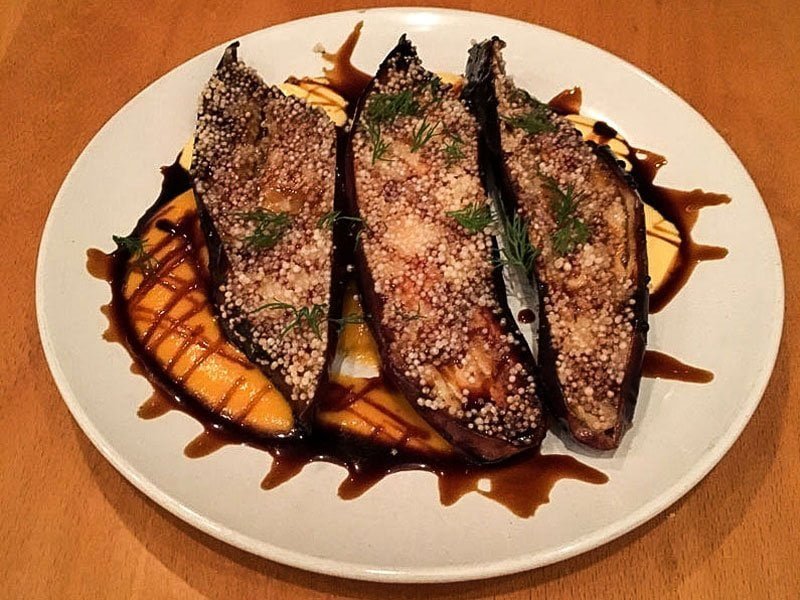 One of Portland's underappreciated gems is helmed by the massively talented but equally introverted chef Sarah Pliner. Here, the boundary between Eastern and Western cuisines fades deliciously into the background. In terms of pure creativity and bang for the buck, Aviary has no local peer. Michael Zusman
The food is great, inventive and creative and the service is excellent. The bulk of the menu is made up of small plates which they describe as "cuisine that applies classic French techniques to exotic Eastern flavors". You'll find Mediterranean and Asian influences scattered throughout. My advice, try things you aren't necessarily sold on from the description, and you will be happy. For example, the picture above of eggplant. I was hesitant; now I've ordered it three times. Other requirements include the crispy pig ears with coconut rice, Chinese sausage and avocado, the tomato brûlée – baba ganoush, lemon confit, buffalo mozzarella, black olive brittle and Thai basil. You'll be bothering everyone in the office the next day talking about your meal.  FD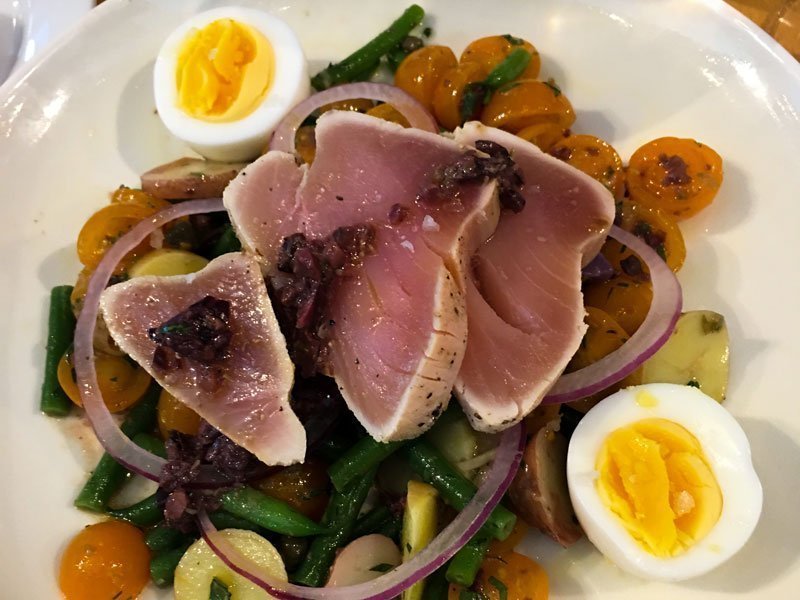 True French food has never been one of Portland's strong points until James Beard award-winning Greg and Gabi Denton decided to open a restaurant that couldn't have more of a different cuisine from their flagship, OX. This is as close to authentic French Bistro fare you'll find here. It's not embellished, but direct and to the point – a celebration of true classic French dishes. While this is a bistro it's a bit more refined, cloth napkins, options for stilled or sparkling water offered and the noise level hasn't been an issue while I've dined there. To that end, you will find classics – Tartare, Onion Soup, Escargot, Pâté, Coq Au Vin, Mussels Mariniere and Steak Au Poivre among the large menu. The space, directly across from Tasty n Alder is bright and comfortable with a slightly upscale feel. The dining room is uncluttered and the seating, while close quarters, doesn't feel too 'jammed' in. The wine list is full of surprises with and the waitstaff is helpful in navigating the list of the French wines. Most recently they've been exploring the wines from different regions in France. In multiple visits, we've yet to find a dish we didn't like. DD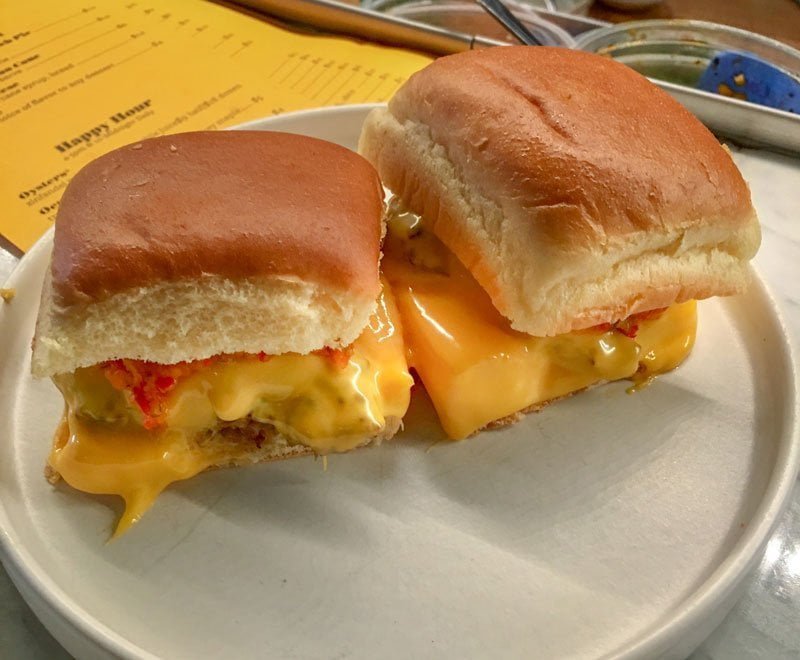 Gabriel Rucker has followed in the footsteps of greatest hits Le Pigeon and Little Bird with the more playful Canard. Though it could serve as a waiting room for Le Pigeon, next door, it easily stands on its own with a wide variety of interesting menu items. Even better, it's open for breakfast, lunch and dinner. You'll find everything from cinnamon swirl toast (hi mom) to a shrimp toast Benedict, and an over the top "Duck Stack" – pancakes, duck gravy, tabasco onions, duck egg, all available with seared foie gras, to steam burgers and more sophisticated like foie gras. There is truly something for everyone. Add a full bar and a carefully curated wine list. The restaurant keeps pulling us back to try new things. Check my Instagram for photos. FD
Where to take your visiting food snob friends who stare down their noses at food carts, cement floors and open beam architecture. Castagna has become Portland's modernist/naturalist institution. Owner Monique Siu deserves all credit for her acuity by selecting two chefs in a row with the talent to make it work and sticking with stylish fine dining that is increasingly uncool.  Michael Zusman
Yes, it's expensive, currently $55 per person for a four-course weekday menu, $100 for seven-courses and $165 for the chef's tasting menu. But this is one of the best restaurants in Portland, the most upscale, inventive dining experience in town, and if you consider yourself a serious foodie, well, it's to further your education. If the Michelin Guide ever comes to Portland, Castagna will be at the top of the list. FD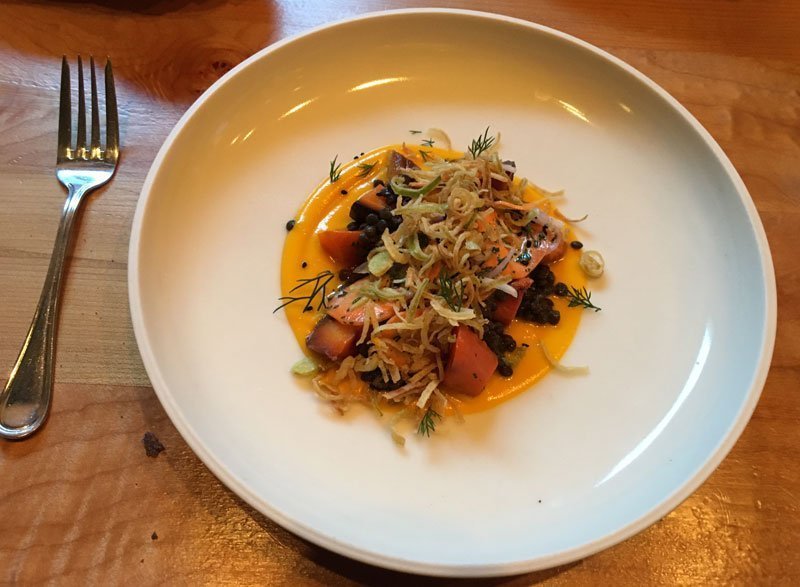 A sexy exception to New American overload. The proximity to perfection each plate achieves is uncanny. Presentation, flavor and temperature are unerring across the range from appetizers to pasta to the pate de fruit on the mignardise tray at the end. The chef, Katy Millard, and front of the house boss, Ksandek Podbielski, spouse of Katy, even manage to produce Portland's best chocolate chip cookie and seasonal popsicles during daytime café hours. Michael Zusman
Coquine has been my favorite restaurant in Portland for the last few years. Not only are the staff some of the nicest folks in town, but the food never fails to impress. Go here for lowish lights, warm, convivial atmosphere, great service and a big step up from most Portland restaurants. It's quaint, romantic… I could write a sonnet. Insider secret – they are open daily for brunch and lunch at lower prices. On a warm night get a table on the patio and watch the moon over Mount Tabor. FD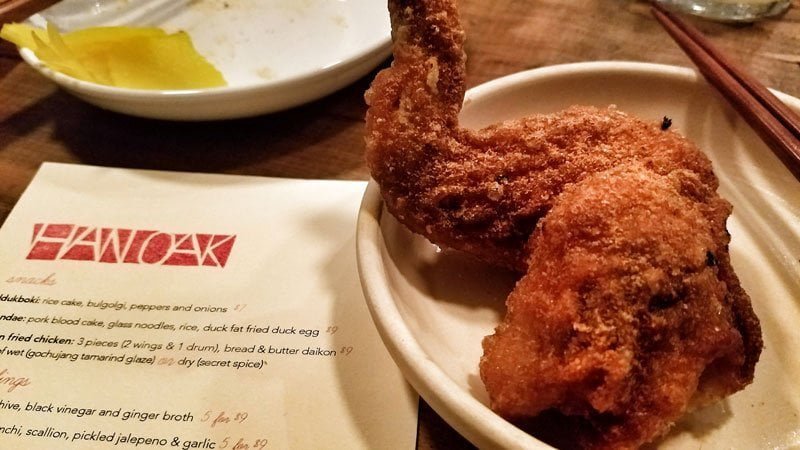 Contemporary Korean food isn't a particularly well-established branch of gastronomy, But Peter Cho's efforts at Han Oak are slowly changing that in Portland. Noodle and dumpling nights on Sunday and Monday feature the ultimate Asian stoner food, budae jjigae (with ramen noodles, cheese, spam, hot dog, kimchi, tofu and whatever in a moderately spiced broth) that actually traces its origin to the time of privation following the Korean civil war in the early 1950s. Michael Zusman
In November 2017 Esquire Magazine included Han Oak as one of the "Best New Restaurants in America". Try the dumplings – Chive Pork with black vinegar and ginger broth or Pork Kimchi, the Onomiyaki – a savory waffle with poached octopus, ginger, cabbage and bonito, and the Korean Fried Chicken. They only open Friday – Monday, so plan accordingly. FD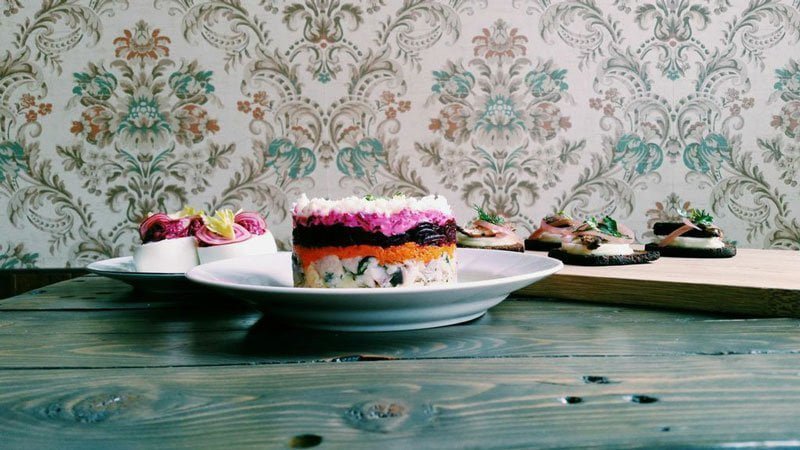 Portland has a wealth of massively talented female chefs and Bonnie Morales, a first-generation Russian-American, has conquered the formidable task of making Russian cuisine lively and luscious—and that's before delving into the impressive vodka selection on offer here. Figure you've heard of none of the dishes on the menu, except maybe the dumplings, and that they will all blow you away. Kachka, Da! Michael Zusman
Kachka moved from SE Grand Avenue to an expanded space on SE 11th this summer, which left room for them to open a more casual, drinking focused restaurant called Kachinka in the original space. If you like Russian food, you won't find their equal in the USA. Never had it? Throw caution to the wind; there are options for almost every palate on the menu. Kachka was named GQ's Most Outstanding Restaurants of 2015 and Bon Appetit's Best New Restaurant nominees in 2015. Try not to fill up on the dumplings; there are lots of other good choices like Herring Under a Fur Coat and Imerulian Khachapuri, a cheesy calzone like dish. Kachinka is a more informal restaurant with a smaller menu which pairs well with drinking foods and lower prices.
Probably the most difficult to get tables in Portland, this upscale Thai restaurant sells out months in advance. But follow their social media accounts and you might see a post pop up announcing a cancelation. Move quickly or it will be gone. The food an overall experience make this one of the hottest tickets in Portland. They offer two seatings a night of multi-course, prix fixe menu. The menu is far from your ordinary Thai restaurant expectations. A small sample of the dishes from the menu this week, "Northern Thailand specialties:" kanom krok – scallop, coconut cream, lemongrass, lime leaf, crispy rice cup. Pig head terrine, water chestnut, black woodear mushroom, fermented green strawberry. Relish of ground duck breast with galangal and market greens. Coconut custard, berries, jasmine meringue, butterfly pea and flower jelly. This is the restaurant of which food writer Ruth Reichl said, "Owner Akkapong Earl Nimson and Rassamee Ruaysuntia seem to be in a kind of wordless trance, working together, silently tasting the balance of flavors, plating each intricate dish. They handed the first plate of their tasting menu across the table – miang som (above) – and it took me right back to Thailand. This is Thai food as I have not experienced it in any other restaurant in America."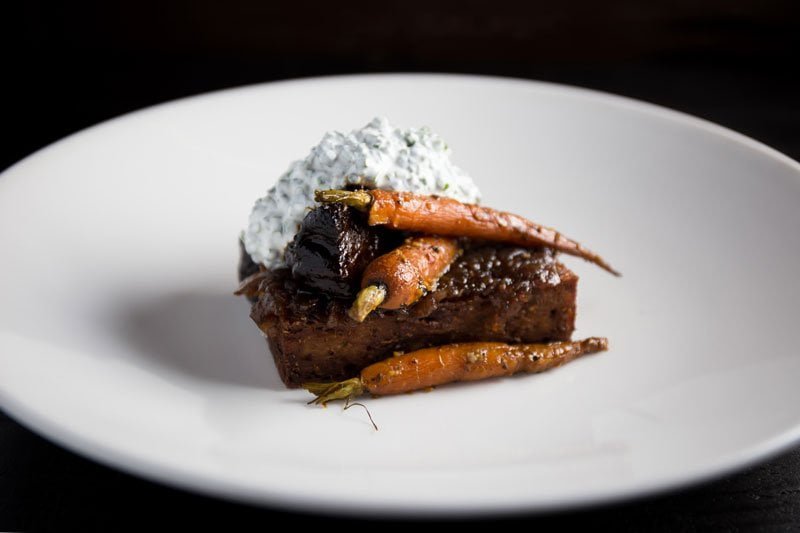 Gabriel Rucker's maniacally twisted takes on French food have ruled the roost on East Burnside for a decade now and the tiny, cramped space is justifiably jammed with locals and visitors damn near every night. The more conventional avian downtown is also wonderful for its range of bistro traditions, plus a much-lauded burger. Michael Zusman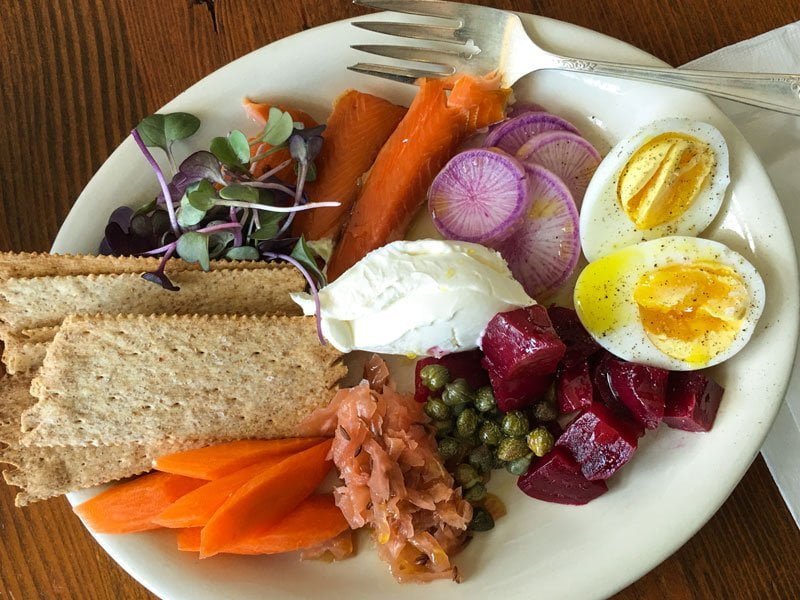 Our go-to breakfast and lunch spot, Milk Glass Market has never disappointed me. The staff is terrific, the ingredients local, everything is made from scratch, and not only is it some of the most Instagramable food around, it is also some of the best. You'll find lovely biscuits, eggs, greens, granola, a trout plate, grain bowls, sandwiches, and, best of all, an impressive selection of cakes, muffins and more all baked on the premises. Tables on the side street are nicely shaded. Whether you want a full meal with some booze or a muffin to go, this is a great place to stop. Oh, and if they have them, try the cinnamon roll; only your waistline will regret it.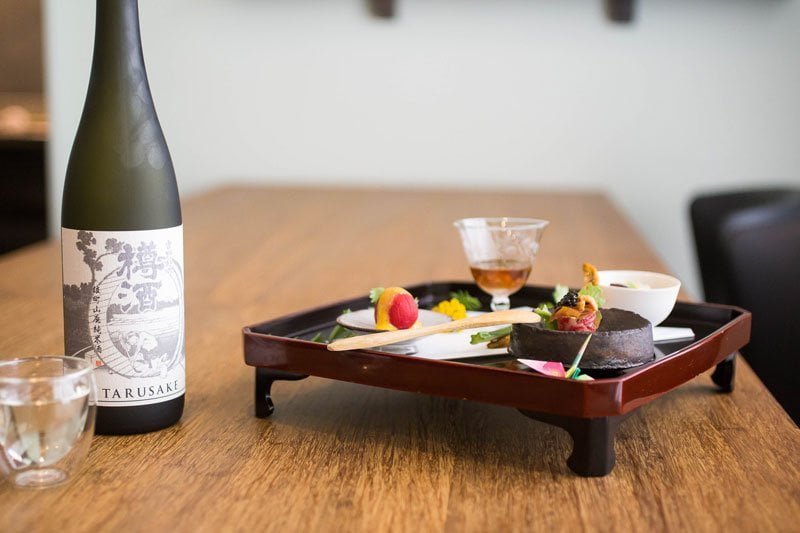 In a minimalist space with a four-decades-long culinary history, Ryan Roadhouse presents selections of fish flown in regularly from Japan or intricately composed plates which may or may not showcase seafood. The offerings are always dramatic and the impression profound. With only a dozen or so diners per seating, this is a tough reservation to score, but always worthwhile for lovers of sophisticated Japanese food. Michael Zusman
The tasting menu is 13 course and changes monthly depending on what is available, for $125 each. It is difficult to get a reservation unless you plan in advance. Get on the mailing list and at the beginning of each month, you'll get an announcement of the date ticket sales for the month will open – then move fast before they are gone. You'll find more information from Bon Appetit here. FD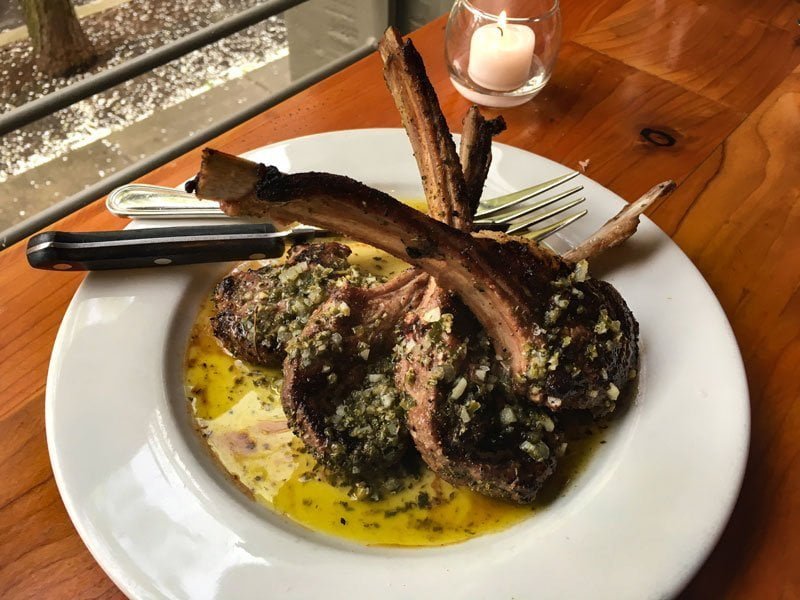 John Gorham's Mediterranean Exploration Company brings a wide range of food from the region, including Syrian, Israeli, Greek, Turkish and other Mediterranean influences. Though it can get a bit loud, I like the space, service, drinks, and the food, and after at least a dozen meals, I can say I've never had a bad experience. For me, it is the closest to the upscale food I've eaten on my travels through the Mediterranean. Start with a cocktail – I always have a retsina spritz because I drank a ton of it in my younger days, but the more sophisticated cocktails are quite nice. I could drink the Curry Favor until I fall off the bar stool – Russell's reserve rye, Laird's straight apple brandy, ginger, lemon, curry bitters and cinnamon. Everyone should try the Greek Lamb Chops, finished simply with oregano, garlic and lemon, the Grilled Octopus Salad, the Kubaneh bread… or just go for it and order the Chef's Tasting Menu. Limited reservations, most of the tables are reserved for walk-ins. On busy nights there can be a wait, but you can wander off to Powell's Books, and you'll get a text message when your table is ready.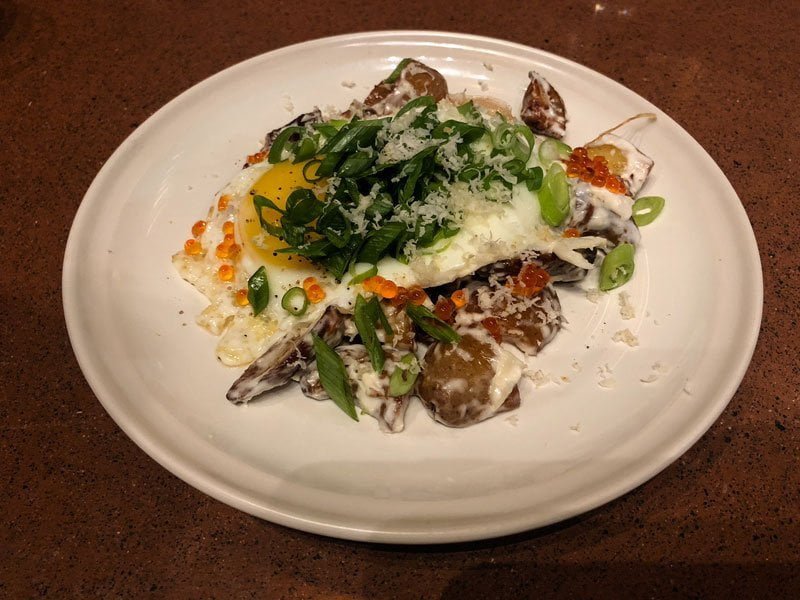 The highly regarded Smallwares has reopened on North Fremont in the former Chalino space. If you've been to the previous location you'll find the same style of "inauthentic Asian food" with variations on many of the dishes they've had in the past. The new space means Johanna Ware is able to be firmly in control of the kitchen but allows her to keep an eye on the dining room. The kitchen is turning out an array of dishes that will leave you surprised as none of them will be quite what you were expecting. Trust me, throw caution to the wind and order everything that sounds interesting. Some of my favorites are Smoked Potatoes – horseradish crème fraîche, pickled ginger, trout roe, Chawanmushi (steamed egg custard) – mapo dofu pork ragu, Sichuan peppercorns, and the Hanger Steak with roasted mushrooms, blue cheese, and kimchi purée. Oh, and get a six-minute egg… hell, just go with friends and order the entire menu. Check our Instagram for more photos.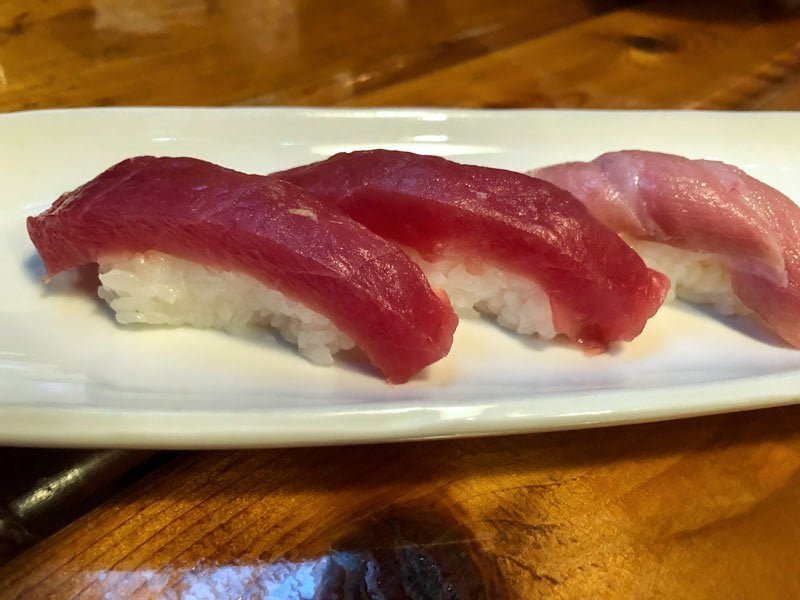 Syun Izakaya in Hillsboro has been on our reader's choice lists for both Sushi and Japanese food over the years for good reason; it's some of the best in the area. Yes, it is a bit of a drive, but you can always take Max and wander around old downtown Hillsboro before you make your way to the restaurant in the basement of the old library. It's very popular and a bit cramped, but they serve excellent sushi without pretense. The menu also includes standard Japanese options, but in my experience, the sushi is your best bet. Sample their huge sake selection with wild abandon and nap your way back to Portland.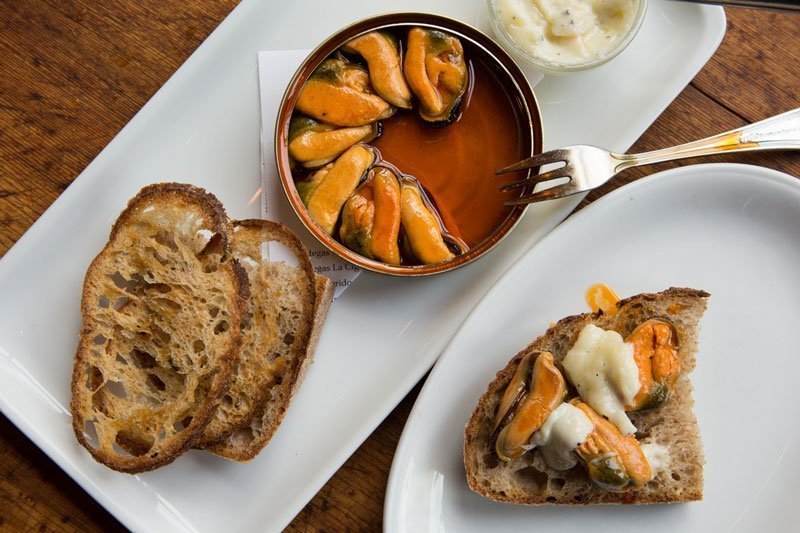 My birthday was earlier this month, and I was told to pick any restaurant for dinner. Toro Bravo was my choice. I've never had a bad meal at John Gorham's Spanish tapas restaurant. The menu is large and I'm rarely disappointed by any choice. My recommendation is to be adventurous and try different types of dishes – if you aren't careful you can end up with too many similar plates, so grab something from each section.  Even better, go with a group and pass things around.
A recent refresh has left the restaurant better than ever; a few more tables, a standing bar, and a more interesting menu. My suggestions: Albacore Tartare, Empanada, Fried Spanish Anchovies, Squid Ink Pasta, Octopus. Save room for dessert – they have improved quite a bit over the last year. Now the obligatory, "Toro Bravo is very popular and doesn't take reservations for large parties. If you don't want to wait for a table, your best bet is to be in line when the restaurant opens." Now, if they'd only bring back the boquerones!
My visits to this Middle Eastern restaurant when it first opened left me unimpressed, but recent experiences have been excellent, with nary a miss over three dinners. Tusk brings a mostly vegetable menu that stretches the boundaries of what the average Portland diner expects from Mediterranean cuisine. Whether you are a carnivore, vegetarian or vegan, you'll find options that will make you happy. The mostly small plate seasonally focused menu is rife with great choices.