We've all seen expensive tonic waters in the grocery store, but are they worth the price?
7.15.22 – add East Imperial tonic water.
7.5.22 Added two new tonics – Betty Buzz, and Cipriani Foods.

Over the years many people have asked me what are the best tonic waters, and if they are worth the cost. Last week I sat down with groups of hardy tasters to compare as many tonic waters as we could find. All were tasted with just soda and then paired with gin and soda from a siphon. It should be noted, that some tonics may go quite well with gin, but not with vodka and vice versa.
One problem with rating anything is that taste is subjective. I may like something bitter and floral, you may prefer smooth citrus flavors. These days there seems to be a trend away from the flavor of cinchona (quinine), possibly amid claims that many companies do not practice sustainable harvesting. Using our tasting notes, pick the characteristics that are most important to you. Some of them are rather expensive so you may wish to throw price into your equation. You can use our list at the bottom of this page to see our ratings.
Included in this roundup are & Tonic, Bradley's Kina Tonic, Fentimans, Fever-Tree, Fever-Tree Naturally Light, our homemade tonic, Jack Rudy Cocktail Company syrup, John's Premium Tonic Syrup, La Nostra Acqua Tonica Di Chinotto, Liber Tonic Syrup, Llanllyr Source, Never Clear, Portland Syrups Rose City Tonic, Q Spectacular Tonic water, Schweppes Tonic Water, and Whole Foods Tonic Water, Betty Buzz, and Cipriani Foods.
I hadn't heard of "& Tonic" until they contacted me asking if I was planning on including them in my roundup. It can be found in many Portland liquor stores/distilleries, so I picked some up to try. I'm glad I did.
Ingredients: water, cane sugar, citric acid, cinchona bark, and essence of citrus, spices.
Notes: From Seattle Washington. Since I had quite a few new tonics, I got the tasting crew together for a socially distant tasting. It vaulted to the top five of our rankings (see below). The only thing that kept this tonic from placing higher is that it was a bit too sweet for most of us and it needs a bit more cinchona; I'd call it a mildly flavored tonic. However, that made it a perfect refresher for sipping with soda water, but it didn't stand up quite as well with Gin. Still, I would reach for this on the shelf without hesitation. The flavor is balanced, with citrus and a hint of spice making for a light, summery drink. There is an expected slight pithy sharpness from the quinine and citrus, specifically lemon and orange, as well as a nice amount of cinchona which all carry across the palate. & Tonic has a slight fizz on the tongue beyond what the soda water brings. In our blind tasting, more than a few people gave off a surprised, "Oh, wow" in a good way.
Cost: I got an 8 oz. bottle for about $15, which will make approximately 16 cocktails. (corrected qty)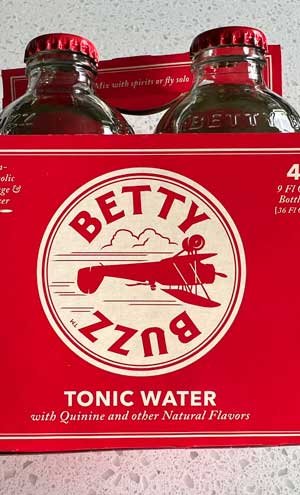 Betty Buzz is a relatively new tonic in our local stores. The company advertises the tonic as using only clean ingredients(?), real juice, natural flavors, natural sweeteners, vegan-friendly, kosher, crafted in the USA, no artificial flavors, no artificial sweeteners, no artificial colors, Gluten-free, and non-GMO. The only thing they left out is organic. From the manufacturer, "Betty Buzz is a new line of flavored sparkling beverages that are just as cute as they are delicious. These lovely drinks are intended to be enjoyed on their own — as non-alcoholic party-sipping alternatives — or they can be used as mixers for the perfectly balanced cocktail." That PR line doesn't exactly inspire confidence.
Ingredients: carbonated water, agave syrup, citric acid, "quinine and other natural flavors."
Notes: Very large energetic bubbles. Is it just our tasters, or do people just want banal tonic water that they can drink with or without alcohol. Like many of the newest tonics, we have tried this one could never stand up to a good gin. We found it refreshing to drink on its own, but it got lost in the gin, and none of us would buy it again for other than a vodka tonic. Not recommended.
Cost: .22 per oz. or $2.00 a bottle.
Ingredients: water, sugar, spice, citric acid, orange peel
Notes: All of us liked the Kina Tonic, and it rated #2 in our October 2020 testing. This is another Seattle-made tonic syrup, meaning it will need to be paired with good club soda. Kina is terrific. Light nose. On the initial taste, the spices bloom wintery and smooth. It has a slight pithiness that is rounded off by the sugar and enough bark to balance things out, though we'd like a little more cinchona. An unexpected caramelized flavor on the finish is pleasant. Kina ties with & Tonic for our favorite mixer without gin.
Cost: The concentrate is $13 for 8 oz, which will give you 8-10 cocktails.
Ingredients: Water, Cane Sugar, Citric Acid, Hand Selected Natural Quinine From Java Cinchona Bark, Natural Flavors (Herbs & Extracts).
Notes: According to the manufacturer, this tonic water "is created to have a bold distinctive taste, so you can recreate the century-old tradition of Long Pink Gins made famous at the Pegu Club in Rangoon, Burma." The addition of lemongrass and Manao lime give it a bright, citrus flavor, which you'll either love or hate. We'd rather add it ourselves as nothing beats fresh lime, and we are controlling types, but in a pinch, if you don't have citrus, you'll still get some of that taste. This is decent tonic water, with a bit more cinchona than many brands. I wouldn't seek it out because it's too citrusy for my palate, but it's not a bad option. I'd suggest pairing it with a dry gin.
Cost: $1.80 or $.36 per ounce.
For a while, it was next to impossible to find Fentimans in the USA. Now it is available again at various grocery stores. However, the formula seems to have changed, and not for the better.

Fentimans describe their tonic as "The world's first botanically brewed tonic water is made with a blend of herbal infusions and lemongrass extract which results in a unique, refreshing and distinctive citrus flavor."
Ingredients < 2020: carbonated water, sugar, citric acid, tonic flavor (water, lemon oil, ethanol, lemongrass oil), quinine.
Ingredients (2021): Carbonated water, beet sugar, glucose syrup, fructose, citric acid, natural flavors, quinine, herbal infusions (juniper berry, kaffir lime leaves), fermented botanical extracts (pear juice concentrate, juniper berry, kaffir lime leaves, lemongrass.)
Fentimans was once a very popular tonic water but our tasters never liked it. They seem to be floundering in an attempt to become relevant again. In 2008, it had fewer bubbles than any of the other tonics we tasted and came across almost flat. They tweaked the Fentimans formula so we tried again in 2018 and found the tonic to be somewhat acrid, with strong herbal, floral notes which didn't tend to blend well with any of our gins, rather it competed for attention. In 2020 it disappeared from American shelves, but now it's back with 3 types of sugar and a host of other ingredients; pear juice concentrate with gin? Now it's even worse. It is very astringent, resulting in a dry mouthfeel. The quinine flavor was muddled and masked; we suspect only enough is used so they can leave it on the label. It goes downhill from there tasting like a cross between Pixie Stix (points if you are old enough to remember them) and preservatives for a total of 13 grams of sugar. The bubbles are back – numerous and very fine to the point where they get in the way. At first, the mouthfeel is all bubbles. Then a strong citrus taste kicks in; it's overwhelming. Pithy flavors of white rind dominate, though strong bitter orange citrus notes are also present. It finishes with a blast of citric acid and a plastic taste. In short, don't buy this; it's awful.
It is also the most expensive of all the standard store brands, and we didn't feel it was worth the extra cost.
Cost: about $1.75 a bottle – 9.3 oz. 80 calories per serving

Fever-Tree is now making an entire line of tonic waters, most of which I haven't been able to find here in Oregon. However, we did chase down a couple of them. From the manufacturer, "The brand name chosen due to fever tree being the colloquial name for the cinchona tree in which quinine, a key ingredient for tonic, is found. The highest quality quinine was sourced from the Rwanda Congo border and blended with spring water and eight botanical flavors, including rare ingredients such as marigold extracts and a bitter orange from Tanzania. Crucially, no artificial sweeteners, preservatives, or flavorings were added."
Ingredients: Carbonated Spring Water, Cane Sugar, Citric Acid, Natural Flavors, Quinine
Notes: The aroma and taste are fresh with lots of lemon citrus. It is soft, balanced, and easy to drink by itself. Compared to our first comparisons in 2014, it doesn't have as much of a quinine taste, and the carbonation isn't nearly as strong as it used to be, and what was there quickly fades, which we found disappointing (I'll buy another bottle and double-check shortly). What bubbles were there are very fine – all of us loved the mouthfeel. New to this tasting is a higher level of pithiness which leads to a long and slightly unpleasant aftertaste. We felt that the flavor is a bit too citrusy; but for those who prefer their tonic drinks with lots of citruses and a smooth finish, this may be the best choice for you.  Just don't expect a lot of quinine flavor.
Cost: about $0.22/Fl Oz. 66 calories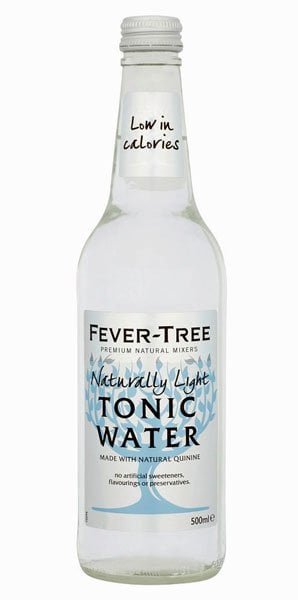 We had a few requests to add this to our tasting panel, so we did. From the manufacturer, "Our Naturally Light Tonic Water is the world's first all-natural, lower calorie tonic water. With 58% fewer calories, there is no need to compromise on taste as this delicious, crisp tonic water combines fruit sugars and natural quinine with citrus, aromatic botanicals, and soft spring water."
Ingredients: Carbonated Spring Water, Pure Fructose (Fruit Sugar), Citric Acid, Natural Flavouring, Quinine
Notes: Fever-Tree claims it has 58% fewer calories than their regular tonic water. From the manufacturer, "Citrus, aromatic botanicals, spring water and a touch of fruit sugar create a fresh, crisp taste balanced by the bitterness of real quinine. Unfortunately, none one of our testers liked it. It is very mild, though we found an unusually bitter aftertaste that was off-putting. 
Cost: about $0.22/Fl Oz
Ingredients: Carbonated water, sugar, citric acid, natural flavor, quinine.
Notes: This joins our list of tonics made outside of the United States, this time from Italy. Medium-sized bubbles. The taste is somewhat weak; it's difficult to taste much in the way of quinine. Slightly sharp on the palate. Nothing particularly distinguishing, this is a beginner's tonic and would get lost against robust gin. I wouldn't buy it again.
Cost: $.28 per ounce. About 6.8 ounces per bottle.
Our homemade tonic is a recipe that was originally developed by Portland bartender Kevin Ludwig, who is now at Laurelhurst Market. It was the most complex of all that we tasted. Part of this is because you can add as many ingredients to the recipe as you'd like, so you can balance it with your own taste buds. Overall, it stood tall against the other tonics and balanced well with gin. The flavors were complex and slightly citrus, without being over the top.
Ingredients: water, cane sugar, citric acid, cinchona bark, limes, lemongrass, salt.
Notes: Flavors are going to vary greatly depending on the ingredients you use. Jeffery Morganthaller of Clyde Common switches agave syrup for sugar and adds more types of citrus. Both are good recipes.
I made one batch with cinchona powder that had been sitting around for two years, which was a mistake. Though stored in a sealed bag, the tonic had a slight "dusty" taste and was clobbered by the citric acid. With fresh cinchona bark, it balanced better.
Cost: mostly in the time it takes to make it – inexpensive, but a few hours of on and off work. You'll find the story of my adventure making tonic from scratch here, along with a recipe. For best results, use a soda siphon for your final cocktail.
"With a backbone of quinine, culled from the Cinchona Tree, we've added a delicate mix of botanicals, and then sweetened it with real cane sugar; the final product is a complex mixture that introduces a fine bitterness to any cocktail, and a great pairing with the botanicals of the finest Gins in the world."
Ingredients: Quinine concentrate, water, citric acid, sugar, lemongrass, orange peel.
Notes: This is a small batch tonic concentrate from a company based in Charleston, South Carolina. After reading the story of their founder, I really wanted to like this tonic. But when paired with the recommended amount of club soda, our tasters thought it was overly sweet; this tonic smoothed out the gin so much we couldn't tell it was there; the quinine taste was completely overwhelmed. This made for a very refreshing citrusy drink with hints of orange and lime along with allspice notes, but not what I am looking for. It's like Gin & Tonic for beginners. I'm saving the bottle for those times when I just want something light and refreshing.
Cost: $16.00 for 17 ounces of syrup concentrate to be mixed with club soda. ¾ ounces is recommended. It works out to about $0.24/Fl oz. but you'll need soda water too. 24 calories per serving. You can find a two-pack on Amazon for $26.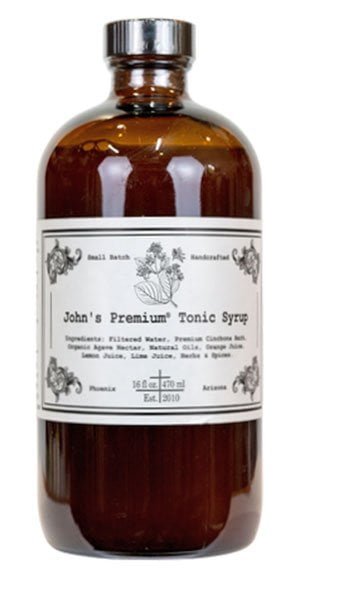 This is another concentrate, and it is worth seeking out – the best source I've found is the manufacturer's website.
Ingredients: Organic Agave Nectar, Cinchona bark, Citric Acid, Natural Oils, herbs, juice, and spices.
Notes: Honey brown tonic with soft agave, earthy notes. Fragrant, bright citrus palate with complex herbal flavors with a slightly sweet note. A good balance of cinchona. This was our favorite of all the commercial tonic mixes, and second only to homemade tonic water. Unfortunately, it difficult to find, so you may need to order it directly from the source.
Cost: $14 for a 4-ounce bottle including shipping, which works out to eight cocktails. You can get 2, 16oz bottles for $63 including shipping.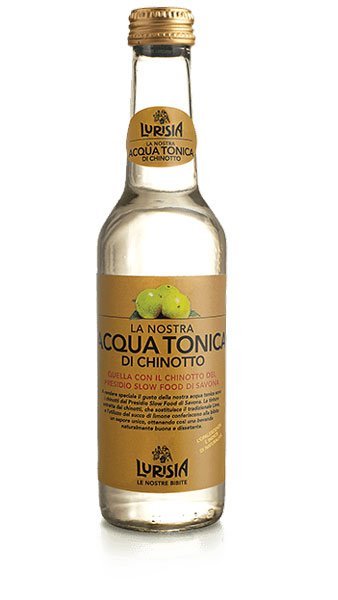 In 2018, I found this tonic at a high-end specialty food store. It's from Italy and is labeled as "tonic water made from citrus". From the name, I didn't expect it to contain quinine, but it does, though not much.
Ingredients: Carbonated Water, Cane Sugar, Lemon Juice, Natural Vegetable Extracts (Infusion of fresh citrus Myrtifolia – Chinotto) and Quinine.
Notes: I was interested because of the use of Myrtifolia, which, if you've spent much time in Italy you have probably tried. The common name is the myrtle-leaved orange tree, and the fruit does look like oranges though they are rather bitter. The result is very smooth tonic water with a floral overly sweet finish that reminded me of the 7Up formula from 30 years ago – and it's reflected in the calorie count. The finish is pleasant and more strongly citrus-flavored than the others in this roundup. I like it as a standalone drink, however, it is completely overpowered by gin.
Cost: $0.67 / Fl oz. 100 calories
Ingredients: water, cane syrup, natural quinine, citric acid, citrus oils, benzoic acid.
Notes: We were unimpressed with this clear tonic syrup that comes from Austin, Texas. Tasters universally found it to be unpleasant, and we couldn't get past a strong chemical taste and nose, which I'm pretty sure is from the unorthodox use of benzoic acid. The final product is unbalanced, overly astringent, and harsh – we don't recommend it for drinking with just club soda. I'm sure I will find it in the back of the refrigerator in a few months, untouched after our tasting.
Cost: $10 for 9.5 oz. Using their recipe it should make about 12 cocktails.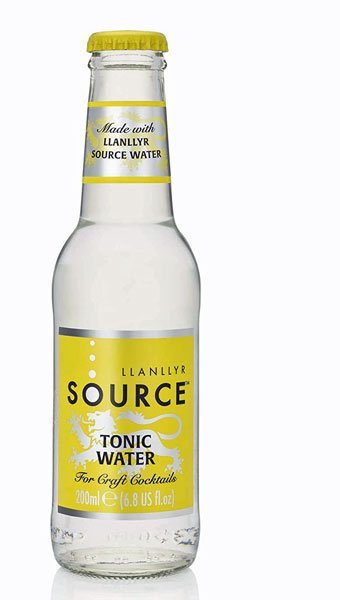 Another 2018 find from an upscale food store, this tonic water is imported from Llanllyr Wales. From the manufacturer, "Since 1180, when the Great Lord Rhys first settled the land, natural springs underneath the organic fields of Llanllyr have been supplying its inhabitants with some of the purest, all-natural drinking water in the world. Llanllyr sits in the idyllic Welsh countryside at the base of a glacial valley. The glacial sands and persistent rainfall work together to produce Llanllyr SOURCE, a Natural Spring Water with a perfect mineral balance and superb taste."
Ingredients: Carbonated Spring Water, Pure Sugar, Quinine, Citric Acid, Ascorbic Acid, Sicilian Lemon.
Notes: Though it has a light mild flavor, most of us were bothered by the strong aftertaste of ascorbic acid. The combination of the Sicilian lemon flavor and a plethora of bubbles was strong enough to remind several of us of 7up, and with little bitterness, it was almost as smooth. However, it was overpowered by gin, though you won't need to add citrus when you make your drink – it has plenty of its own.
Cost: $0.28 /Fl oz. 64.4 calories.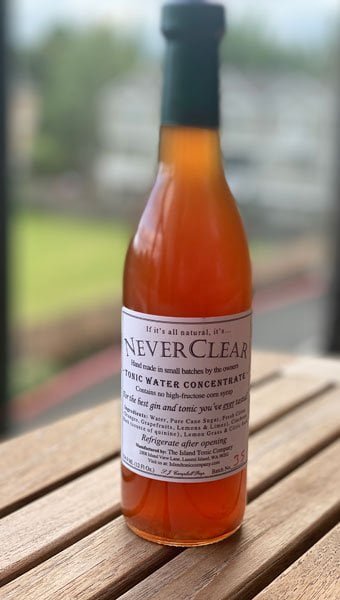 Ingredients: water, pure cane sugar, fresh citrus (oranges, grapefruits, lemons, and limes), cinchona bark, Lemongrass, and citric acid. 
Notes: We were pretty happy with this tonic at first, but when compared with others in our latest tasting, it dropped down the list a bit. It's nicely balanced with just the right sweetness but doesn't lose the cinchona flavor. However, there is an iced tea flavor that bothered the tasters. In a second tasting from another bottle, we found an overly strong cinnamon taste and too much grapefruit pith. It needs a stiff gin, or a heavy pour to properly balance the flavors. Never Clear recommends 2 oz. of gin in a 12 oz glass with ice then filling with soda water, which makes 16 drinks.
Cost: $15 for 12 oz., 40 calories per serving.
Ingredients:  water (infused with cinchona bark and dried rose petal), cane sugar, citric acid.
Notes: This is another concentrate that you mix with seltzer, in this case, 1/4 ounce with 2 oz. of gin. It's very clean, refreshing, but with a slightly odd finish that I'm pretty sure comes from the rose petals. Adding a bit more lime than usual helped ameliorate this. The taste was very slightly bitter. Overall, none of us were thrilled – we felt it lacked character. We miss the cinchona flavor which is barely present. The rose notes tasted odd, and we didn't enjoy the addition. The lack of cinchona means it doesn't need as much sugar as many tonics, so the calorie count is slightly lower, but I'd prefer more bitterness.
Overall, this would be a good beginner's tonic, and nice on a hot day when drinking with food, but none of us would buy it again. 
Cost: about $16.00 for a 16-ounce bottle which makes about 20 cocktails. 35 calories per serving.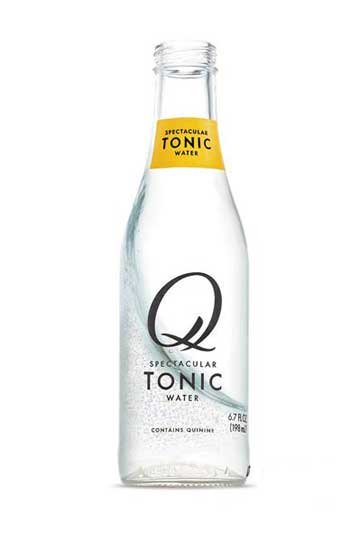 Q Tonic touts that their quinine is hand-picked, that they use organic agave as the sweetener (not my preference), all-natural, and has 60% fewer calories than a regular tonic water. Over the past few years, they tweaked the formula and renamed it as "Spectacular" tonic.
Ingredients:  carbonated water, organic agave, citric acid, quinine, natural flavors
Notes: Re-tasted 10/20. In our tasting a few years ago, Q Tonic didn't do well, with tasters noting a medicinal, slightly astringent taste with a metallic, bitter, and pithy quality. This time the tonic did better, rising to the number one overall choice of the big commercial brands, reminding us of the traditional tonics of years ago. It opens a bit harsh, with juniper overtones. The strong floral citrus notes varied between our tastings, some over the top, and other times less pronounced. As it dilutes the flavors quickly wash out, and the finish is not great. Overall, it is an easy-drinking tonic with lots of medium-sized bubbles. However, compared with most of the tonic syrups, it was boring and a bit off-balance. Overall it stands up to gin just fine, though it has an overarching sweetness that may bother some people. On all three of our tastings over the years, a common word was "boring." Q tonic works well with vodka too.
Cost: about $0.24 Fl oz. 40 calories per serving.
Ingredients:  Water, sugar, carbon dioxide, citric acid, natural flavors, quinine.
Notes: The description on the bottle is "Citrus flavored tonic water with natural flavors." We were surprised by how little this tonic has to offer.  The water is clear. Flavor notes are sweet, mild cinchona – almost an afterthought, and a slightly bitter finish. Our tasting panel agreed that this was one of the most boring in our entire roundup – bland, unremarkable, forgettable. When used in a gin & tonic it was completely overwhelmed to the point we could barely taste it. I kept adding more and just ended up with a watered-down G&T. No thanks. Final note, it is bottled by Nestle; that gives a clue about the poor quality.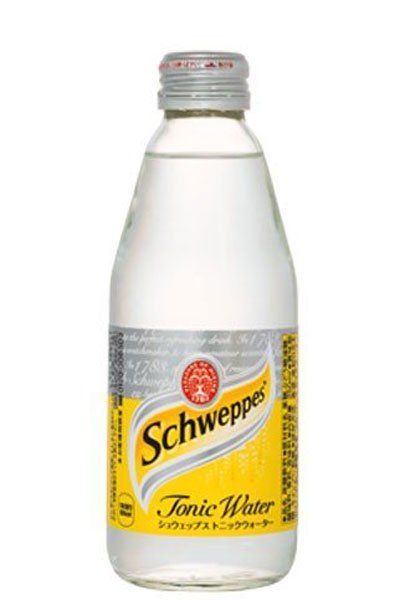 Ingredients: carbonated water, high fructose corn syrup, citric acid, sodium benzoate, quinine, natural flavors.
Notes: Schweppes tonic water has been around longer than just about any other brand. That doesn't necessarily mean it is good. This drink has more in common with soda than a tonic water. It is citrusy but too sweet, completely overwhelming the gin. Most of us didn't like it alone over ice either. We didn't try it in a vodka tonic, but I think it might work better with it. Tasters called it "too fruity". That being said, it is a good choice for those new to the wonders of a good gin and tonic.
Cost:$0.13/Fl oz. 90 calories per serving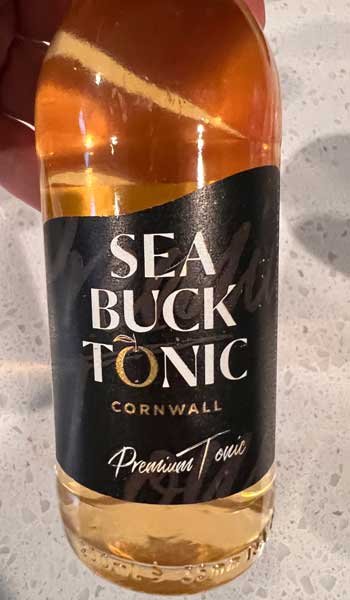 Ingredients: Carbonated Cornish(?) water, sugar, botanical extracts (orange peel, lemon peel, sea buckthorn berries, lemongrass, red cinchona bark.
Notes: "Hand brewed in St. Ives from natural ingredients."
I had high hopes for Sea Buck Tonic, as it was stocked by a high-end grocery store that rarely carries anything that isn't very good. This, unfortunately, is not the case for the Sea Buck. It was pleasant to drink on its own, with a surprising sweetness for tonic water. However, it seemed too weak to stand up to gin. The color is a golden brown. We found it very floral, with fine bubbles, and a mild cinchona bark taste which imparted slight bitter notes. Mixed with Aria Gin, it did nothing but make it taste rather sweet and citrusy; no lime needed. As we expected, when used in a gin & tonic, it smooths the edges so much Sea Buck doesn't stand up to gin. On the other hand, if you prefer less traditional, much sweeter G&T, this may be a good choice for you. With the sugar comes 163 calories.
Cost: I forgot to save the receipt, but will fill this in shortly.
Whole Foods 365
Ingredients: carbonated water, invert sugar, citric acid, natural flavors, quinine
Notes: This tonic was discontinued for a while after Amazon bought Whole Foods, but now it's back. Little seems to have changed; it's another sweet tonic water, very heavy on citrus almost like 7-Up. The overly large bubbles are annoying. Somewhat bland with no real cinchona flavor; unremarkable tonic water. Perhaps the calorie count, 160, gives an indicator of the problem – almost double the other tonic waters in this roundup.
Cost: $.50 per 12-oz can. 140 calories
Overall Ratings:
When we combined the overall scores from each taster, the tonics scored the following, from best to worst.
Homemade – this is our favorite, but the biggest reason is by making it yourself, it is easy to create exactly the characteristics you are looking for. For this reason, I'm not listing it in the ratings, except to say it always has been at the top of our rankings.
Bradley's Kina Tonic (a very close match to & Tonic)
Cipriani Foods
Whole Foods 365 Tonic Water
When it comes down to it, the tonic you are going to like depends on your personal taste and what brand of gin or vodka you mix it with.
The biggest question is whether the boutique versions are worth the price. We think they are, though Q Tonic works in a pinch. I like my homemade tonic recipe, and if when I have lots of time and energy, I make it myself. In the end, choose the characteristics that are important to you.
Whatever direction you take, enjoy your drink, and think about this: Tonic water will fluoresce under ultraviolet light. In fact, the sensitivity of quinine is such that it will fluoresce in direct sunlight. Make yourself a drink, and go outside to frolic on a sunny day. It's for science!
Updates
12/2021 – Added Sea Buck Tonic, and San Pellegrino Tonics to finish our 2021 tastings. Also re-tasted Fever-Tree and Q Tonic for comparison with no changes.

2/2021 – Whole Foods Tonic Returns
1/2021 – Fentimans is back, but not great.
11/2020 – Removed: Whole Foods and Hansen's brand have been discontinued.
10/2020 – "& Tonic" syrup, Neverclear, Kina Tonic, and Liber & Co. syrups added. Re-tasted Q Tonic.

6/20 – Whole Foods no longer has a house brand – removed. Fentimans has changed their formula, and at this point, I can't find it in the US. Whole Foods brand also seems to be discontinued and I've removed it. Added Never Clear Brand. More to come!

2/18. We retested all of the tonic waters which had changed from when we first tasted – most of them. In addition, we added two more that have come out since our 2016 tasting. The results of these reviews reflect quite a few changes. Fever-Tree doesn't have quite as pithy a quality, and Hansen's isn't quite as good, so the notes have been updated to reflect that. Overall, prices on the boutique brands have dropped considerably, while the commercial brands have done the opposite. Changes in ingredients, cost, and taste have been noted below. ]