Review of Bistro Maison in McMinnville Oregon

Bistro Maison opened over seven years ago and is now a McMinnville institution. It sits at the end of NE 3rd street in the picturesque old downtown area next to an even older train station. Parking is easy. The restaurant is casual and cozy. On a nice day, you'll have a choice of dining inside or out, especially if you have planned ahead and made reservations, which are often necessary. I always opt for outside, as I don't terribly mind it if an errant pine needle tumbles into my wine glass – consider it a benefit of dining al fresco. The patio is terrific, a little enclave separated from the street, shaded by trees,  watched over by a dog named Lily, who sleeps quietly in the corner. Despite the plastic chairs, it is a comfortable way to indulge in after an afternoon of wine country adventures. That's not to slight the interior, which is also very pleasant. The inside is kind of like visiting your grandmother, with lighting and wallpaper which match the age of the building. French artwork dots the walls, and light jazz floats through the air. Padded leather chairs surround linen-covered tables. On a summer day, cross ventilation allows plenty of warm air to flow through. Service is generally top-notch, with Chef Jean-Jacques and his wife Deborah both making sure everyone is comfortable. Veterans of the restaurant industry, between the two of them they have worked Paris, Rome, and NY City. Via email, I asked Deborah what brought them to McMinnville.
"My husband, Jean-Jacques, wanted to open his own restaurant in NYC.  Meaning no investors, no partners, no money people.  After 40 years in the kitchen, he was getting frustrated and tired of running with the bulls of Manhattan.  Happens to many chefs when they hit their late 40s…

He had this brilliant idea of having his wife, me, quit her job and work with him.  After thinking about his offer, I said I would, BUT… we have to own the property, building, and every piece of equipment in case we wanted to kill each other after the first year.

We searched many locations in the US.  Cities, the North Fork of Long Island & Northern California were out because too much $$$ for the real estate.  When we saw the Willamette Valley, it was a no brainer.   We were embracing the future food and wine destination in the US.  We felt so lucky to have found it this soon."
They finally settled on McMinnville and opened Bistro Maison, where they have one of the most passionate groups of followers I've ever seen.
The wine list is quite interesting and bigger than the version posted on their website. All of the wines are personally picked by Deborah, and I think she does a good job of meeting a variety of price points and showcasing wines from Oregon and other regions. Many lists will have pages of redundancies (as in, fifteen Oregon Pinot Gris), but this one lumps similar 'characters' on the same line, creating more space while still offering multiple choices. For instance, when we were there for lunch I had three choices of Vouvray by the half bottle, and it was all contained in one line – as the creator of the list realized that they were of the same cloth. However, there were different vintages, styles, and producers. If I have any complaint, it is that the markup is higher than I normally see.
The Bistro has a large number of splits, or half-bottles, which is great if you are worried about driving back to Portland, as well as a selection of by-the-glass pours. Wine service is excellent. When ordering by the glass, they bring out a couple of bottles and give a taste of each one so you can decide which one best fits your fancy.
Service is excellent, the timing on all of my meals has been just right, with the only unusual moment occurring when the server recites the entire specials menu to you. Strange because the same thing is written on the piece of paper in your hand. Charming, but strange.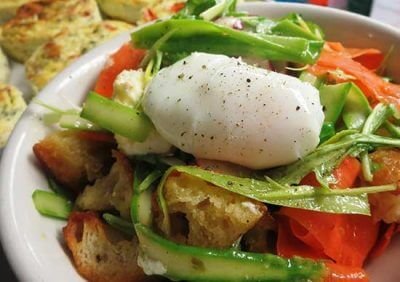 Bistro Maison's menu is mostly French, or French influenced, with the incongruous exception of house-made ravioli, which I didn't try. They do best with items that showcase seasonal ingredients. Berries, peaches, corn, etc., have been wonderful this summer, and they use them to their best advantage, whether as a sly accompaniment to an entrée or as the main event.
The three soups I've tried have been pretty good. The shrimp bisque was excellent, with a nice full body, and lots of flavor. My last visit was on a warm summer night, and I tried both the gazpacho with basil puree and another version with local corn and Vidalia onion. Both were fairly bursting of summer, and a thoroughly pleasant way to start the meal.
Salads are large, and could easily serve two. One that interested me was almost a caprese with local peaches and mozzarella, and green and purple basil, drizzled with extra-virgin olive oil and balsamic reduction. One time, the peaches were so hard I couldn't cut through them with a fork and had to use my knife. Not so great. Another time they were soft, luscious, and full of flavor, but the fresh buffala mozzarella was a bit chewy and lacked much flavor. This dish was a good idea, but both times one component or the other left me unimpressed. A little seasoning would have done wonders.
More successful was a salad with Neskowin pepper greens, bacon, local berries, toasted almonds & triple cream cow's milk cheese, berry & nut vinaigrette. In August, the berries were absolutely fantastic, and all the flavors and textures went together beautifully.
Mussels are always a good choice, and are available with different preparations, depending on the mood of the chef. Served with pomme frites (or French fries) they are fresh and flavorful.
A Carlton Farms pork chop was a nice thick cut, but was suffering from "modern" pork syndrome, and had less fat than I prefer to give it flavor. It was properly cooked, and tender. Fresh grilled peaches on top gave a slightly sweet contrast; however, having it sitting in a peach sauce was a bit over the top for my tastes. Simple would have been better. The same chop with mixed berries was much better. The chop came with a side of average mashed potatoes, and wonderful green beans which tasted as if they were picked for our meal.
One evening, my hanger steak, or onglet, was served with a shallot and wine reduction. Another night it was so tough, I gave up on a couple of slices where there was a bit of membrane left on. It would have helped had it been sliced properly. Yes, I got it medium rare. On a second night, it was just fine. The fries had a similar issue. One time just lousy – under-seasoned, yet another time they were terrific. Consistency seems to be a problem here, but even when they were prepared properly, my steaks were just average.
Desserts are pleasant, and somewhat above average. I've tried profiteroles au chocolat, which were fine, served warm with warm chocolate sauce. Moelleux au chocolat is a molten chocolate cake, which was just what you'd expect. The best was a Napoleon, which was about four inches tall, made up of crispy flaky layers, with ice cream and fresh summer berries. This was an excellent dessert. Whether you order dessert or not, they will bring out a large bowl of hazelnuts and nutcrackers, an easy way to end a meal.
Much of the food at Bistro Maison is average, but after an afternoon of wine tasting, it's really a nice place to relax and wind down. Park at the opposite end of downtown and stroll down the street to the restaurant; it's a nice, short walk. The Bistro staff is warm, the restaurant inviting. Service is way above average, with hardly a misstep in 3 visits. Relax, drink some wine, converse and stare up at the stars. If I was in the area looking for a meal, I wouldn't hesitate to go back. Sometimes just average is fine when the service and environment make for an overall above average experience.
Phone: (503) 474-1888
Address: 729 NE Third St, McMinnville, OR 97128. Map
Hours: brunch, lunch and dinner: see website for current details
Website: BistroMaison.com