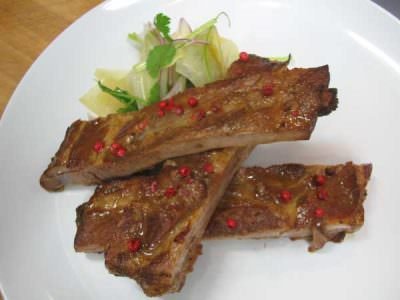 I'll cover the good news first. In my opinion, Portland doesn't have any good Chinese restaurants. Could that be changing? According to the Oregonian, Jasper Shen, chef and co-owner of Aviary, is planning to open a Chinese restaurant (!)
Shen has been recipe testing soup dumplings, known as xiaolongbao (XLB), for his upcoming pop-ups and Chinese restaurant he plans to open.

Even though he and his staff are still in the exploration phase of the restaurant, he's been working on perfecting his dumplings for the eventual opening day.

"Every year, my family comes to visit and there's nowhere to take them," Shen said. "Why is no one doing good Chinese food?"

For now, he plans on creating a menu focused on more traditional Chinese dishes he would eat at home or in his hometown Chicago's Chinatown — ma po tofu, Chinese broccoli, XLB, among others — but that could change as restaurant planning continues.
I think Aviary is one of the best restaurants in Portland, so this is exciting news.
Next, from Willamette Week – "The Death of Cartopia Brings the End of the Golden Age of Food Carts". Urm… sure. A bit of an overstatement perhaps, but an interesting development. According to WW, the property supporting the popular cartopia cart-pod at SE 12th and Hawthorne has been purchased for yet another apartment building. "The chaotic fun of the food-cart era is being replaced by mixed-use, new-metropolitan development planning."
Willamette Week reported in 2010 on the tenuousness of the food-cart economy. In part, when developers can make more money with buildings than with parking lots, food cart owners might lose their locations. This past year alone has seen the closure or impending closure of a number of cart pods, including North Station, Green Castle, the D-Street Noshery at Southeast 32nd Avenue and Division Street, and a pod on Southeast 47th Avenue and Division

"The problem," says Greg Abbott of Whiffie's Fried Pies at the Cartopia pod, "is that our success is now our downfall. A lot of what made that neighborhood so cool is having an awesome late night place to eat at. It made it super appealing. But with that appeal came the increase in property values. Now we can't afford to stay."
I've been to cartopia for many a late night feed, and I'll be sad to see it go. Frankly, I am amazed it lasted this long – if I were a neighbor, I'd have been raising holy hell over all the late night noise there. If the carts do find a new location, the odds of them getting late night hours are low. Unfortunately, it's not just Whiffie's, or Potato Champion or any of the other carts. It's the aggregate that makes the whole scene such an experience.
I have noticed a distinct cooling in the attention that food carts are getting. The economy is better, people are starting to realize that many of the carts just aren't that good, and rising property values are beginning to squeeze them out. Still, there have to be 400-500 food-carts still out there, so I don't think this is a crises… yet. What do you think? Is the bloom off the rose of our cart scene?