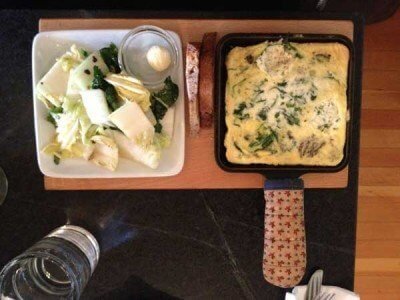 More and more coffee shops and bakeries are using the Square register system, where the customer can easily pay the vendor with a smartphone. It's been very popular with businesses because of the relatively low overhead (2.75% cut or a flat $275 a month) compared with other systems.
Now Square has updated its service with a focus on restaurants, allowing them to tailor food per a customer request – i.e., extra shot, special bread, etc. Add the optional receipt printer in the kitchen, and you have a POS system on the cheap.
It bundles two square readers, an iPad stand and a cash drawer for $249, and you can add a receipt printer for another $250. All you need is a wireless network and an iPad.
---
According to the rumor mill, The Bakery Bar has sold their store on 2935 NE Glisan. Apparently the owners signed the deal and laid off the entire staff the next morning. Further rumors say it will become a diner of some sort.
---
The 2013 Reader Survey is coming! Next week I'll open it for votes. This year, I'm digging deep for just one prize – a $250 gift card to Timberline Lodge. Start pondering your Best "xxx" in Portland votes!
---
Remember the "Food Replicator" from Star Trek? It may be closer than you think. I'm convinced that 3D printing is the next big thing that will change the world. At this point they are being used to print everything from guns and human body parts, to pizza and donuts. Now, researchers at the Cornell Computational Synthesis Lab, The French Culinary Institute and members of the Fab@Home project team have taken printing food to a whole new level, printing real food such as cookies, scallops, and even turkey.
… thanks to 3D printing technology, along with the proliferation of sensors tracking our activities and tastes, future meals — even mass-produced ones — could be tailored specifically to suit an individual's dietary needs. A dish someone is served might even be calibrated to the calories she burned that day.

Jeffrey Lipton, a doctoral candidate at Cornell University's Creative Machines Lab and chief technology officer of Seraph Robotics, argues that the emerging category of data-driven food is destined to make up a much larger part of our diet in the years to come.

Lipton predicts that cloud computing, 3D printing and the explosion in digitized personal data will together allow for the mass customization of meals, letting chefs instantly produce dishes that offer the recommended quantities of sugar, fat or sodium when given diners' health records.

Instead of eating a quarter of a donut to cut calories, you instead might be able to buy a whole pastry from the corner deli, then watch the donut 3D printed before your eyes — with one-fourth the calories and just the right amount of fiber to bring you up to your daily minimum.
Here is a link to lots of photos. Can you imagine what things will be like in another 50 years?
---
The price of wine by the glass is increasing. According to Restaurant Sciences,
The most pronounced surge — an 8.4% jump — came in the family dining sector, in which the average meal costs $38.50 or less. Wine prices also boomed at the opposite end of the scale, swelling 5.4% at white-tablecloth establishments, where the average overall check is as much as $1,000.

The trend was more muted at casual and upscale casual restaurants, where bills range from $38.50 to $122.50. There, wine prices have risen less than 2%.
---
Bartenders, watch your backs. Researchers at MIT have worked with Coke and Barcardi to design a smartphone-controlled bartender. From gigaom.com,
It's called the Makr Shakr and the robot and smartphone app will be unveiled Wednesday at Google's I/O conference. The apparatus has three robot arms, whose movements were modeled after those of an Italian ballet dancer Roberto Bolle, and access up to 100 different types of flavors (alcohols, fruit juice, syrups, etc.) You download the app and then use the app to create the mix of your choice.
This is where I'll bow out and let you watch the video.