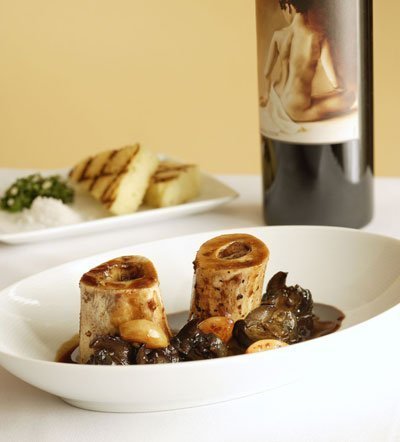 Kitchen Share, a "kitchen tool lending library" is opening in SE Portland. According to the press release, "Kitchen Share SE will be a place where community members can borrow equipment and share in the joy of processing, preserving, and serving food".
"The lending library will offer a small collection of dehydrators, canning equipment, ice-cream makers, food processors, bread makers, a nut sheller, meat grinder and more."
Nice idea for the home cook. You can read the entire press release here.
---
This won't come as a surprise to many people, but according to testing by Organic Authority, there isn't much chicken in "fast food chicken".
The article details 35 ingredients that are present in a single chicken nugget from McDonald's, including dimethylpolysiloxane, an anti-foaming agent used in Silly Putty and cosmetics, and
…a heaping spoonful of tertiary butylhydroquinone (TBHQ), which is a chemical preservative and a form of butane (AKA lighter fluid). One gram of TBHQ can cause "nausea, vomiting, ringing in the ears, delirium, a sense of suffocation, and collapse," according to A Consumer's Dictionary of Food Additives. Five grams of TBHQ can kill you.

Sprinkle on thirteen other corn-derived ingredients, and you're only about twenty shy as many ingredients as a single chicken nugget from McDonald's. And you were using pulverized chicken skin and mechanically reclaimed meat for your chicken, right?
I've eaten these things, but thankfully was protected by the large amount of alcohol in my system at the time. That's why I'm so darn healthy now!
---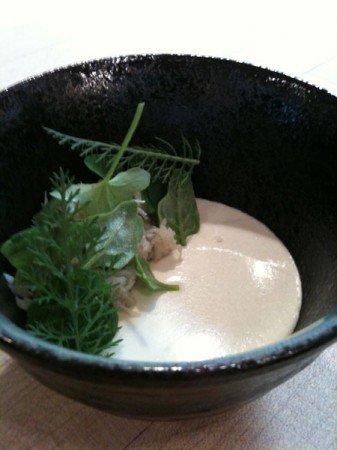 According to Willamette Week, Beau Breedlove – you may remember his name from the much-publicized affair with Mayor Sam Adams, is opening a "French dance cafe" called Vie down on the South Waterfront.  According to WW, "The restaurant will only offer dinner service to begin with, serving Provencal French cuisine: "So a little bit larger, heartier portions," says Breedlove. "Not Americanized French like small plates." I can't help wonder where he came up with the kind of money it takes to open a restaurant, but then Breedlove is the cousin of local restaurateur Bruce Carey, so maybe… ?
---
Local celebrity bartender Jeffrey Morgenthahler must be a busy guy. He's bar manager at Clyde Common, is working on his cocktail book, and, according to Portland Monthly, is going to be running a new "speakeasy" style bar named Pepe Le Moko. The new venture is being built right below Clyde Common.
A small sandwich storefront, selling late-night bocadillo sandwiches (Spanish torpedo subs), filled with Olympic Provisions salumi and Mediterranean seafood staples like sardines and anchovies, is being installed off of SW 10th Ave as the entrance to Clyde Common's secret underground bar.

Through the bocadillo shop and down a flight of stairs will be Pepe le Moko (christened after the French 1937 film by the same name), a 1000 square-foot, 30-seat bar encapsulating the film's 1930s, French-Algerian vibe.
You can read more details over at Portland Monthly.
---
From ChristopherElliott.com, "Would you eat at This restaurant?" A sign in the window of Wally's Bar & Grill in Saugatuck, Michigan reads,
No strollers [image] please.
We are NOT a fast food restaurant.
Our kitchen is smaller than yours.
We are working hard to prepare and deliver your food.
It is possible, depending on what you and others in your party have ordered that your food may take up to on our to prepare.
If you are grumpy, inpatient, having a bad vacation, don't like your family, can't control your children, … etc.
There are dining options for fast food approximately 10 miles north of here.
I think folks on both sides of this issue would find a few things to say about it.
---
A new smartphone app called TablesUp is promising to make finding a last minute restaurant table easier. According to the spokesman, the app displays restaurants via a pin on a map.
"With a push of a button, they may request a restaurant's current wait time, triggering the TablesUp automated phone service to call the restaurant and prompt the answerer to punch in the wait time…" The service then sends a text message giving you the information.
Hmm.
---
The KPAM radio show "Simple Kitchen with Missy Maki" has escaped my notice until this summer, when they mentioned PFD several times. She does lots of interviews with butchers, chefs, distillers, brewers and winemakers, which makes for an interesting show. It's on Sunday from 9-11am. I sent her an email asking about her background –
"Honestly, I am nobody. I am a fairly average gal. I write a food blog. I have also worked in the F & B industry in Portland for over 20 years. My passion is cooking in my kitchen and trying new cuisines. Currently I am going through a phase of Asian food…..I am trying every food cart and restaurant that is recommended. This winter, I will probably try my hand at my top items. My culinary interest is diverse and one day I will be working on frosting and piping technique, and the next I will be attempting tempura. I have VERY recently started giving my opinions on dining experiences as well….we will see how that goes.
She also writes a blog: Mrs Maki Cooks… Cooking, Baking, and a Side of Life.
---
How to Choose a Bottle of Wine is a entertaining flowchart. It takes into account such things "are you drinking alone", "is this a bachelor party?" and whether you ordered your dinner from a window.
The New York Post just ran an article named "How Portland has us Licked!" The author is an eating machine, covering Whiffies Fried Pies, Perierra Creperie, Salt & Straw, What's the Scoop, Tasty n Sons, and Lincoln.
---
Where are the results of my Best Restaurants 2012 list? I've been so busy lately, trying to get back to all of them and get each one written up, it is taking forever! I've decided to start posting each restaurant as soon as I get it finished. This is better anyway, as then each one can post in a mini-review type list. At the end I will round them all up. Sorry for the delay! Speaking of the site, I haven't mentioned that an alternate url is http://pfdrink.com. Actually, there are lots of them that I never mention, but I've been giving this one a lot more focus lately – it's just easier to remember and type. I've also been making sure that all of our posts are being echoed to the PFD Facebook page. Feel free to "Like" us there. Just sayin'
---
Along the same vein, Bon Appetit has posted the list of their 50 Best New Restaurants of 2012. Woodsman Tavern, Luce, and OX among the nominees.
---
Finally, I've been covering dramatic readings of Yelp reviews. These may be the best yet.
You've gotta love Yelp