Bless Your Heart Burgers, or "BYH" has opened in Pine Street Market, replacing Mediterranean restaurant, Shalom Y'All, which has moved to SW Alder St. Here is the press release:
Join us daily from 11a-10pm daily at the Pine Street Market

Bless Your Heart Burgers is inspired by Drew Sprouse and John Gorham's home states of North and South Carolina, featuring classic Americana cheeseburgers and fries with flavors to take you back to your childhood. The bar program curated by Jamal Hassan is a throwback to 90's-style cocktails and house made sodas that will elicit memories of underage drinking days.

BYH Burgers will be helmed by co-owners and Toro Bravo Inc alumni Chef Drew Sprouse (PLAZA DEL TORO / Toro Bravo), GM and Barman Jamal Hassan (Mediterranean Exploration Company / Shalom Y'all), and Executive Chef Kasey Mills (Mediterranean Exploration Company / Shalom Y'all)…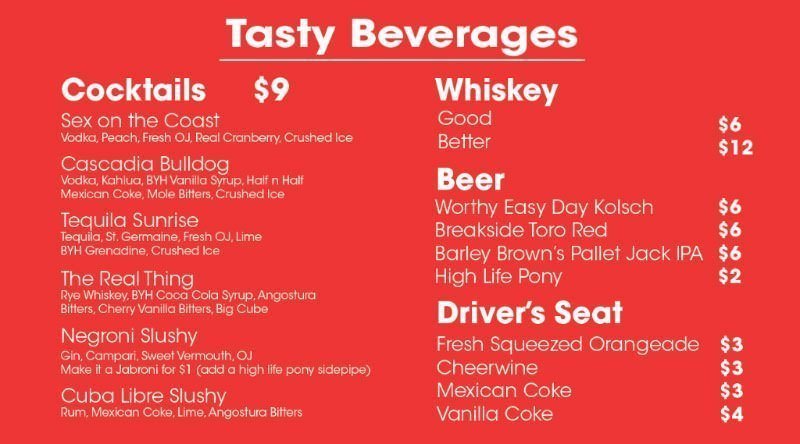 Shalom Y'All moved from Pine Street Market to take over the space recently vacated by Pollo Bravo at 1128 SW Alder St. in downtown Portland. "Kasey Mills and John Gorham bring Mediterranean flavor with vegetable-centric dishes such as falafel, hummus and house-made pita, a variety of salads, and breakfast revolving around the classic Israeli morning meal shakshuka—plus an eccentric and fun bar program with American whiskey and Israeli beer at the helm." They will be open daily from 11 am – 10 pm. The revised menu is larger, with new items that were not previously available. Yes, the MEC lamb chops are still available.