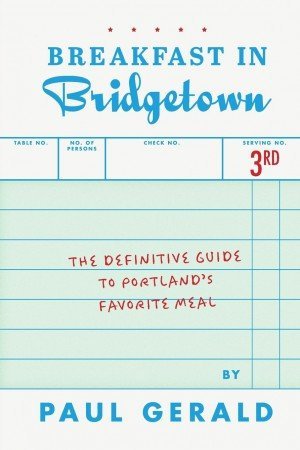 In 2006, Paul Gerald contacted me, asking if I would like to run some reviews he had written about places to eat breakfast in Portland. I was dubious, as I frequently get approached by folks with great ideas that they never follow up on, people with personal agendas, and quite a few who have a sense of taste that varies greatly from mine. However, I took a look, enjoyed the writing, and immediately started posting everything he sent to me. In 2008, Paul published the first edition of Breakfast in Bridgetown, "The Definitive Guide to Portland's Favorite Meal". Since then, he has been the go to guy when it comes to breakfast. In his just released 3rd edition, all the lists are updated, new restaurants replace those which have closed, and a variety of lists have been added.
Breakfast in Bridgetown is not a review book per se, but rather a sketch of his experiences as he dines around Portland. Paul is an excellent writer, drawing you in with a story and painting a picture of each restaurant in a chatty, folksy way. He freely admits to being uncomfortable at some higher-end places; of Clyde Common he says,
"Even the motto, "Domestic and Foreign Cooking," was somehow so smug I found it intimidating. Like, who am I to ask what they cook? I was nervous and almost told Jen, "Screw it, let's go down the street to Kenny and Zuke's and get some pastrami and soda." That stuff, I understand."
But then about the meal Paul says,
"What killed me was the seared lamb pancetta with bulgur (which I thought I didn't like), broccoli rabe (which I had to Google), and cipollini (ditto). Turns out, the lamb and pancetta were rolled into a loaf and laid on top of this nutty, green bed with tiny grilled onions on the side. Wow, was it good! As I write this, I am looking at a picture of it and feeling all warm and fuzzy."
The 3rd edition contains 120 detailed Portland restaurant descriptions, plus helpful lists such as "The Downtown Hotels", eighteen "Breakfast Carts", and seventeen "Out on the Road" choices. In addition, he covers "Early-Bird Places", "It's Breakfast for Dinner!", "Kid-Friendly Places", "Best for Large Groups", "Veggie-Friendly Places", and "Let's Eat Out(side)!" Contributing author Martha Wagner fills offers seven Gluten-Free options, and Clark Hass lists his top ten "Hashcapades" (places to get hash) in Portland.
One passage in particular made me laugh, because we had a very common experience at the original Podnah's. One evening I was sitting at a Formica topped table eating burnt ends, and found myself getting teary when they started playing Doc Watson. I'd had a bit of writers block that week, but by the time I finished my meal, I had the whole review written in my head. I have a feeling the same thing happened to Paul. Here is his experience.
"Podnah's doesn't serve much barbecue at breakfast, but here the emphasis is as much on Texas as on barbecue, and besides, barbecue isn't just a style of cooking or a sauce; it's a state of mind and a way of life. Like Podnah's Pit, it is utterly non-ornamental and is entirely about substance. I once experienced a slightly teary moment of peace at a (then Formica) Podnah's table, sipping iced tea and chewing a piece of brisket while Dolly Parton sang "Smoky Mountain Memories."

I'm not alone in this experience. Among the volumes of positive comments about Podnah's on the Internet, the one must-read is the Food Dude's rapturous soliloquy at portlandfoodanddrink.com. In describing childhood summers in Maypearl, Texas, he weaves together images of hay bales, ceiling fans, raising a calf, losing his virginity, a living room he wasn't allowed to use, "impossibly red tomatoes," and watching his grandmother make "perfect chocolate pies with a meringue that always cried a little; she said they were angel's tears."
Of a chicken fried steak at Holman's on a rough morning, he says,
"The waitress reappears with a plate, and are you kidding me?  People eat that thing??? It looks like an alien has landed on the plate she's carrying, and then puked runny eggs. It's like they coated a dog-chewed Frisbee with gravy. They should require you to be stoned before you tackle that damn thing.

…And then I conjure the speech from Lord of the Rings, right before they wade into the sea of orcs: "Breakfast Guy, there may come a day when you cower at the site of your meal, when you ask for a to-go box before you even start, when you ask if somebody wants to go… splitsies. But this is not that day!

I take a bite. It is perfect. And so it begins."
In the dynamic PDX restaurant world, even the latest edition is going to be a bit out of date, so Paul includes a list of changes when you buy the book from him, and also details them on his website, which is frequently updated. Another nice touch is a checklist at the end of each restaurant, with details such as how long is the wait, does it work well for large groups, healthy options, WI-FI, etc?
Breakfast in Bridgetown is a great book to have around when you want to try something new. Heck, breakfast is my least favorite meal, and I read it cover to cover. I highly recommend it.
Paul sells it over along with a selection of hiking and camping books at his website, at Powell's Books, and fine booksellers near you. If you catch him in a weak moment, he might even do a bundle for you.
ISBN:
9780979735042
Author: Gerald, Paul
Publisher: Bacon and Eggs Press
Copyright: 2014