Updated 6/20
I'm indulging myself at the beginning of this review of Podnah's Pit Barbecue by taking a walk down memory lane. Click here if you'd like to jump to the review section.
When I was growing up, I spent many summers on a big cattle ranch just down the road from the booming metropolis of Maypearl Texas, population less than 300. We had a sprawling old ranch house with a huge Texas star on the linoleum kitchen floor, lazily buzzing ceiling fans, and a living room that was "for fancy company only". Air conditioning was rare in those days, so on hot summer nights, we'd all sleep on the long screened porch that wrapped around the house. Water came from a windmill in the backyard; beneath it was a huge old bell that would be rung to call ranch hands in for lunch. To a child from a suburb of Los Angeles, the ranch was like stepping into an episode of Gunsmoke. We had almost 2,000 acres to explore, and I spent many happy summers making forts and tunnels out of hay bales, fishing for catfish in little "tanks" that dotted the property, and piling into a Jeep with my aunt every morning, raising clouds of grasshoppers while herding cattle that had been trained to follow the sound of the horn.
Maypearl is where I learned about the circle of life. After I found a lost newborn calf hidden in the grass by a crick that ran across the property, I spent days sleeping in the barn, feeding it with a bottle until it was strong enough to join the herd. Grandmother named it after me, and if there was ever a spoiled calf in Texas, this was the one. It never occurred to me he might be slaughtered someday, and when it came time to drive him up the cattle chute to the truck, I was devastated. A few days later when a freezer load of thick steaks showed up, my grandmother took me out to the porch and explained we were giving my cow the ultimate honor by enjoying his contribution to our lives – including the freshly ground burgers we were about to eat. We all held hands and she taught me my first prayer; one I remember to this day. That night as I chased fireflies around the yard, Grandmother said they were happy spirits, so I let the collection in my jar go free, in case my little cow was one of them.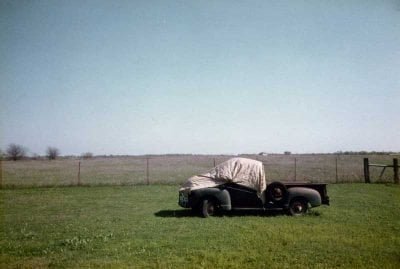 Maypearl is where I learned to ride a horse, how to drive a tractor, run a combine, and build muscles, tossing bales of hay onto a wagon as it drove slowly through the fields in the heat of summer. It's where I lost my innocence to a girl named Lizzy, only to find out months later, that the place in the Maypearl cemetery where we consummated our love, was in fact, her parent's headstones. It's where I spent hours shucking corn to put it up for the winter, picked impossibly red tomatoes with "old Mr. Jackson" across the way, and watched my grandmother make perfect chocolate pies with a meringue that always cried a little; she said they were angel's tears.
Maypearl is where my cousin and I spent weeks rewiring an old jeep. As we finally drove it out of the barn where it had been stored with a fleet of rusting old tractors, the long CB radio antenna hit a hornet's nest in the rafters. It dropped into the back where it rolled under my seat. I drove down the dusty dirt road, faster and faster, not sure how those stinging devils were managing to keep up with us until I missed a turn. With a great splash, our summer project slowly began sinking into one of the tanks. We sat there stunned until two water moccasins started swimming in our general direction to investigate. That's the only time I ever managed to run across water. My uncle, who had seen all the commotion, came down with the tractor and managed to pull out the soggy Jeep. To calm us down, we were invited to a big ranch dinner with all the fixins'. As I sat under a great old tree, legs dusted in sulfur to keep the chiggers away, I began my education in Texas barbecue.
Why do I bring this up? I forget exactly how it happened, but in the course of emails back and forth between me and Rodney of Podnah's BBQ in NE Portland, I mentioned that his food reminded me of Texas. Through a series of more and more incredulous exchanges, we realized we had lived just a half-mile or so from each other. Granted, I'd probably left before he was old enough to walk, but as we shared the names of past neighbors, the sheer coincidence brought back a wave of memories. It helped me understand his roots and gave me an insight into just what he's trying to do in his restaurant at NE 17th and Killingsworth.

---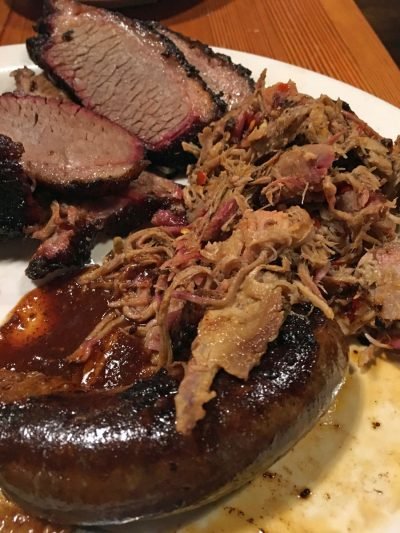 Review: Podnah's Pit Barbecue is far from a fancy restaurant. The outside of the old building has been slicked-up, and I thought it was a new building, but in contrast, the inside shows it still has an old heart. It's three or four times the original Podnah's restaurant but still has a barbecue-house feel.  A large bar area has enough room to comfortably eat by yourself, and regulars will be glad to know there is space to wait for a table without fear of being trampled by busy servers. Light pours through big skylights and a wall of windows along the street. The combination of wood floors, wood countertops, and the bricked-lined bar gives a natural warmth. Those of you who grew up in the '50s will recognize the Formica-topped tables.
Though Podnah's has a full bar, I'm a purist and look towards the selection of eight tap beers or the interesting bottle list. The servers all have a good knowledge of the choices and are quick to offer guidance.
Start your meal with an iceberg salad. Easily enough for two people, it's a large crisp wedge of lettuce, covered with ribbons of dressing and little islands of good, pungent cheese. A light black pepper note provides the last layer of taste, and a scattering of equally good croutons sprinkled around the plate adds a pleasant crunch.
To some people, the sides that are served with barbecue are almost as important as the meat, and are also heavily regionalized: just look at the differences between cornbread recipes from different areas of the country.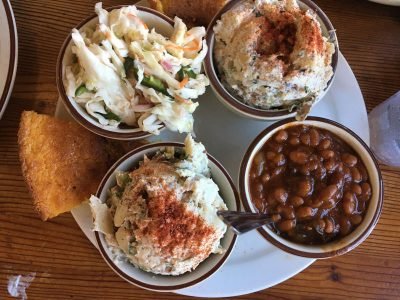 Order a full plate and you'll get a choice of two sides; the selection makes me feel like I'm back at a potluck on the ranch. In general, the sides set Podnah's Pit Barbecue apart from any other barbecue restaurant in our area. The potato salad and coleslaw are pretty much what you'd expect from Texas, and the ramekins of pinto beans, while cooked properly, are nothing to get excited about. However, the black-eyed pea salad is terrific, the legumes in a bath made up of bits of onion and a mellow vinegar sauce, soft yet firmly holding their texture. Pair the salad with the juicy collard greens which are layered with little shreds of pork, and the combination will call out to any southerner. The cornbread varies a bit from night to night but tends to be slightly sweet with just the right level of moisture and good corn flavor. For me, this is as good as it gets. Give me a few pats of butter, put on some Doc Watson, and I'll be a happy man. Honey is for amateurs.
Of course, the main event is the meat, cooked in the central Texas barbecue style.  The ribs are dry-rubbed instead of being slathered with sauce as some people might expect. There is a good balance of mellow bark, meat, and fat on the bones. In case you aren't familiar with the term, "bark" is the flavorful crust that forms when meat is smoked for a long period. A slightly spicy vinegar sauce, a yellow mustard-vinegar sauce, and a sweeter, thicker BBQ sauce, are served on the side. Rodney says they are Brian's recipes from the original LOW restaurant which inspired Podnah's.
Though pulled pork isn't considered Texas BBQ, Rodney added it to the menu to placate folks from other areas. It is thickly torn – moist and full of smoky, piggy flavor. The meat is tossed with a spicy vinegar sauce, giving it a bit of a kick.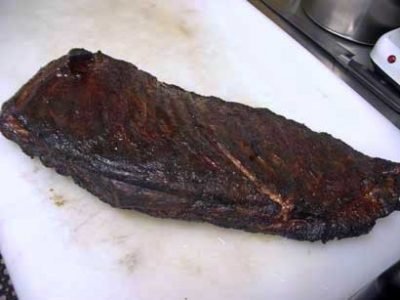 Podnah's Pit Barbecue brisket doesn't disappoint. The beef is cooked to the point where the edges have a light, crispy, smoky bark. There is just the right amount of fat, which melts into the meat, giving it flavor without being overwhelming. This is the best brisket I've had outside of Texas.
The ribs come to the table juicy and hot, again with an excellent bark. Rodney knows how to bring out a good balance of smoke flavor without going too far. As with the brisket, there is enough fat to give them moisture, but you won't worry whether your cardiologist is working late that night. These too are dry-rubbed, so if you are expecting something drenched in sauce, you are going to be disappointed. Personally, I like to be able to taste the more subtle sweet/salty flavors in the meat and add the sauce from the side as needed. If you grew up in Texas, ask for some slices of white bread and you'll feel like you are home.
The lamb ribs and shoulder are frequently available, simply dry-rubbed with a bit of salt and pepper, letting them speak for themselves. The meat is rich and slightly gamy; you can still taste the meadow in the lamb.
On Saturday nights, Rodney cooks prime rib, smoking it slowly for hours. I'd never had it this way and was interested to see what it would be like. The texture is slightly different. It looks almost dry, but the smoking and cooking process renders the fat, making it absorb a bit. The end result is an explosion of flavors, smells, and textures. I've had the same cut in many restaurants at twice the cost, but most weren't nearly as good. Frequently, when you order prime rib, by the time you get through all of the fat, there's not much left. At Podnah's, the balance is perfect.
Nothing goes better after a good barbecue than pecan pie. Podnah's version is one of the best I've had, with a flaky crust and simple buttery pecan goodness, warmed to just the right temperature, with pillows of cold "whoop" putting it all to bed. For the nostalgia minded, try the banana pudding with 'Nilla wafers.
BBQ is highly regional, and folks need to realize that Rodney's version of the sauce, or dry rub, of coleslaw or any of the other dishes, may not be what they grew up with. Some folks have told me they didn't like the food at all, that it isn't like anything they had "back home". To this there isn't much I can say – it's like any other cuisine, tainted by the heart. Maybe it's because I sit there thinking about my early days in Texas, Bessie Smith singing Careless Love in my mind, but to me, this is the best barbecue on the west coast. That's all that matters.
Highly recommended
Phone: (503) 281-3700
Address: 1625 NE Killingsworth, Portland, OR. 97211
Website: PodnahsPit.com
Noise level: moderate