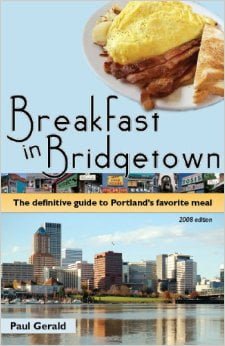 I don't think I've ever posted a link to any campaigns to Kickstarter or Indiegogo to raise money, but this time I'm making an exception. If you have been following this site for a while, you've probably enjoyed Paul Gerald's writing. In 2008, he wrote the first edition of Breakfast in Bridgetown – the Definitive Guide to Portland's Favorite Meal, and updated it again in 2011. Unfortunately, the Portland breakfast scene changes so fast, he has to update the book on a regular basis, and Paul is offering some great incentives for those who can help out with the up-front publishing costs, including copies of his 2014 edition of 60 Hikes Within 60 Miles of Portland.
I always enjoy Paul's writing. It's approachable, and rather than be a restaurant critic, he writes about the vibe, the menu, and his overall feelings of a meal. You can read the ones he's done for this site at the link above.
If you'd like to help him out with his campaign to raise money for the new edition as well as view a personal video explaining the project, you can do so here. There are 15 days left in the campaign.