Comfort Food for Portland, Scandinavian Style (Minor updates, 4.15)
On SE Clinton Street there is a restaurant that translates Scandinavian cuisine perfectly for Pacific NW palates. It emphasizes simple cooking, using fresh, seasonal, and local ingredients. Judging from Broder's increasing popularity, they have nailed it.
Broder means brother in Swedish and is a play on owner Peter Bro's Swedish last name. He takes the quintessential Portland obsession of going out for brunch and pairs it with the somewhat different Scandinavian approach to dining. Instead of the typical giant plates found in most breakfast joints, things at Broder are a bit more refined and delicate, and overall quite good. This isn't the slop found in the cheap as sin IKEA cafeteria, but with a recent and satisfying breakfast costing only $48 for four people, Broder is still a bargain.
In keeping with the minimalist theme, breakfast is basic but inspired. Most entreés are served with a toothsome and earthy nut bread toast, and your choice of roasted tomatoes, a green salad, or Swedish-style potato pancakes. Speaking of those potato pancakes, like a thicker and larger latke, they are crispy on the outside and soft on the inside and are one of my favorite things on the menu. As a child, I discovered my parent's Time-Life Foods of Scandinavia cookbook and these were some of the first things I learned to cook, so I have a soft spot in my heart for them. Nostalgia aside, their warming and filling version is perfect for our cold and dark pacific NW mornings. Broder also offers several lightly baked scrambles in tasty combinations, such as wild mushroom and caramelized onion, Durac ham and homemade ricotta, or my favorite – a smoked trout and red onion version.
One of the more traditional offerings at Broder, and one that I highly recommend, is the Swedish Breakfast Bord. It's a sampler of many things tasty and good and may include some or all of the following, depending on the day: rye crisps, walnut toasts, a soft boiled egg, salami or ham, smoked trout or gravlax, grapefruit, or other seasonal fruit, yogurt and honey, lingonberry jam, and a thoughtfully chosen bit of hard or creamy, ripe soft cheese. The Breakfast Bord is a fantastic choice for diners like me who can never decide on just one thing. Some of the other breakfast choices include a breakfast sandwich topped with baked eggs, the "Pytti Panna" Swedish Hash with meat and vegetables, and the cute-as-a-button, but incredibly tasty Aebleskiver. Sometimes known as the "Danish Donut" because of its light and airy texture, these are actually traditional fluffy and round semi-hollow 2″ pancakes made in a special skillet. They are then cut open and spread with lemon curd, lingonberry jam, and maple syrup that comes served on the side.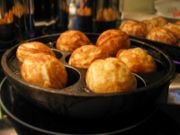 Of course, Scandinavians are well known for their coffee cakes, and Broder serves a revolving selection made in-house along with the type of strong, high-quality coffee that Portlanders expect. Lunches include daily soup and mostly American-style sandwiches, rather than the open face types served in Scandinavia. Choices include egg salad, turkey, ham, grilled cheese, or the "Broder Club" which is a stacked delight of gravlax, bacon, avocado, roasted tomato, and horseradish cream served on toasted white bread. Other lunch options include Swedish meatballs in sherry cream served with pickled beets, lingonberry jam, walnut toasts, and green salad, and a lamb burger with house-made curry ketchup and pickles. If you have a taste for pickled herring or more of that excellent gravlax, they are available as a cold "Bord" plate, while a smorgasbord sampler comes as a selection of three daily open-faced sandwiches.
Broder has become very popular, so expect a wait during peak times, especially on the weekends. This popularity can sometimes translate to rushed servers who may neglect a water glass or a coffee refill. But service has always been extremely friendly and pleasant, and more than willing to please or make things right. The Danish have a word called hygge, which roughly translates into taking the simple and everyday and elevating it into something warm, inviting, comfortable and special. In fact in Danish, to say something is hygge is to give it just about the highest compliment of all. Although Broder has a modest interior, clean lines, and modern furniture, traditional flourishes such as the playful large light fixture on the ceiling (an homage to the twig-shaped candle holders found all over Scandinavia), make the space feel cozy. Painted Dala horses behind the counter and other folk art add the homeyness and delight of a Swedish grandmother's house. Coupled with the above-average food, Broder is pure comfort. In a word, Broder is hygge.
In 2014 Broder Nord opened in the old Gotham Tavern space on North Interstate boulevard. It is much more spacious and frequently has a shorter line. They also serve dinner from 5pm – 9pm Wednesday – Saturday.
Phone: (503) 736-3333
Address: 2508 SE Clinton St., Portland, OR. 97255 Map
Address 2: 2240 North Interstate Ave. suite 160, Portland, or 97227  Map
Hours: Daily 9am-3pm. Broder Nord is open for dinner Wed – Sat 5pm – 9pm.
Website: Broderpdx.com