There are shops that sell chocolate and then there is the Cacao chocolate shop in Portland. The latter can inspire even the most hardened and cynical among us.
When we first heard about the Cacao chocolate shops, it clearly sounded like it was worth our attention. Serious enough to warrant not one, but two reporters for further journalistic investigation. That's when Joanna Miller entered the scene. A chocolate lover and recipe tester for the Paris based cookbook author David Lebovitz and an enthusiastic food blogger herself, the woman knows good chocolate. After one quick phone call with the simple words "new chocolate shop, hurry," we hauled our derrieres downtown, driven by a pre-Perestroika fear that the shelves might be swept clean before our arrival.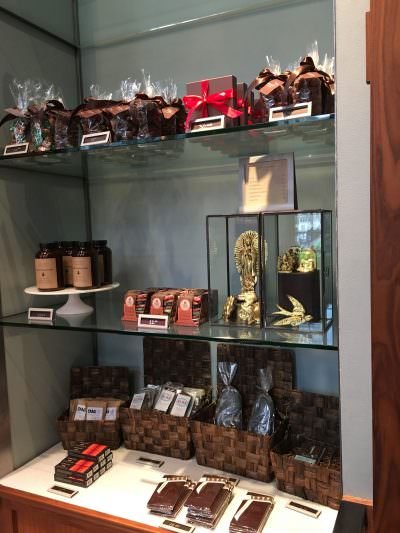 Cacao (pronounced Ka-Cow) is like no other chocolate shop in town. Pushing our way through the unassuming entrance, we were rendered momentarily breathless. Cacao chocolate looks more like a boutique in Paris than a store located just off of West Burnside Street. The space's elegance lies in its simplicity and earthiness, allowing the beautifully packaged products to be showcased as the central design element. It is the chocolate, after all, that is the true star and raison d'etre of this establishment. Cacao is understated and comfortable, with high ceilings, a long curving marble-topped counter, and an earthy and cocoa brown-themed decor. A grouping of café tables next to the window, beckon customers to linger with a hot beverage and their purchases before rushing out the door. Yes, this is chocolate that deserves some quality time.
And what about the chocolate?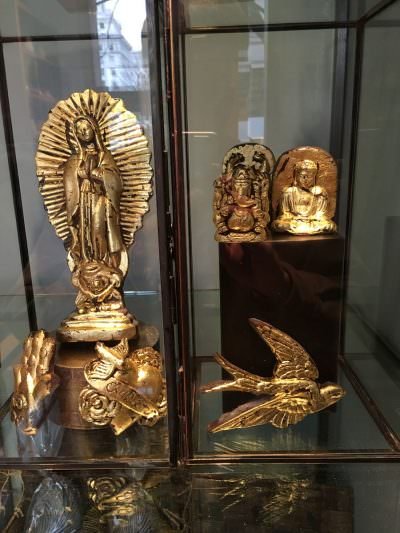 The amount and variety of chocolate at Cacao is impressive. It includes long walls of tall shelves filled with chocolates, two large display tables stacked high with a large variety of bars, and a museum-quality display case of carefully chosen individual mendiants, truffles, and other tasty chocolate-covered bites. While Cacao does stock a variety of brands that one may find in other stores around town, we also saw many names that have yet to show up in Portland – ones that our friends still fill their suitcases with upon return trips from Europe and New York. In other words, you will not find these chocolates in the candy aisle of your local grocery store, or even any of Portland's best gourmet shops. Portland has many chocolatiers, and Cacao carries the best: Craque Candied Cacao, Alma Chocolates, Brass Bar, Hedgehog of the Fog, and more. The selection also includes their house-made drinking chocolates available in jars to take home. The Wall Street Journal called it "knockout drinking chocolate". Both their 100% Pure Dark Drinking Chocolate and lighter Premium Drinking Chocolate are available for purchase. Take it home and warm carefully with milk or cream. Romance in a cup.
By now, we were swooning, and just when we think it can't get any better, we turn around to hear these seductive words:
"Would you like to try a sample of our drinking chocolate?"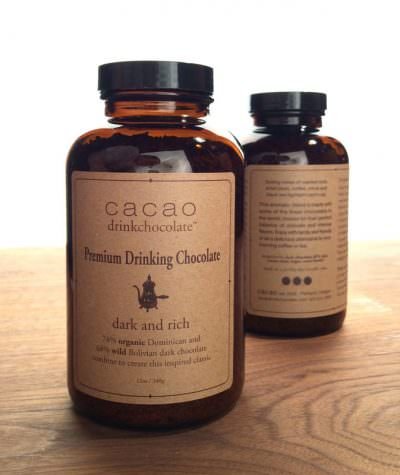 Cacao chocolate shops in Portland draw a clear distinction between hot chocolate and drinking chocolate. For the uninitiated, drinking chocolate is an ancient, heady, and deliciously thick concoction, generally served in small portion sizes, for a little goes a long way. These are the drinking chocolates that are most typically served in Barcelona, Belgium, and other parts of the old world; an intense, deep, and very adult drink. Even if you are someone who does not usually get excited about this sort of thing, do not skip this special treat. Joanna, for example, had convinced herself that she was a chocolate eater, not drinker, claiming, "I want the flavor to linger, and when it's liquid, the experience is just too rushed!" But there is nothing Nestle's-Quick about this drink. It lingers in the best way possible. Long after the velvety-smooth richness finally and regrettably left our palates, the mere memory of the moment made us smile.
Cacao's hot chocolates are also quite pleasing, and far above average. These are made with a 50% milk to chocolate ratio which is just the right amount of punch without being too heavy. They are lightly frothed and come in either a dark 72% or a lighter 65% cacao variety. These are the perfect reviving agents for a brisk autumn day.
As we drank from the tiny cups filled with the warm oozing liquid, elation washed over us, and we were in orbit. An extraordinary chocolate buzz had set in. We were firing-off questions with a hyperactive, sugar and caffeine-induced fervor, oohing and ahhing over the glass-covered displays, and whispering and giggling to each other like we were teenagers on a class field trip.
One of the owners, Jesse Mannis, took it all in stride, placating us with more chocolate samples, and patiently answering all of our questions. Without a trace of condescension or ennui, he appeared delighted and amused at our enthusiasm; this is clearly a man who has followed one of his life's greatest passions. We also suspect that he may be accustomed to the light-headed and woozy effect that Cacao has on otherwise rational and calm adults.
Jesse, who cut his chops at Fran's chocolates for over 10 years, and business partner Aubrey Lindley, opened Cacao Chocolate in September 2006. They are thrilled at their location, rave about wonderful people they have met in Portland, and possess a unique welcoming esprit that makes this a warm, comfortable, and delightful atmosphere. Together, they have made Cacao a food and gift destination for Portlanders. We think it is a fantastic spot for a rendezvous, platonic and romantic alike, and is a refreshing change from the typical routine for the office worker's mid-morning or afternoon coffee break.
The London Telegraph asked, "Does Portland have the best chocolate shop in the world?" There are so many things that the Cacao chocolate shops do right, it is hard to list them all.  Despite the fact that these are expensive chocolates, anyone with a bit of extra pocket change can find something satisfying and delicious to buy. There are tablets of all kinds that are just the right size to satisfy a craving; fine chocolate-covered and nut-sprinkled toffees for just under two dollars and unsuspectingly good Celtic salted butter caramels displayed next to the register. In their subtle packaging, these could be easy to miss, but do yourself a favor and don't pass them up. They are addictive.
Phone: 503-241-0656. Heathman: 403-274-9510
Location: 414 SW 13th Ave, Portland, 97205 Map.
By Lizzy Caston and Joanna Miller – Originally posted on 10/2006, but rewritten and new photos 9/16