Updated 3.1.14: Sahagun seems to be out of business
[Note: The retail store closed August 21st, 2010. However, you may be able to find her chocolates at the businesses listed at the end of this post] 
I recently spent a bit of time in the hospital, and somewhere in a morphine-induced fog, I started daydreaming about chocolate. Not just any bar on the street, but a single, perfect chocolate.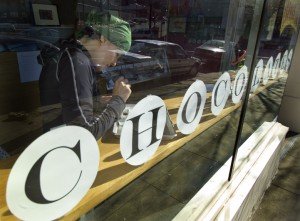 I never really believed the "chocolate high" until Elizabeth Montes came along and opened her tiny shop on NW 16th in Portland, named after Bernardino de Sahagun, a Spanish Missionary who arrived in Mexico in 1529.
I've had Sahagún (pronounced saw-goon) chocolates at the Portland Farmers Market several times and had always been impressed by the quality and care that goes into her confections. Soon Mrs. Montes was featured in Chocolatier magazine. In June of 2005, she opened a store on the west side of an old apartment building downtown. There is something about a cold winter day and chocolate that goes together, and her shop, a place that is such a secret you really don't want to tell anyone about it, has been on my frequently visited list for some time. It's a perfect stop on a first date.
Sitting in the hospital, the idea of food was the furthest thing from my mind until I heard the nursing staff raving about the chocolates someone had brought. By their description, I didn't even have to ask. I knew they were talking about Sahagún. Within a few hours, I developed such a craving, I was begging the nurse to unplug me from the I.V's and let me make a quick taxi ride to the store. Somehow, it seemed Elizabeth's chocolates would be a more effective pain-killer. I could see pity in the nurse's eye as she wiped a bit of creamy caramel off her chin, but my plea was to no avail. Instead, I would have to rely on memories.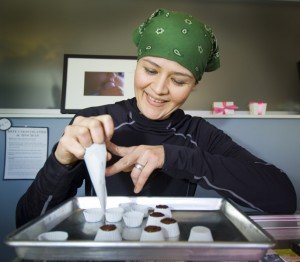 Drifting in my morphine fog, I remembered the first time I discovered Sahagún. It is about as unpretentious a place as you will ever find; a tiny shop with a small case and a coffee machine. Not much room for anything else except for a few stools.
The girl behind the counter offered me a small sample. All self-control was lost, and I tried one of everything in the case. Each one seemed to lead to another, and by the time I left, I had tried the entire inventory. There wasn't a flaw in the lot. Make no mistake, these are some of the best chocolates I have had anywhere in the world.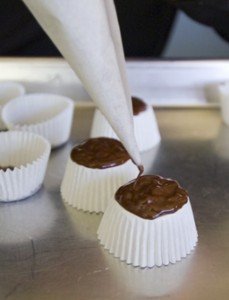 The selections poured from the case. Pepitapapas, a dark Ecuadorian bittersweet chocolate bark with little, barely toasted, pumpkin seeds. Just the slightest hint of home-grown jalapeño gives it earthiness and depth. The second bark with almonds and fruit candied in house lends a classic juxtaposition between flavors. Oregon hazelnuts dipped in dark chocolate give a slight crunch and then an explosion of flavor. Candied ginger, orange, and lemon peels dipped in chocolate, play a wonderful game between textures – bitter, sweet, acid; an education in matching tastes. "Mega Pills Morning Chocolates", pairs Portland's famous Stumptown coffee to single-origin chocolate. They are unexpectedly moist and creamy, giving with the slightest pressure. I want to keep a box of them next to my bed, so I can have my daily starter of caffeine without sticking a bare foot from under my downy comforter.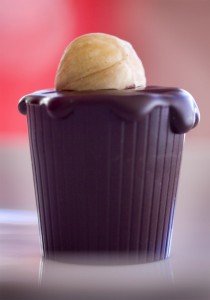 All these chocolates were good, but then I had the pièce de résistance: caramels about the size of a large thimble. The rich, dark chocolate shell is thin, just a flavorful holder for the goodness inside. You can't just nibble, the different ingredients need to be experienced all at once; pop the whole thing in your mouth at once and it explodes, sending ribbons of incredibly salty/sweet/buttery caramel across your palate. A single hazelnut gives a slightly crunchy texture. One can only go so far in describing a bite of food; just let me say that it is an unbelievable experience that blew a fuse somewhere deep in my brain.
Stop your conversation, lean against a wall, and concentrate. Take time chewing; feel and taste all the different components. This really isn't a chocolate, it's an art piece; a painting you'll only appreciate behind closed eyes. The last time I went to the shop, I put one in my mouth as I walked out the door. I wanted to dance my way down the street, twirling around lamp posts, singing in the rain.
There's nothing better than finishing with a cup of Elizabeth's hot chocolate, made with hormone-free milk, and melted single-varietal chocolate. Right now they are making it with São Tomé, a bittersweet bar from France that is 75% cacao, giving it a long, lingering finish and earthy depth. This isn't your typical whipped cream-topped, powdered plotz served so many places. It is more like heaven in a cup; a quintessential chocolate experience.
Lying in that hospital bed, I remembered the smile on my face pulling away from the curb. I had ingested a hefty amount of little chocolates, candied peels, bark, and a steaming cup of melted hot happiness. Hitting a wall of traffic as I pulled onto the freeway, I had a huge grin. A mile later I was quietly snickering, kind of like you do when you've pulled off the perfect practical joke on a friend, but they don't know it yet. Soon I was singing loudly, making a general spectacle of myself, car-dancing down Interstate Avenue at 40 miles an hour.
I highly recommend Sahagún.
All photography by Vince Patton, © 2008