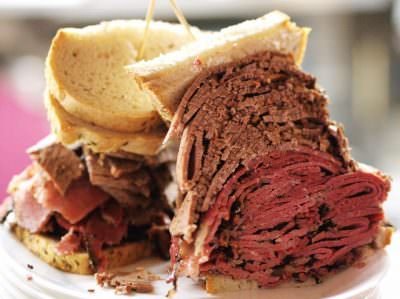 This isn't Portland news, but if you are a fan of the delicatessen, you've heard of the famous Carnegie Deli in New York City. It is on many tourist's must try lists when they visit New York. Today, the Deli which first opened in 1937, announced they will close for good at the end of 2016.
According to The New York Post, 
Restaurant owner Marian Harper Levine tearfully broke the news to 60 heartbroken employees on Friday morning.

Levine, 65, said, "At this stage of my life, the early mornings to late nights have taken a toll, along with my sleepless nights and grueling hours that come with operating a restaurant business."

"I'm very sad to close the Carnegie Deli but I've reached the time of my life when I need to take a step back," Levine said. Her family has owned the Carnegie since 1976.
From the deli's Facebook page –
Thank you all so much for your loyal patronage throughout the years. However, today, we have very sad news. This is probably one of the most difficult decisions we have had to make. Carnegie Deli New York (854 7th Avenue) will close on December 31, 2016.

Our family-owned and operated meat processing facility and commercial bakery in New Jersey and other licensed locations throughout the country will operate to continue Carnegie Deli's celebrated legacy.

We are so proud that we were able to reach an important milestone for the customers, employees, and the City of New York with the Deli's 40th anniversary in December 2016, since Milton Parker purchase the deli in 1976 from the original owners. The deli first opened in 1937.