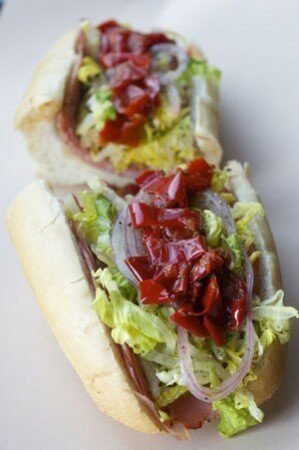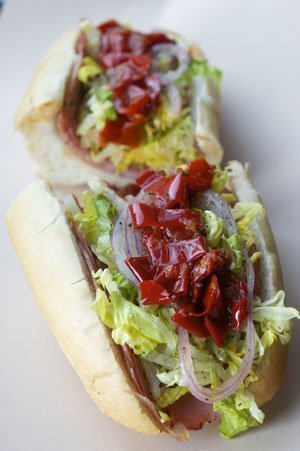 The ever popular Bunk Sandwiches has opened another sandwich shop, this time on NE Alberta Street.
"Bunk Alberta" officially opened at noon on February 5th, much to the delight of eager diners in the Northeast Portland. The new location is bright and open, with plenty of seating, a back patio (for warmer months), and a giant mural of Harry Dean Stanton from Alex Cox's Repo Man.

With the new location comes exciting new menu items. In addition to Bunk's signature sandwiches, Bunk Alberta will offer an expanded salad menu, cocktails (including Bunk's infamous frozen margaritas), and signature sides and snacks. The menu includes a selection of sandwiches in salad form – the Italian Cured Meats and the Roast Chicken Salad – and introduces a few new entrée salads, such as the Romaine Caesar, Country Club Salad, and Mixed Greens.

The snack menu boasts the addition of two indulgent french fry creations: Carne Asada Fries (with Bunk Cheese, Sour Cream, Guac, and Smoked Chile Salsa) and Russian Fries (with Bunk Cheese, Caramelized Onions and Russian Dressing). Matt Brown – co-owner and resident bar whiz – designed a signature cocktail for Bunk Alberta, the Jacobsen Salty Manhattan ($9). Made with James Oliver Rye, Sweet Vermouth, Jacobsen Sea Salt, this cocktail is a clever and subtle twist on a classic.

Bunk Alberta is located at the intersection of 21st and NE Alberta, right next to Salt & Straw, Bollywood Theater, and Via Chicago Pizza. The shop is open Sunday through Thursday from 8:00AM to 10:00PM. On Fridays and Saturdays, the shop is open until 12:00AM.
Bollywood Theater has opened their second location at 3010 SE Division. Southeast Portland fans of the Troy Maclarty's original Bollywood Theater location on NE Alberta can now take advantage of the new larger space on SE Division. The Indian restaurant has 4,000 square feet, with some counter service, a bar, and an open kitchen. Summertime will bring additional seating in a lovely patio space. One of the best parts – this brings another lunch option to Division, as they are open 11am until 10pm.
Pepe le Moko, the subterranean Spanish bocadillo counter and underground bar from Clyde Common's Nate Tilden and bartender Jeffrey Morgenthaler has finally thrown open the doors.
From Portland Monthly, "Pepe is part submarine, part Mediterranean cantina: a dark underground tunnel, hardly four feet across from bar to banquette, with a half-pipe for a ceiling and a big, tufted bar that glows with white light. Cushy booths line the tunnel's patina walls, with a few nooks adorned with mini burlesque triptychs in the deepest recesses of the basement. In this windowless bunker, it's easy to lose track of time."
The focus is on cocktails and small plates. Interestingly, the cocktail are not the au courant selections you might expect from one of the leading bartenders in town, but are more fitting with their low profile theme. A menu posted on Imbibe Magazine's Instagram (h/t Oregonlive.com) shows a Long Island Ice Tea, Amaretto Sour, Grasshopper, and an Espresso Martini among the offerings, ranging in price from $10 to $14.00. You'll find the restaurant at 407 SW 10th Avenue in Portland.
Speaking of which, Clyde Common has reopened after a brief renovation, new chef Momofuku alum Johnny Leach in place and a somewhat revamped menu, which looks pretty darn appealing.