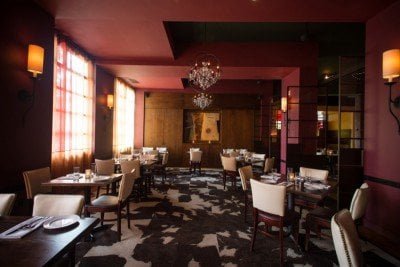 <updated> After a 17 year stint at Oba in the Pearl District, Chef Scott Neuman is returning to Texas. According to a press release, he will be there through February 25th. Scott is known for his modern take on "nuevo Latino" food. For the next month, Pablo Pacheco, Oba's Chef de Cuisine will be filling in. They are currently interviewing candidates for the position.
---
<updated>
I went by City Market/Pastaworks in Northwest Portland a few weeks ago, and tweeted that the shelves were half empty and wondered if something was up. Turns out that may be the case. On a return visit last night, the shelves were restocked with all of my favorite olive oils back on the shelf where they belong. But wait, there's more! Pastaworks is opening a new branch at about NE Sandy and NE 24th between Glisan and Sandy. (I've removed some stuff about the location here after the comment below by City Market)
In the fall of 2015, Pastaworks will be opening a new market, Providore Fine Foods, at 2340 NE Sandy, in what was once the Alexander Chrysler, Plymouth, DeSoto Building.
Pastaworks will be the anchor tenant in Providore Fine Foods, and will be joined by meat, fish and produce purveyors (to be announced shortly) creating a grocery experience in the vein of City Market Northwest.

Kevin de Garmo and Kaie Wellman, the owners of Pastaworks and Providore Fine Foods, are working with developer Kevin Cavenaugh of Guerrilla Development on the build-out. The market will front the existing six micro-eateries of Guerilla's The Ocean complex (Slowburger, the Sudra, Uno Mas, 24th and Meatballs, the Pie Spot and Tails and Trotters), creating a NE Portland food destination at the crossroads of Laurelhurst, Grant Park and the Industrial Eastside.
---
The new El Gallo Taqueria brick and mortar restaurant space has opened. After spending five years as a food cart in the Woodstock neighborhood, they felt it was time to open a full service restaurant. You can see their newly expanded menu and new space on the web. They will be carry house-made sangria and a selection of beer. They are located at 4422 SE Woodstock Blvd in Portland.
---
I had given up on ever bringing my PDX Food Dude Facebook page back to life – several people had tried, but it took the magic of social media expert and sometimes PFD contributor Lizzy Caston to work through the morass and bring it back to life. Apparently it's all who you know. So now PDX Food Dude has been converted to a page, and the old Portland Food and Drink.com page is restored. Feel free to follow – I'm fairly active on the Food Dude page. Thanks Lizzy!
Of course if you really love me, you'll still visit the site from time to time and support my advertisers.
---
Finally, have you taken the 2015 Best of Portland Area Restaurants survey? To give you a little nudge, some local restaurants and food businesses have graciously donated incentives which I will be awarding in a random drawing at the end of the survey. A recent addition: The Heathman Restaurant and Bar have donated two $50 gift certificates! That brings us to almost $500 in prizes.