Award winning chef Charlie Trotter has died at the age of 54.
In many ways Trotter's ascendance in the food world seemed improbable. He had no formal training other than waiting tables to support himself during a break from college, cooking for friends and family and doing small catering jobs while finishing his degree in Political Science. Friends kept telling him he should open a restaurant, and in 1987, after just one year of limited experience, he and his father opened Charlie Trotters, which changed Chicago's image of deep-dish pizza and hot dogs forever.
The restaurant became a pioneer known for its three tasting menus, all focusing on local seasonal ingredients. He preferred his cuisine "to be experienced in a progression of petite courses with each course laying the foundation for the next". His menus were some of the first to eschew heavy sauces for a philosophy in which ingredients spoke for themselves.
Over the years the chef and restaurant rose to legendary status, winning 11 James Beard Foundation awards including 'Outstanding Chef', 'Outstanding Restaurant', 'Outstanding Service' and 'Humanitarian of the Year'. In 1998, Wine Spectator bestowed the honor of 'Best Restaurant in the World for Wine & Food'. As one of the first celebrity chefs, Charlie Trotter authored 17 books and hosted the award-winning PBS cooking series, The Kitchen Sessions with Charlie Trotter.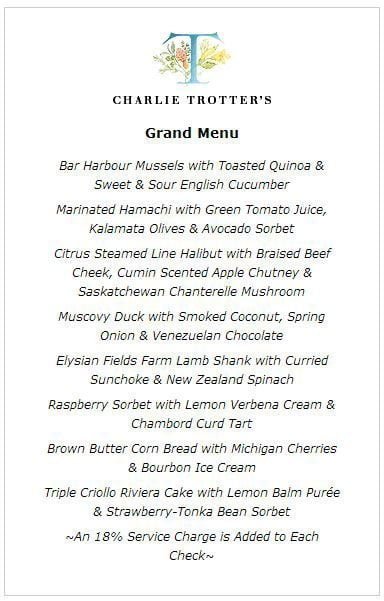 However, Trotter seemed unable to reinvent himself as food trends changed. He stubbornly clung to somewhat staid, fine dining, while chefs like Grant Achatz, Graham Elliot, Mindy Segal and Curtis Duffy drew the spotlight away from his restaurant. Service was very formal, coats required, and prices for the three menu choices ranged from $150 for the vegetable dinner to $250 for the spontaneous "Kitchen Table" menu. Matching wine menus were an additional $125. A younger generation of diners thought of Trotter's as "their parents" restaurant.
In August 2012, Charlie Trotters closed, so the chef could "pursue his masters degree", but he quickly gained notoriety for several bizarre incidents, one of which landed him on the front page of area newspapers for shouting obscenities and kicking a group of photography students from his former restaurant space after the instructor refused to have his students sweep the floors and plunge the toilets. Last June, he was sued by two men who bought a bottle of 1945 Domaine de la Romanée-Conti wine from him for $46,000, claiming the wine was counterfeit.
In spite of his last year, Charlie Trotter should be remembered for his contribution to the national restaurant scene and his wide philanthropic endeavors. In 2012 Chicago Magazine ran a wonderful tribute called 'Charlie Trotter's Victory Lap'. It's well worth reading.