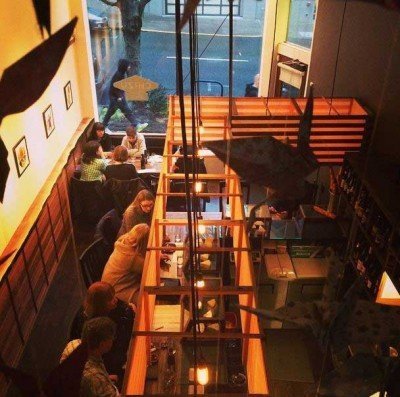 Chizu, the newest business venture by Steve Jones, is now open at 1126 SW Alder Street in Portland. A little sister to perennial Portland favorite, the Cheese Bar, Chizi bills itself as "a whole new way to experience cheese".
Chizu, is the Japanese word for cheese, and Steve thought the sushi bar format would work well for his specialty.  The menu lists about 30 cheeses at perfect ripeness. Similar to a sushi bar format, you can design your own experience by choosing as many portion-sized selections as you like. The menu also includes other snacks, and curated food-friendly beer, wine, cider, and sake. Keeping with the sushi ethos, it has a slight Japanese flair.
According to a recent interview on Right at the Fork podcast, Steve thought the experience of sushi would translate well into cheese, giving people a chance to taste types that they might not normally order. He sees this as a pre dinner spot, with 1 oz. portions between $3 and $6 dollars, and hopes people will stop there for 2-3 cheeses as a precursor to a full meal somewhere else.
Omakase, a Japanese phrase that means "I'll leave it to you", defines the type of service Jones is hoping to provide. He wants people to "put $20 on the bar and you say, 'blow my mind', and we'll do it omakase style. In return, I'll say are there any no's?"  The intimate 450 square foot "bar" features 30 to 40 of his very best cheeses on any given day, so he'll have plenty to choose from. Customers will also be free to order individual cheeses.
Hours of operation are Sunday through Wednesday 3 pm to 10 pm, and Thursday through Saturday 3 pm to 11 pm.
1126 SW Alder St., Portland 97205
If you haven't heard it, the entire episode of RATF is below. You'll find many other episodes on their website.