As you probably know, City Market NW is closing. Sunday, August 17 is the last day.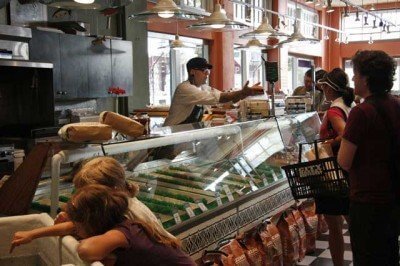 I have good memories of City Market. In the early 2000's I spent a bucket of money there on cheese, fish, olive oil and really good balsamic vinegars. To this day they are one of my favorite sources for cheese; the staff is knowlegeable and happy to share their enthusiasm, happy to share tastes.
The closure is not much of a surprise for those who frequented over the years. On my last few visits I was shocked out how much stock had shrunk, and the energy that was filled the story seemed faded. The writing was on the wall.
Here is the final press release:
SAY FARWELL TO CITY MARKET NW
City Market NW is coming to the end of its lease and will close its doors on Sunday, August 18th. After 28 years at our little corner market, we've loved all of the conversations we have had, the foods we have eaten, and the friendships we have made. We hope that you will join us this final weekend to share and celebrate our memories.

Customer Appreciation Happy Hour
City Market NW, 735 NW 21st Avenue
Saturday, August 17, 3–6pm

City Market NW will be open regular hours through August 18, 9:30am–7PM daily

Not surprisingly, many customers have asked if we'll open another store on the West Side. We are, indeed, looking for a new location, and will share any news we have through this very newsletter.

The silver lining is that even without City Market NW, you'll still be able to find your favorite cheeses, wines, fresh pasta and sauces, imported groceries, and so much more at Providore Fine Foods. The opening of Providore in the winter of 2016 began a new era for us, and we're so happy and grateful that Portland has embraced the store.

Thanks to all of you for your support over the years. We look forward to seeing and serving you this weekend at City Market NW and at Providore for years to come.
I'm sorry to see it close and wish the best to all of their employees who have served me over the years.