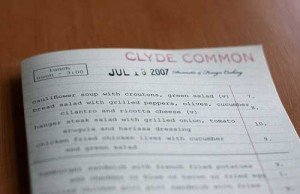 Note: Clyde Common is it existed in this review closed in 2021. Now they have reopened as a bar with food called Clyde Tavern. I haven't tried it yet, but expect it to be good, especially the cocktails.
Many restaurants are emblematic of certain eras in the cities they inhabit. Think of the well-known Brasserie Lipp in Paris in the 1920's, when artists and writers milled about, drinking cheap red wine and eating hearty sausages and stews, while Ernest Hemingway jotted it all down on paper for posterity. Or the eponymous Brown Derby in LA during the black and white film era, when stars and starlets would dig into thick steaks to go along with their gimlets. New York in the 1970's had Elaine's, where one might have seen Mick Jagger, Andy Warhol, or the original cast of Saturday Night Live recovering from, or getting ready for, a disco night at Studio 54. Portland, of course, up until the 1990's, had iconic Quality Pie on NW 23rd, where the likes of a young and yet unknown film director named Gus VanSant might be waiting for cheap coffee at 2AM, while a young crazy rocker chick named Courtney Love shared a counter with off work taxi drivers, punk rock musicians, geriatric insomniacs, and many "keep Portland weird" types.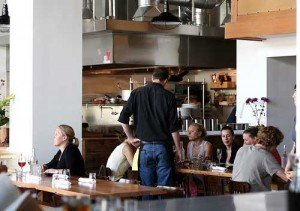 Clyde Common is a veritable who's who of Portland. The downstairs is all community tables; you may find yourself seated between City Commissioner Sam Adams and the Red Hot Chili Peppers, and across from Monica Lewinsky. All around you are likely to find gays, straights, socialites, the moneyed, the hip & trendy, and the not so trendy. People are generally happy to be there, and I've had many interesting conversations with other patrons thrown together by chance, resulting in an entertaining scene. It is in many ways, the perfect restaurant for this particular time and place – Portland 2007. Sometimes, though, Clyde can feel a little too much like "where the beautiful, cool people dine", kind of place. Later at night, especially on the weekends, it can turn into a downright house-bar atmosphere, with pumping music, and lots of table-hopping, cocktail swigging folks whooping it up. This can either be a fantastic and festive scene, guaranteed for amusing people watching and a lively, energetic atmosphere or downright obnoxious if all you want is a nice dinner with quiet and intimate conversation.
Owners Nate Tilden and Matt Piacentini have done a beautiful job with the design. The ceiling soars to meet a large bank of floor-to-ceiling windows that fill the space with light. An open kitchen allows you to watch the cooks from anywhere in the dining room. A mezzanine wraps two walls, providing a great vantage point to view the crowd below. The zinc-topped bar provides a second focal point. All in all, it's a fun place to hang out.
There are, however, some drawbacks. To some, it will be the community tables. I normally don't like them but have always enjoyed my time at Clyde Common. It all depends on the people sitting around you; I suppose they could make or break your evening. One night I had to sit and listen to someone berate Nate for 20 minutes about the noise… which brings me to my next issue. Yes, it is very loud. They have done things to mitigate the problem, but it can be a cacophony at times. Add tables that are really wide, as in, it's hard to talk to the person sitting across from you, and it's even worse. Word to the wise: if you are seated at a wide table, sit side by side, otherwise you'll find it hard to carry on a conversation. Choose carefully – some tables are thinner than others, which makes them better for groups. When there is space, the mezzanine offers regular tables and tends to be quieter.
Another issue is the lighting. This time of year it is not much of a problem, but when it starts getting dark early, it's going to be difficult to read the menus. My last visit was late in the evening, and the whole table was maneuvering the candles, trying to read the dessert list. I imagine they are working on these issues, but I wouldn't be doing my job if I didn't bring them up.
I've been to Clyde Commons about ten times. My first experience was great: flawless in food and service. On my second visit, there was a 50-minute wait between the first and second courses, but the food was still quite good. All subsequent visits have had varying degrees of service mishaps which have been annoying, if not worse. Sometimes the wait is longer than it should be for dishes, usually entrees. Sometimes food for almost everyone at the table will show up, but one plate takes an extra ten minutes. My guess is the kitchen and front of the house staff need to get better synchronized, but the fault is not all theirs. I've had other diner's entrées delivered to me and watched what I ordered get delivered to other people. I've waited too long for fresh drinks, and have sat with an empty coffee cup for far too long. After being in business for over two months, these things shouldn't be happening. Frankly, I don't understand it. Most of the house is made up of people that have been in the industry for a long time; there is a high percentage of 'professional' waiters here. This makes me think the problem runs somewhat deeper.
Finally, a few times I've witnessed the chef berating staff in front of the house; a server as well as a dishwasher. I know people that won't go to some restaurants after witnessing this kind of stuff. Take it in the back where it belongs. Let's hope they get these problems taken care of soon.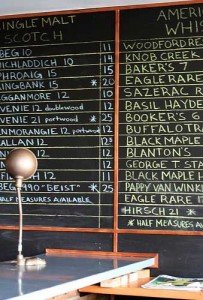 A lot of attention has gone into the cocktail menu. Some examples: Ace Gibson: Medoyeff vodka and house-pickled onion, Figa: black Mission fig vodka with Earl Gray tea and orange, Anemic Mary: Serrano chili and sun-dried tomato vodka, celery juice and sour mix. They are also doing their part to promote classic cocktails, such as the Manhattan, dry martini's Negroni, etc. They have an excellent selection of bourbon and scotch. In fact, their entire selection of top-shelf liquors is easily one of the best in town. The drinks I've tried have been fairly good, especially as the restaurant has matured, though I'd say quality varies depending on who's making them.
The beer list is made up of five well-chosen drafts – everything from Mac & Jack African Amber to La Chouffe and Old German Lager, and ten bottled selections such as Red Stripe, Pacifico, Black Sheep Ale, and one of my favorites, Chimay Blue. Prices are about average, if not slightly below. The wine list is excellent, with a good selection of varietals from around the world. Markup is about 100% retail.
The menu is quite eclectic and very inventive; choices frequently change. Prices are very reasonable, making it easy to try multiple items and still walk out the door with a pretty small tab. I usually start with grilled peppers, Spanish cheese, and celery. They are a perfect example of the way a few simple ingredients come together in a satisfying way: perfect dinner party food. Next, radishes, butter, and salt. Not much I can say, every component is fresh and just as it should be. Same for the fried blue cheese-stuffed olives. Addictive little cannons of flavor that can be perfect when matched with the right cocktail.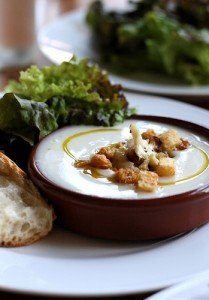 The chef does amazing things with simple ingredients, witness the roasted cauliflower which has elevated this lowly vegetable into a new form. Slightly sweet, and slightly caramelized on the outside, while still remaining firm, I don't think I've ever had better in Portland. Salt cod croquettes are nice and crispy on the outside, yet molten inside, and come with a good béchamel. Frog legs arrive three to a plate with a spicy tomato purée, the best in Portland for anywhere near the price. Carrot gnudi (nude) is light and perfect, served with a bit of mint and mustard oil, just a wonderful dish on a warm summer night. My only real disappointment in the appetizer-sized offerings was a grilled corn salad that might have been great if it had been later in the summer. At the time of this writing, the dish was boring, the corn bland and flavorless.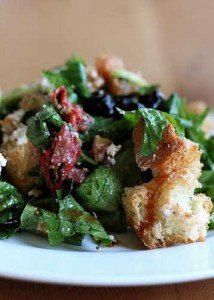 Clyde Common frequently pushes the envelope, occasionally raising my eyebrows with a dish such as "foie gras torchon, rose sorbet, and brioche crouton". I was a bit nervous until I took a bite, and then fought my friends to get the last bit. Buttery smooth, the rose flavor a gentle counterpoint to the foie, cold versus warm, three entirely different textures and flavors all working together in perfection; an unexpected "must-have" dish at a bargain price. My only complaint is the rose was a bit strong. Another evening, the foi was matched with roasted shallots and a fried brioche ball, which, though it was more traditionally based, was an excellent dish.
If they have the whole roasted fish, get it. It is a simple, perfectly cooked, and flavorful fish, crispy skin, sweet and tender meat. Don't be put off by the head (the glazed eye staring up at you, thinking of better days), as the cheeks contain some of the best tasting parts. Clyde Common has offered it as bronzini (sea bass), the "in" fish for 2007, and the Mediterranean dorade (bream), both outstanding. I do wish they would put something on the menu about it being a whole fish. Several times I've watched other diners recoil in horror when it was presented to them; one woman said she thought "whole roast dorade" was a meat dish.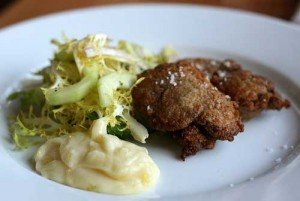 The chicken fried chicken livers are damn near perfect: three livers about two inches long that are breaded, pan-fried, and served on flavorful greens with a side of citrus mayonnaise: a play on textures, crispy on the outside and creamy on the inside. I went back two nights in a row just for this dish.
I could go on and on, but at over 2,000 words, I don't want to bore you. I'll list some of the more interesting highlights: Fennel sausage, grilled squid, and fried potatoes with ink vinaigrette. Beef tongue, seared scallop, beets, and tomato jam – wow! Meatboard – braised pork belly, coleslaw, potato chips and a frozen shot of Medoyeff vodka FishBoard – cold smoked salmon, cucumber and pickled shallot with a shot of Krogstad aquavit. Suffice it to say these dishes are well prepared, and a great example of how, in the hands of a skilled chef, a few simple ingredients can dazzle.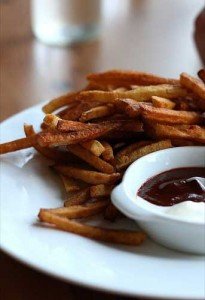 One concern I've heard on our forums is the menu is not terribly approachable; it may be a bit intimidating to the neophyte. I agree, but if one reads closely there are choices that may appeal to the less adventurous. Some examples: light and slightly creamy chitarra pasta alla carbonara, the properly cooked hanger steak in a somewhat overbearing harissa with a lovely, smoky grilled onion salad, or the occasionally underdone hamburger with addictive salty fries – try adding the foie gras butter. (The fries can also be purchased as a side, and come with both a harrisa and a crème Fraiche dipping sauce). A chicken thigh is almost always on the menu, seared and served with refried peanuts and a frisée salad. While it is a decent dish, two of the times someone in my party has ordered it, the meat was undercooked – way undercooked. I've had several friends tell me they have also experienced undercooked items at Clyde Commons; the chef needs to pay more attention to this issue.
I think Clyde might be more successful if they dropped some of the descriptions to more basic terms and then listed the details underneath, such as "pasta alla carbonara – house-made chitarra pasta in a creamy…" Just a thought.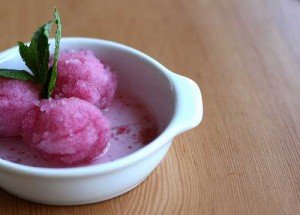 Desserts are a mixed and often disappointing experience. One night, the mixed berry clafoutis, in spite of being beautiful, had little taste, and a disappointing texture. A bit of acid to bring out the flavors would have been a huge help; another night it was much better. Same with the pot de crème – on one visit it was thick as chocolate ganache. Another evening it was textbook – perfect texture and volume, served with a bit of whipped cream and a shot of raspberry purée. The olive oil cake is ok, but the night I had it, was overcooked and a bit dry.
Finally, we get to the sundae. Terrific house-made ice cream, lots of fresh berries, and a deep, not too sweet chocolate sauce with a sprinkling of salty nuts at the bottom of the glass. The little sugar cookies with the sundae, one plain, one a dark bittersweet chocolate, are so delicate they crumble into buttery shards of pure taste when they hit the tongue.
There is often talk about Portland being a "creative class mecca", a new bohemian paradise, and one of the most artistic, vibrant, and innovative cities in the US. Clyde lives up to this image with a staff that clearly wants to please with little touches like "idea collector" as the job title on their business cards, and changing matching outfits for the servers, including the night the staff ironically wore t-shirts that read, "Le Pigeon", in reference to the restaurant across the river, or another evening when the entire cooking staff wore ties.
It would be one thing if it was all show, like some glossy two-dimensional spread in Dwell magazine, or the travel section of the NY Times. Instead, Clyde delivers, food that is both creative yet comforting, and prices that are extremely reasonable, given the quality. Overall, the restaurant generally meets and often exceeds expectations. If inconsistencies with the dishes and service can be corrected, it will become a magnet for more national publicity. The roasted whole bronzini fish alone is worth the price of admission.
Grade: B+
Phone: (503) 228-3333
Address: 1014 SW Stark St., Portland, OR 97205
Hours: Happy hour everyday 4:30pm-close. Sun-Thu 4:30pm-midnight, Fri-Sat 4:30pm-1:00am
Website: ClydeCommons.com
Thanks to Shuna for the great pictures – far better than I could have done.