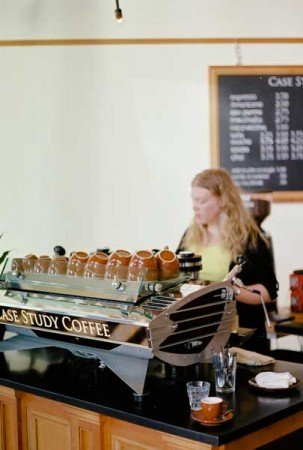 A review of Case Study Coffee Roasters.
[Note: Cast Study is now closed]
Originally started as an espresso catering company in 2005, Case Study Coffee Roasters opened their outer NE Sandy café in 2010. What sets Case Study apart from countless other neighborhood cafés in Portland? We think it's a passion and a concerted effort to do things better. With a focus on small batch-roasted coffee, house-made syrups and warm customer service, Case Study shows how a neighborhood café can up the ante. The interior is uncluttered and thoughtful in design, with practical and comfortable Eames Case Study chairs, interesting lighting fixtures, bright window seating, and music that enhances the ambiance, rather than dominates it. Owners Wes Russell and Christine Herman-Russell appear to have carefully thought out all aspects of their operation, including a small but well-chosen selection of the city's best baked goods. Cold-brewed iced coffee is another attraction, and Case Study's elaborate cold-drip process station located at the right side of the counter is a sight to behold. The popularity of the roaster has grown and they have added three more locations over the last few years.
Address: 5347 NE Sandy Blvd., Portland, OR 97213.
Address 2: 802 SW 10th Ave, Portland, OR 97205
Address 3: 1422 NE Alberta St., Portland OR 97211
Address 4: 932 SW 4th Ave., Portland OR. 97204