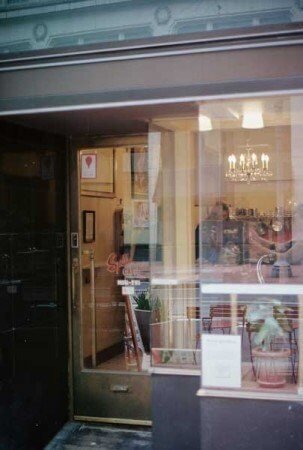 Spella Caffe has their own unique rhythm in Portland's crowded café world. If there's any proof that Portland roasters and cafes are highly individualized, then Spella is it. Master Roaster and owner Andrea Spella has been in the coffee business for decades, but has a different approach to café ownership, design and roasting than his Portland coffee brethren. This is highlighted in everything from how Spella roasts, to retail presentation, to menu offerings, to his style of espresso pulls.
Many Portlanders first learned of Spella when he operated a humble coffee cart on SW 9th and Alder. Spella became a destination for espresso enthusiasts due to his outstanding quality, Roman style pulls, and highly personalized service. You can read a Portland Food and Drink's profile on Spella from 2008 here. Although Spella closed the cart in 2010 to make way for his tiny indoor coffee bar on SW 5th Avenue, his coffee legacy continues to march.
Spella roasts weekly on Fridays and other days if needed, in small batches under 11 pounds. This allows him to keep a keen eye on quality control for each batch.
As a musician, Spella has refined hands-on touch to instrument control, in both roasting and his pours. The drinks are a harmony of sophisticated layers surrounding all the senses, including perfect presentation. There's no digital anything in equipment here. Spella uses a Rancillio lever-pull espresso machine which requires fine tuning for each pour. This is more akin to Jazz Improve – disciplined yet in the moment, and he has spent a great deal of time training his staff on the particular nuances needed for this method. The grinds are constantly being adjusted as well to adapt to this kind of machine's need for temperature control and pressure. You can't sleepwalk through your job on a machine like this one.
If there's any style to be attributed to Spella it would be on the Roman side. Italians are maestros at extracting all the flavor they can from the beans, creating a flavor that is earthy, dark, and deep, yet still delicate, with a generous superfine, caramel colored ristretto covering the top. Spella nails it. Even the foam is different at Spella to compliment the beans, and is a break from most "third wave" artisan cafes. This isn't uber tight foam that lends itself to complex hearts and swirly leaved latte art rosettes. No, foam at Spella is a bit more on the balance between wet and dry. And that's 100% intentional. Drip coffee is also available, and while still a bit more on the darker side, and less " medium blonde", it's still a long way away from the muddy brews that until a couple of years ago were just about all that West. Coast indy cafes served.
The Café itself is also pure Italy – the size of a water closet, with standing room only at the marble-topped counter, and the ledge on the other wall. A few café seats are available outside as well. A pastry case the size of a hat box offers a few baked treats alongside well-regarded Alma Chocolates www.almachocolate.com, and an outstanding biscotti made by a local baker who only bakes for Spella. Spella also features gelato from Stella Gelato http://www.stellagelato.com  based in Eugene, OR., and it really is some of the best available in Oregon. One of Spella's affogato's (espresso poured over gelato) is pure heaven. Two other drinks – the Shakerato Espresso and Shakerato Latte (espresso shaken with raw sugar over ice, or espresso and milk with raw sugar over ice) are a sophisticated Italian version of the milk-shake as well as being highly addictive. Another unique offering here, is the Chai blend which Spella mixes himself, based on previous trips to India. It is my favorite Chai, anywhere – no one spice overwhelming the other and it works both unsweetened and sweet as is your preference.
Spella is humble. In fact, their website is just a simple landing page with no blogs, no twitter or Facebook, no big promotional deals, no nothing. They don't play with barista championships or hold art events.  Spella is really one of the more in-the-know roasters and cafés in Portland, but easily holds his own with the best of the best.