By guest writer Axel Benjamin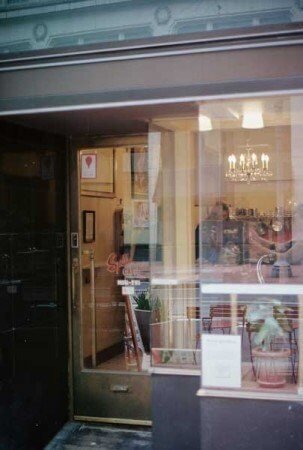 Coffee Roaster Andrea Spella tells me over my morning cappuccino that he developed his love for coffee when he was just a kid.
[Updated: Spella Caffe now has a brick and mortar location at 520 SW 5TH Ave. You'll find a new review of Spella here.]
Growing up in a second-story apartment above a bakery in Chicago, Spella's Italian-American family would make stout stove top coffee with a Moka Pot. Today, coffee roaster Spella crafts his proprietary blend once a week at a tiny roasting facility in outer SE Portland. There, he roasts enough to supply his retail accounts, including Alma Chocolates and sell a few pounds each day from his downtown coffee cart, where he makes what's among the best espresso in Portland.
Anyone who has ever tried knows that making great espresso is tougher than it looks. The slightest fluctuation in temperature or humidity can make a would-be perfect shot acerbic or bitter. That's why at a good shop, you'll notice, the grind is frequently adjusted. And, exposed to the elements five days per week in his cart, Spella doesn't have the luxury of climate control. He must adjust his grind often, and yet, every time his espresso is perfect: deep and syrupy with lingering notes of citrus, caramel and chocolate. Topped with a thick veil of crema, it's flavor that endures for minutes. It's strong but balanced and never too bitter.
Spella also makes a divine cappuccino. It's capped with a lush blanket of foam that lays nicely on your palate while the flavor of the espresso shot transcends the milk. If you were to classify his foam, it'd be somewhere between wet and dry. You couldn't pour a rosetta with it, and that's the way Spella prefers it.
"I like to make my drinks presentable, but it's not the end-all be-all to make a rosette. I'd rather focus textures and flavors of the drink. And that's where he's different from many of the better Portland shops. Unlike the unfortunate side of attitude that all-too-often accompanies a nice cap, Spella is refreshing recourse. He's a nice guy who does his own thing, which is making great coffee. "When coffee becomes too scientific, it loses its heart," he says. Spella has soul.
Stick around awhile and Spella will tell you as much as you'd ever want to know about coffee, that espresso as we know today dates to 1948 when Achille Gaggia invented the piston machine, which internally regulated the water temperature to create crema for the first time. Spella says at least 90 percent of the flavor is in the crema, not the liquid.
Spella himself uses a hand-cranked piston-fired espresso machine that's unlike any in Portland. It's like any regular high-end machine, but with a manual lever that allows Spella to regulate pressure by hand, adding another layer of complexity. "It's the only one in the Pacific Northwest."
Spella sells more coffee in the summer than in the winter, which sounds counter-intuitive, but then again, people don't like to stand and drink coffee in the rain. That's also why Spella has debuted a bricks-and-mortar downtown café in downtown Portland.
Location: 520 SW 5TH Ave., Portland, OR 97204
Phone: 503-421-9723, 503-572-0264 respectively
Hours: Monday – Friday 7.30 AM – 3.30 PM