Coffee prices have fallen to their lowest level since early October 2010, on expectations that the Brazilian coffee growers will have a bumper crop – large enough to offset losses in Colombia.
Coffee fell 4.5 cents to end at $1.747 per pound Monday. That's the lowest level since Oct. 7, 2010, when the price was $1.7345 per pound.

… At the same time, demand appears to remain strong globally. That's causing some confusion among traders and analysts about where the market is headed, said Jack Scoville, vice president of Price Futures Group.

Despite the falling futures prices, coffee drinkers aren't likely to see much change at the retail level because businesses still are paying more to produce and ship products, analysts have said.
I bet Starbucks paid them to add the last part.
---
One more story? How about, Lickable Wallpaper. Yes, it sounds like a joke, but Jaffa Cakes added 1,325 cakes to the walls of an elevator, and told riders to um, pick one and lick. Is it just me, or is that a bit… disgusting. According to their Facebook post, Jaffa says that "once a Jaffa Cake is licked they're removed by the bell boy (out of shot) so no-one else can lick them. We don't want a Jaffa Cake induced epidemic on our hands!"
I think no. Call me old-fashioned, but I'm not licking that wallpaper. It's just nasty! Can you imagine getting on after spending lots of time in close proximity to someone smoking weed ('cause you'd never do that on purpose). Tongues everywhere! Oh, and take a look at the photo below. What's with that tongue?! It's like their's an alien living inside her!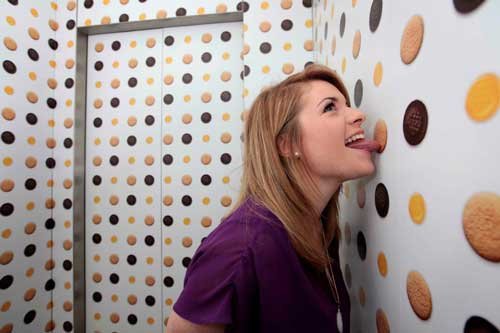 Speaking of an old-fashioned, it's high time I had one. Sofa, meet ass.