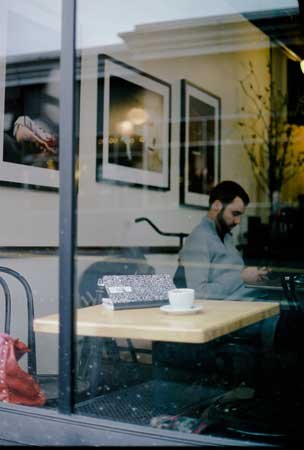 That Coffeehouse NW is a destination for coffee fans citywide is a miracle. The pedestrian-hostile, auto-drenched corridor of Burnside Street is anything but cute—not so much resembling the two-lane, café-lined Eastside connectors like Belmont and Mississippi. And while Coffeehouse NW was trying to build its customer base, Gerding Edlen's was building a condo tower right across the street. As the monstrous Civic rose skyward, pile drivers shook its turn-of-the-century brick-clad foundation, shooing everyone but regulars away. Even without construction chaos, Coffeehouse NW has small signage and its auto access is limited from a one-way side street lined with inadequate parking.
But Coffeehouse NW has survived—and thrived—for a simple reason: Quality. This little coffee shop on Burnside serves the great coffee.
The shots are pulled ristretto-style. Defined simply, ristretto-style espresso is the initial burst of nectar that emerges from the basket when hot filtered water passes through it. If the shot isn't perfect, it's dumped.
According to the owners, espresso is best when pulled between three and six days after roasting, because that's when it's most syrupy and lingering. And because Stumptown delivers twice a week, the espresso usually falls within that range. Because the slightest change in temperature or humidity affects the characteristics of espresso, Coffeehouse chose a Seattle-made Synesso espresso machine that allows the brew time and temperature to be adjusted according to these changes, which occur often and throughout the day.
Good espresso is the ultimate sensory experience, and here it's usually near perfect beneath its thin veil of crema. It's best consumed in two quick, deep slurps—or so my barista tells me. He also tells me it ought to coat the entire tongue, so that the flavor receptors can process the delectable flood of information that only excellent espresso can convey, and so its finish will linger for ten minutes or more. It does.
Macchiattos are a treat at Coffeehouse NW. Served in cup slightly larger than normal, steamed milk is free-poured and the end result is more like mini cappuccinos than what is normally thought of as a macchiato, which is the most inconsistently interpreted espresso drink in Portland. Cappuccinos are dinky, full-flavored masterpieces served in traditional 5.5-ounce cups. In every drink that calls for steamed milk, flawless foam that facilitates a silky mouthfeel is the rule, not the exception.
One of the best additions to the repertoire has nothing to do with coffee at all. The hot chocolate—like the mochas—made with Michel Cluzel single-origin Venezuelan chocolate, whole milk and just a pinch of Portuguese sea salt. It's awesome. Of course lattes and Café a lait round out the repertoire, and very good house coffee is available drip or French press.
The emerging American espresso tradition was founded in part by calling into question the Italian tradition, which is where originates the notion of espresso as served in single or double-shot increments. Coffeehouse NW was one of the first cafes in Portland not to serve single shots, instead choosing to regard espresso more straightforwardly, that is, the entire amount of dark-hued liquid that falls from the portafilter and not half of that. Coffeehouse NW was also serving Nuvrei baked goods before Stumptown, and has recently added Crema's delicious granola to round out the line-up.
The space is small and homey with exposed brick and high ceilings plus vintage pendent lighting and dark wood cabinetry inherited from the previous tenant, Portland Coffee House. A remodel that will add additional space for tables and a lighter color scheme is planned for next spring, and thereafter McGovern hopes to introduce more food options.
Speaking of this American espresso tradition, Portland is lucky to have more than a few places furthering it. Coffeehouse NW is among them.
Phone:

(503) 248-2133

Address: 1951 W Burnside St, Portland, OR 97209 Google Map
Hours: Mon-Fri 6:30a-7:00p Sat-Sun 7:30a-7:00p
Website: coffeehousenorthwest.com