The New York Times released a list of "The 50 places in America we're most excited about right now." Portland restaurants Coquine and Eem made the list.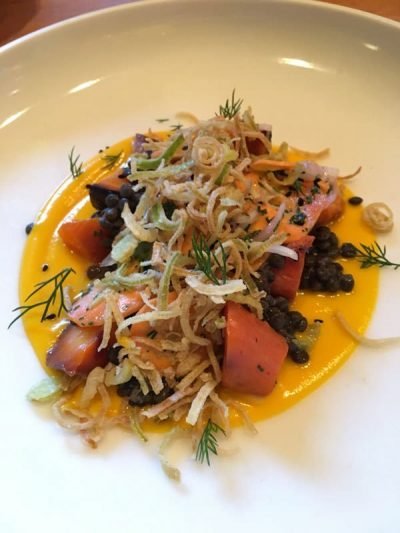 The Times article does not rank the restaurants, instead, saying "they reflect the rich mosaic of American dining… Some are classics, still great after decades. Others are in their prime, restaurants at their practiced peaks. And still others are newcomers…" I couldn't agree more with their Portland choices.
Of Couquine, The Times said,
Today Ms. Millard, who has cooked at the Michelin-starred Chèvre d'Or in Provence and Coi in San Francisco, still makes food that feels perfectly of itself: vigilantly seasonal and informed by French techniques, with an eclectic array of culinary accents. Coquine is often called a neighborhood restaurant, but all neighborhoods should be so lucky.
And of Earl Ninsom's Eem,
If it had never occurred to anyone to combine the heady flavors of Thai curry and the burned ends of Texas brisket (and their drippings), be very happy that it has now occurred to Earl Ninsom and Matt Vicedomini. The duo, who own Eem with the cocktail virtuoso Eric Nelson, were already renowned individually. Mr. Ninsom's restaurants Langbaan, Padee and Hat Yai have been central to Portland's robust Thai-food scene for years. And the prowess of the pit at Mr. Vicedomini's Matt's BBQ food truck has been lauded even in Texas. Their flavors together are a revelation.
Archipelago, Paju,  and Communion in Seattle also made the list. Congratulations to Eem and Coquine! You can read the entire list here.