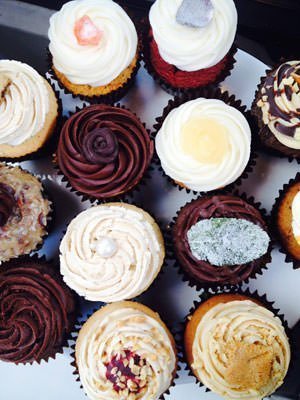 Cupcake Jones has now closed (2019)
It's not like me to be so Johnny-on-the-spot when it comes to the new stuff in town. For example, I got to Clyde Common for the first time just last week (and really liked it, by the way. And the fact that we scored an extra dessert due to a mistake by the kitchen didn't make me cry, either.)
But in an uncharacteristic surge of initiative and motivation, I made it over to Cupcake Jones last Wednesday, just a couple hours after their doors opened for the first time. I think the 100 degree heat affected me in the opposite way it does most people…it really lit a fire under my behind. Perhaps I should summer in Phoenix – then I'd really start to get some shit done in my life.
Cupcake Jones, by the way, was originally to be called "Babycakes", but made an eleventh-hour name switch in order to avoid confusion with a New York City bakery of the same name. Babycakes NYC specializes in gluten and sugar-free pastries, and when customers began stopping by the not-yet-opened store in Portland to let the owners know how happy they were to no longer be forced to order on-line, they decided to nip it in the bud. Hence: Cupcake Jones: "We Have What You Crave."
On my first visit, I tasted just one flavor (The Mimosa – see below for description), but in browsing the display case, I could see that Cupcake Jones had taken a decidedly different pass at the typical cupcake. Each full-size unit (as opposed to mini) is injected with a filling, in addition to being finished off with a variety of frosting's or toppings. A cross-section of each cupcake is displayed, in order to provide a proper visual representation of what you are about to cram into your cake hole.
Full-size cupcakes are $3.25. Minis (which contain no fillings) are $1.50.
There are five different flavors from which to choose. "Daily selections" from the July Menu include:
The Pearl: White velvet cake filled with vanilla pastry cream, topped with vanilla bean buttercream icing and a single handmade white chocolate pearl.
Downtown Cupcake Brown: Delicious devil's food cake filled with sour cream chocolate ganache, topped with rich fudge icing and hand-shaved chocolate.
Baker's Choice: Daily Surprise
Belmont Berry: White chocolate cake filled with marionberry infused pastry cream, topped with marionberry butter-cream.
Concordia Coconut and Lemon: Lemon yogurt cake filled with coconut pastry cream, topped with vanilla bean butter-cream icing and fresh toasted coconut.
Several daily-rotating flavors are also listed, including, but not limited to: the "What's Up Doc": a carrot cranberry cake with vanilla bean pastry cream and cream cheese icing; "The Monkey", a banana cake filled with banana-vanilla pastry cream, topped with peanut butter butter-cream; the "S'mores Please", which is adorned with homemade toasted marshmallows in lieu of icing; and the "Rose City", a strawberry velvet cake with rosewater-laced pastry cream, topped with a hand-candied rose petal.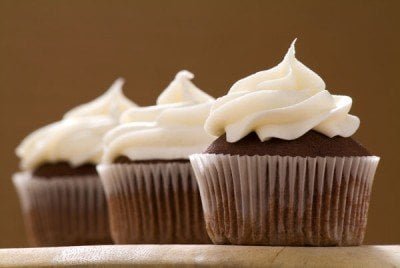 As I mentioned, I chose The Mimosa as my first sampling: Orange yogurt cake filled with orange champagne pastry cream, iced with champagne buttercream, and a strawberry "floating" on top. The icing was indeed made of butter, and quite stiff when chilled. When brought to room temperature, however, the butter was much more… buttery, but would have been improved with the addition of salt. More would make the icing taste buttery (i.e; better).
The cake was very moist and much denser and hearty (think spongy pudding cake) than most cupcakes that cross my path. For me, density in cake is a good thing. (When seeking light and airy, I'll eat a meringue or a 3 Musketeers Bar, thank you.) The flavor was subtle but good and being someone who typically doesn't go too far out of her way for a cupcake, I was eager to taste some of the other unusual and inspired offerings from their menu.
So I did.
In fact, I've visited CJ twice this week. Both times, the shop has put out various samples (sans frosting), so I was able to try the chocolate, which was crumbly and not as dense as I like, but probably what you would expect of a standard chocolate cupcake. I also sampled the banana cake featured in "The Monkey", as described above. This time, I bought a mini cupcake: the "Choco Mint", a chocolate mint cake topped with a mint chocolate fudge icing that I enjoyed much more than the bland butter-cream. My companion had the Belmont Berry, whose cake was fine and raspberry filling both pleasantly hued and flavored. Our enjoyment, however, ended where the butter-cream frosting began. Too much but not enough…
(Warning: lengthy rant on butter-cream frosting ahead.)
Which brings me back to the issue of butter-cream. Due to the proportion of cake to frosting, the success of a cupcake is largely dependent on its frosting – more, even, than in the case of a regular-sized cake. I've always thought I preferred butter-cream frosting (over cream cheese, for example), but as I think about it, many butter-cream-topped items that enter my mouth are promptly rejected into a nearby cup or napkin. It's just too much like… butter. Okay, no duh. It's Butter-cream. I get it. But apparently, I needed to educate myself. So, after doing only a cursory amount of research (Baking with Julia, Joy of Cooking, The Dessert Bible), I found that "true buttercream" is made by adding butter to a mixture of cooked sugar and eggs. The frosting that I love and have always called "butter-cream" is not, as it turns out, really buttercream. Nor is it held in high regard by professional and accomplished pastry chefs. Referred to in cookbooks as "quick icing", it involves blending copious amounts of powdered sugar with softened butter and milk/cream. In true butter-cream, the ratio of butter to sugar is 1 pound of butter to 1 cup of sugar. With quick butter-cream, the ratio is 1/8 cup butter to a cup of (powdered) sugar. In other words, if you like sugar with your butter, go for the classic. If you prefer a little butter on your sugar, quick icing is the one for you. For those who know my (ahem) fondness of sugar, my preference for this "mock" version of the classic frosting should come as no great surprise.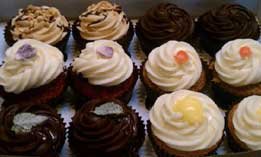 While it is true that Cupcake Jones is making a true butter-cream, all I can tell you is what tastes best in my mouth is the untrue butter-cream of a slightly different school of classic baking tomes. Perhaps someday I will grow up and develop frosting tastes that extend beyond that of my eight-year-old self. Until then, I'll stick with their fudge frosting and anything topped with ganache. Or whipped cream, homemade marshmallows or meringue.
On Tuesday of this week, I was able to do just this. My friend and I split the daily special: "What A Meringue", a lemon yogurt cake made with fresh lemon zest, filled with lemon-infused pastry cream. While the cake was pleasantly moist and I appreciated the (not nearly enough) meringue in lieu of the butter-cream, the whole affair seemed a missed opportunity for the powerful punch of lemon curd. Sadly, it was not so very lemony.
In the name of objectiveness and thoroughness, I dispatched the palates of both Food Dude and highly regarded pastry chef, Shuna of Eggbeater.com for their deep thoughts on Cupcake Jones. Food Dude, who tasted The Pearl as well as a blueberry variety, thought that the fillings seem gimmicky, their flavors unable to assert themselves in the shadow of the icing. He also pointed out that the tiny entry area of the shop prevented a warm and inviting welcome. Indeed, when joining only three other patrons in the shop today, we were virtually on top of one another. I understand that real estate is at a premium in The Pearl. But shoot, can't they cough up few feet of bakery space for an ample customer area? It is way too small.
Shuna was similarly underwhelmed, sighting a general coldness from the joint:
"Bakeries are supposed to be warm, cupcakes are supposed to recall porch sits and rose-colored childhood memories, not warehouses with speed racks and industrial ovens. it felt like a chain inside."
Unlike me, they both found the cake to be a bit dry.
Another note: For those with a severe Jones for buttercream or fudge frosting, they sell "icing shots" in small plastic ramekins – in the fashion of my (until now) secretly-adored Jell-O shots of Scooter McQuades fame. Nice touch, Mr. Jones.
(Paraphrased from the back of their menu)
We are a locally owned family business
We bake from scratch daily, never using shortening.
We make fresh marshmallows from scratch, as well as candy our own locally grown roses as well as lemon and orange peel.
We use pure bourbon Madagascar vanilla and Amarena cherries imported from Italy.
Cupcake Jones
Phone: 503 222-4404
Address: 307 NW 10th Avenue, Portland OR. 97209