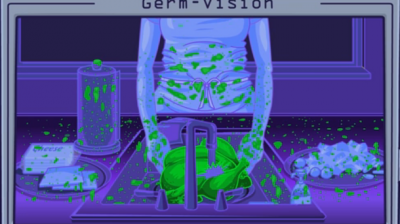 As a child, I can remember watching my mother carefully rinsing before frying poultry. It was standard procedure in those days – we were taught to always wash raw chicken before cooking it. However, the U.S. Department of Agriculture has campaigned against it for some time. Most food scientists agree – washing chicken spreads dangerous bacteria all over your kitchen.
"Wait", you say. How can washing chicken in the sink spread bacteria elsewhere? It's all about those little droplets of water that fly off your poultry on you or some other kitchen surface – your countertop, dish strainer, utensils, etc. when you rinse it. A droplet splash study indicates that droplets can travel up to 70 cm around the sink.
NPR's The Salt interviewed food safety researcher Jennifer Quinlan of Drexel University to answer a few questions:
What if I run the faucet water very slowly when rinsing my chicken, and I always disinfect my countertops and kitchen sink thoroughly with bleach afterward? I should be fine, no?

Food safety researchers haven't really defined a "safe water speed" for rinsing raw poultry. Any time you introduce water or a rinse, you are disturbing the bacteria on the raw poultry and making it likelier that those buggies will fly off your meat and onto some other kitchen surface — or onto you. "I can't make you not take the risk, " Quinlan says, "but you need to know what you are dealing with." If you rinse your chicken out of safety concerns, just stop, she says, because you are making it less safe. If you are doing it to enhance flavor, that's fine, but use proper precautions.

Conventionally raised chickens may come covered in dangerous bacteria, but I only buy organic chickens, so they've got to be safer, right?

There's no reason to think that organically raised chickens have less bacteria than those raised under conventional methods. And in fact, several studies have failed to find significant differences between the number of dangerous bacteria like salmonella and Campylobacter found on organically raised chickens and turkeys and those on conventionally raised birds.

The difference, of course, is that conventionally raised birds are treated with antibiotics. And studies have found that pathogens isolated from conventionally raised poultry are more likely to be antibiotic resistant than those isolated from organically raised birds.
Drexel University feels so strongly about it, they have produced eight videos and a photo novella on the subject.
What are you supposed to do to remove all that bacteria? Cook it to 165 degrees. Even after you wash it, there is so much bacteria left on your chicken, it never made much of a difference anyway.