latest update, 5.17.
I recently had the opportunity to eat at one of the more interesting pizza places in town. Dove Vivi opened last summer close to the corner of NE 28th and Glisan in that odd little mini-mall pocket opposite Plaid Pantry and kitty-corner to Pambiche, the Cuban restaurant. It's a nice addition to the tip of the NE 28th "restaurant row" scene.
Eschewing tradition, Dove Vivi uses a cornmeal crust that is thicker, crunchier and somehow tastes more "buttery" than other pizza styles I've had. I've been told by friends that the pizza remains crispy for much longer than traditional pies, even if you take it home, throw it in the fridge and subject it to the microwave the next day. This might not be everyone's ideal pizza selling point, but it speaks volumes about the nature of their crust, and how it differentiates them from other pizzas such as Neapolitan or Chicago deep-dish styles (even though Dove Vivi does use deep dish pans to bake theirs).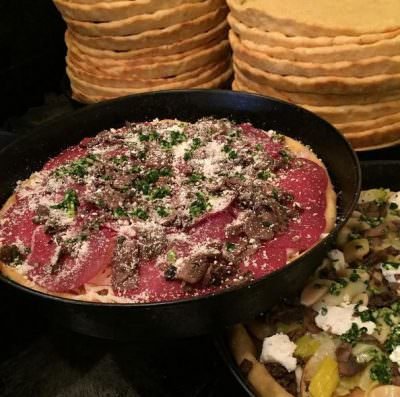 Pizza is the star of the show here, however, and the preparation is pure Portland style – top-notch ingredients and careful preparation. Although Dove Vivi's style of pizza might not be what many people expect pizza to look or taste like, what sets them apart, in addition to the non-traditional crust, are the extremely well-thought-out and sometimes surprising flavor combinations. Many local pizzerias use artisan sausage, local produce, and quality cheeses. But who else would offer a pizza featuring corn, balsamic marinated roasted red onions and chives; a sautéed kale, butternut squash and roasted walnuts; or roasted red peppers and baked fennel with mozzarella and fontina? And while there is reason to worry that this one, as well as their menu of over 21 plus different pies, is simply more California-style pizza carnage where anything left in the freezer gets thrown on top sooner or later, these flavor combos make for some tasty results that are well balanced and harmonious. They are also quite large and filling.
All can be ordered by the slice for $4.50, half a pizza that equals 3 generous slices $12.50, or a whole 12″ pizza for $24.75 no matter the toppings. Pizzas are available in-house or to-go, and if you want they will par-bake them and you can finish them off at home. In addition, since the pizza is made thick with a generous amount of toppings, the best way to eat them is with a knife and fork, Euro-style. In addition, and thankfully, unlike some other "artisan" pizzerias in town Dove Vivi is open during the day as well as evenings.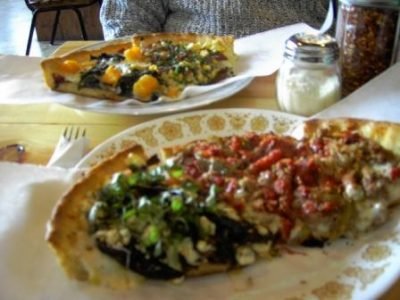 Of course, not everything works perfectly. For one thing, depending on how busy they are, it can take a while to get your slices, so keep that in mind if you're in a hurry. Also, slices are sometimes made from pizzas that are already prepared so that the staff can quickly finish them off in the oven. The upside to this is that you can get almost ANY pizza Dove Vivi offers by the slice. The downside is that sometimes you have to wait longer for them to make a pizza that isn't already pre-made, or alternately, the slices can sometimes taste like they have been sitting longer than they should. Of the five slices my table sampled, one was clearly too "tough." Was it because of their slice system or was this just a bad batch of dough? I don't know, but it just wasn't as tender as the others and the crust was hard as a rock making it difficult to bite into and eat. This was the one exception though – all the others were terrific.
The restaurant itself is basic, with simple wooden benches and chairs, open ductwork in the ceiling, and water served in chilled mason jars. The service is quite friendly and attentive and the whole operation seems clean and well organized. In addition to the pies, Dove Vivi also offers a small selection of fresh and generously sized salads, such as your standard mixed greens $5, a beet with walnuts, and blue cheese $5.75 – $8.50 and daily specials like a roasted carrot or other seasonal ingredients.
Overall, first impressions are very good here. At first flush Dove Vivi, which roughly translates from Italian to mean "where you live," is a welcome addition to the artisan food and pizza scene in Portland. I'll be back.
Phone: (503) 239 -4444
Address: 2727 NE Glisan. Portland, OR 97232  Map
Hours: daily 4:00PM to 10:00 PM
Website: DoveViviPizza.com