Following on the heels of my screenplay last night comes the amazing new dessert from Jack in the Box. Brace yourself, because this is a foodie's dream – a Bacon Shake!
Jack is a foodie himself, because his "better idea" has a hint of food fantasy behind it. Ice cream+Bacon=creamy deliciousness. What could go wrong? Unfortunately, we all know too well, that any dish is as good as its weakest ingredient. In this case, the weakness is the lack of almost any natural ingredient, including bacon.
Yes, you read that right. There is no bacon in the bacon shake. 
Let's take a look at this little guy's stats. FoodSmart.com dug up all the dirt, and led me to the Jack in the Box website: He's a muscular 24 ounces of power-packed calories – 1,081 to be exact. It's time to think about a lifestyle change, as he's a bulky 54 grams of fat, 37 grams of which are the saturated variety. This bad boy has plenty of energy, weighing in at 108 grams of pure sugar! [The USDA recommended daily sugar intake for children is 12 grams. A full-grown man: 36 grams.]
This is a bit concerning to any of us over 18 17 16, but let's pretend we are just happy tykes playing with our Matchbox cars1, and mom brings home a shake! What are we getting?
First, the "Ice Cream Shake Mix" – Cream, Sucrose, Corn Syrup, Sodium Caseinate, Cellulose Gum, Mono-and Di-glycerides, Disodium Phosphate, Carrageenan, Guar Gum, Sodium Citrate, Polysorbate 65, and Dextrose.
Next, the "Bacon Syrup" – Pure Cane Sugar, Water, Natural And Artificial Flavors, Salt, Sodium Benzoate and Potassium Sorbate
From Grist.org, "The "natural flavors" are probably chemical compounds derived from taking bacon apart and analyzing its components. Meaty!"
Whipped topping? Mostly partially hydrogenated palm kernel oil and sugar. Less than 1% of a long list of chemicals. [No, that's not a healthy oil]. I do have to give them some credit here; the topping contains less than 1% dairy.
We can't have a shake without a cherry. This one isn't 100% natural either: Cherries, Water, Corn Syrup, Sugar, Citric Acid, Natural and Artificial Flavors, Sodium Benzoate, Potassium Sorbate, FD&C Red #40, Sulfur Dioxide.
On the Jack in the Box site, they recommend the perfect meal – a BLT Cheeseburger, 20oz drink, and small fries. Just for fun, I substituted one of these wondrous shakes and added everything up:
2016 Calories, 951 from fat. 105 grams of fat. 53 grams saturated fat. 2728mg sodium. 113g sugar. 
Stay with me. If you've read this far, you are probably wondering how they can possibly market this thing. I went back to the site, and found myself thoroughly confused.
"Love Bacon? Marry It!"
Thank goodness they have a video to explain things:

Curiously this is followed by a "Make a Bacon Baby!" section on the web. I'm a fool, so clicked on the button, and uploaded my picture. Here's what my baby would look like: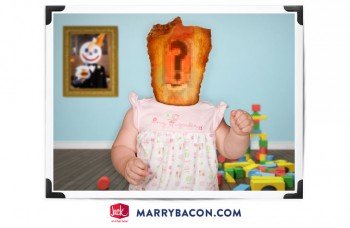 It's a girl!
INT. LIVING ROOM. NEXT NIGHT.

Two teenagers slouching once more on a sofa in a smoky living room staring at the television. Their eyes are glazed. An empty pizza meatball box is between them. They are passing a joint back and forth.


Teenager 1 looks left, greasy hair falling over his eyes.

TEENAGER 1

                              (In a stoner voice)

Dude, you know what would be really good now?

A Shake!

                              (passes blunt)

TEENAGER 2

Dude, that would be awesome!

You know what else?

Bacon!

<long inhale>

TEENAGER 1

                                (quickly sits up)

Dude! Get the car keys!
1. Anyone who reads this far will find a shiny penny within a week. When I was a kid in the 50's, we all collected tiny little toy cars that came in a tiny box – Matchbox cars. I loved them, especially the tractors