Chef Cathy Whims Opens Wine Bar Featuring Two-story Glass & Steel Cellar, Modern Italian Design
From the press release –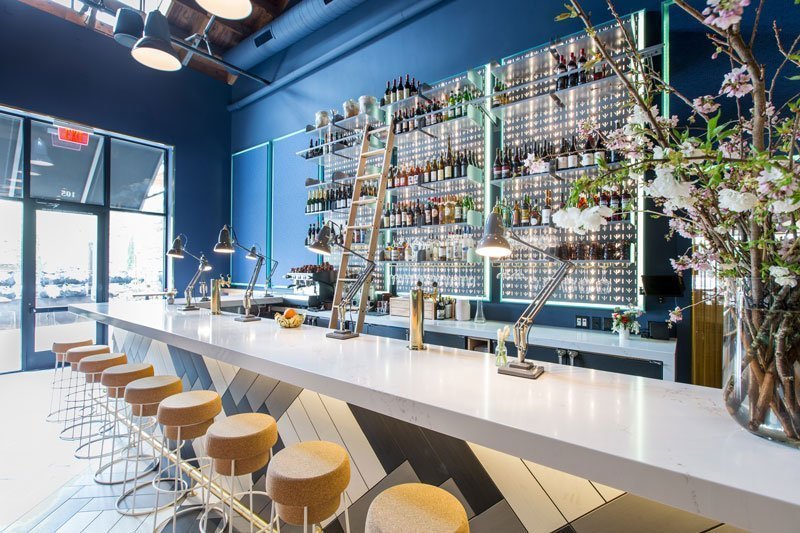 Portland, OR [April 16, 201] – Six-time James Beard Award-nominated chef Cathy Whims and partner David West open Enoteca Nostrana today, an innovative and design-forward new wine bar located directly next door to Nostrana, their beloved Italian restaurant in Portland, Oregon.
Since opening in 2005, Nostrana has been heralded as one of the city's best restaurants, continuously receiving accolades for its soulful regional Italian cuisine rooted in the Pacific Northwest, as well as for its world-class wine program.
"I've always dreamed of opening a wine bar to build off what we've created at Nostrana," says chef/owner Cathy Whims. "The innate connection between Italian wine and food is so powerful. We're also seeing a growing curiosity among our diners for interesting wines, so we knew now was the perfect time to expand with Enoteca. It gives us the chance to bring some amazing wines to the forefront and share them with our community."
The Wine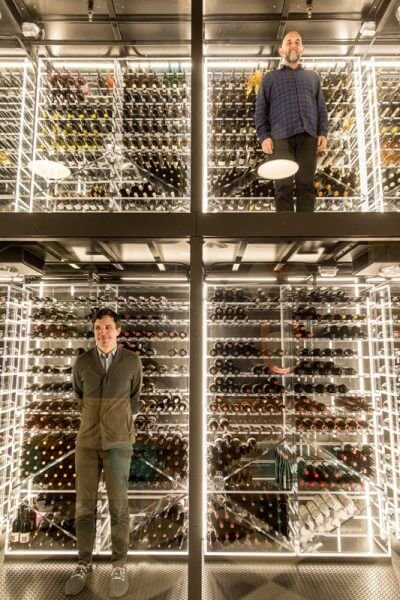 While Nostrana maintains its focus on regional Italian wines and Oregon favorites, the wine program at Enoteca has a wider European focus, representing winemakers from Italy, France, Germany, and Spain, supplemented by American selections and an underlying emphasis on natural winemaking and experimentation.
Austin Bridges, the new wine and spirits director at Nostrana, is the mastermind behind the impressive selection at Enoteca. For nearly a decade, Bridges was the wine director at DOC, also in Portland, where he developed a signature service style and loyal following of wine lovers.
The custom two-story, glass-fronted wine cellar, framed in lustrous steel, is even larger than the iconic towering back bar at Nostrana. The new cellar holds between 2,000 and 3,000 bottles at optimal temperature. Wines are priced to encourage guests to explore new things, celebrating everyday drinking with a wide array of wines available by the glass alongside the occasional splurge on older vintages or rare bottles.
Enoteca takes wine seriously, but the atmosphere strives to be light, fun, and accessible, ultimately encouraging a growing enthusiasm among all wine drinkers. "We aim to provide a platform where the wine community (winemakers, importers, distributors) can engage with customers in a fun and lively setting," says Bridges. "It's a place where we would like to drink."
The Design
Enoteca is bright and fresh, blending the best of European and Portland design aesthetics. Deep indigo sets the background atmosphere, layered with pops of color like surf blue and pale pink. A key inspiration for Enoteca's design was the work of the Memphis Group, founded by Ettore Sottsass, a Milan-based design group that produced postmodern furniture and art pieces in the 1980's. Bold geometry, an intense color palette, and heavy use of patterns inform Enoteca's design language, with no detail overlooked.
The 15-seat quartz bar is lined with Champagne cork-inspired bar stools designed by renowned Italian design studio OrlandiniRadice. Light fixtures are sourced from the UK-based Anglepoise, whose iconic 1227 lamp is featured throughout the space in many sizes. Less visible, but certain to be appreciated, Enoteca's wall coverings are high-tech sound-absorbing materials, allowing Enoteca to be buzzy without being deafening.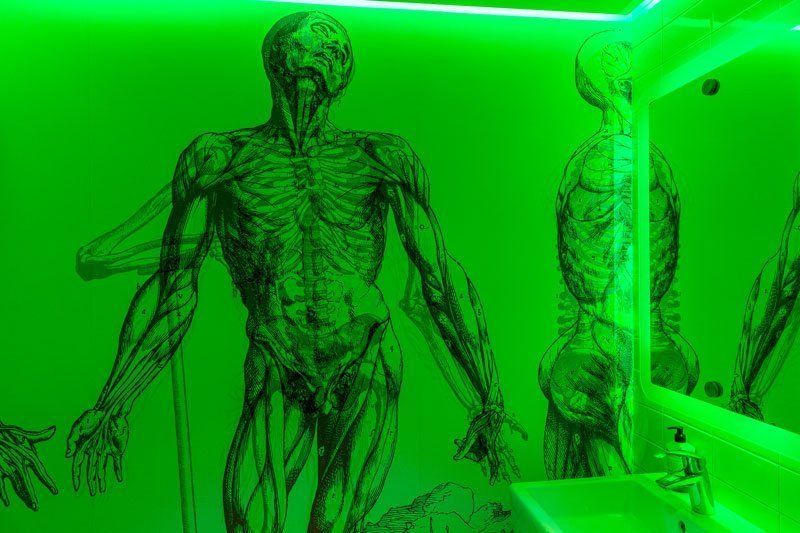 The bathrooms are art installations in their own right, designed to surprise and delight customers in the most unexpected place. Adorned in interactive murals produced by the Milan-based design duo of Francesco Rugi and Silvia Quintanilla (known as Carnovsky), the walls are washed in alternating red, green, and blue lights, each light revealing a different scene. Custom tilework is another key feature of Enoteca's design; Portland-based architect Rick Potestio created an intricate tile pattern that runs from the floor all the way up the faces of the bar and stairs.
The glowing heart of Enoteca is the wine cellar, designed and produced by local craftsmen. A striking two-story, glass-and-steel structure, the cellar will house both Nostrana and Enoteca's entire inventory at temperature, with room for up to 3,000 bottles.
In addition to the bar, Enoteca offers two private dining rooms. Enoteca Basso, on the main floor, seats 25 (30 standing) and peers into the dazzling wine cellar, while Enoteca Alto, on the mezzanine, seats 35 guests (40 standing) and has a large screen TV, ideal for World Cup parties and other social or corporate events. The private dining rooms, managed by events coordinator Natalia Toral, make Enoteca the ideal place for collaborations with Whims' favorite chefs, winemakers, brewers, and producers from Portland and beyond.
The Food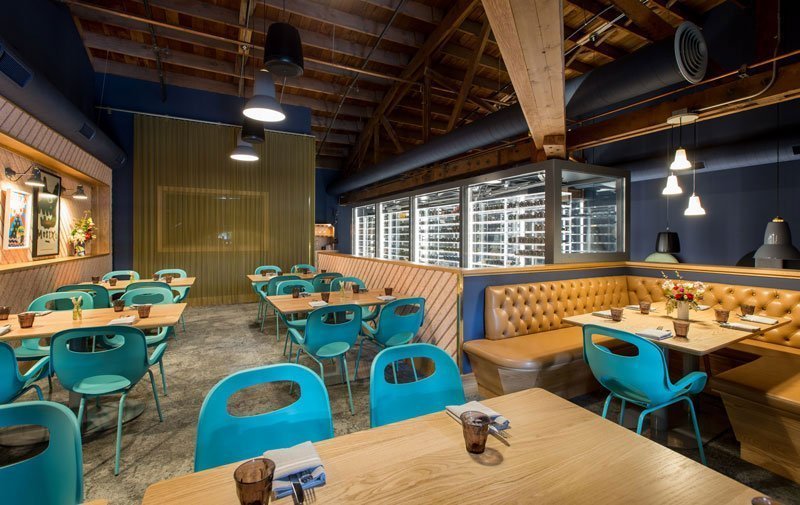 Enoteca's menu is in line with Cathy Whims' signature style of deeply satisfying regional Italian fare, and as always, her dishes connect wine, people, and a sense of place. The core of the menu celebrates the simplicity of Italian staples, such as a humble bowl of Pasta al Pomodoro. Made with the best San Marzano tomatoes and the best dried pasta imported from Italy, Enoteca's version is served alongside a complement of garnishes from which diners can choose and customize their pasta, such Sicilian olive oil, Pantellerian capers, anchovies from Cetara, and fresh basil.
This "dress your own" dish was inspired by a recent trip to Mount Vesuvius, where San Marzano tomato farmers made Whims the most perfect bowl in an outdoor farmhouse kitchen. "It was the essence of Italy," she says. "Some tomatoes were whole, some crushed, the pasta toothsome. It was a complete revelation and something I'm thrilled to bring to the menu at Enoteca," she adds.
Whims welcomes chef Devon Chase back to the Nostrana family to oversee the Enoteca kitchen. Having worked previously at Hamlet (as chef), Oven and Shaker (as chef de cuisine), and Nostrana (as sous-chef), Chase is well versed in the vocabulary of Whims' cuisine. Additional menu items include Cathy's Other Caesar (romaine hearts, fresh croutons, anchovies, parmigiano, lemon), Burrata Nostrana (focaccia, saba, arugula), and Warm Smoked Oyster Dip (smoked oysters, raschera and pecorino sardo cheeses, Calabrian chili and ciabatta).
Choose Your Own Antipasti Adventure allows guests to choose a from a selection of composed plates or the indiviual item including Antipasti Ortolano (beet agrodolce, sprouting broccoli, burnt orange, pecorino, and tiny butter potatoes with rosemary and lemon); Formaggi  (pink peppercorn and poppy seed frico, crescenza bruschetta, fresh ricotta, fennel pollen, crackers, wildflower honey, and nuts), and Antipasti di Mare (Oregon salt cod brandade bruschetta, olive oil-poached scallops, tuna tataki, mustard seed crème fraîche, aci sivri chili oil, and chives).
Enoteca Nostrana is located next door to Nostrana at 1401 SE Morrison Street, Portland, OR 97214. Hours of operation: 4:00 pm – midnight, seven days a week. Phone: (503) 234-2427. Website: enotecanostrana.com. Instagram: @enotecanostrana