Several sad stories today: Camas Davis out at the declining Portland Monthly, rumors that Gourmet Magazine will fold, and more!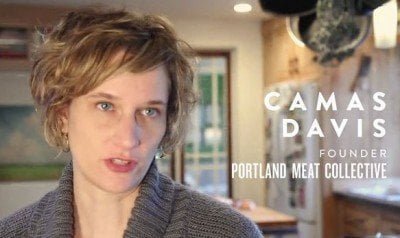 Under the title of Checkbook Journalism: Sad to see a magazine that had slowly risen from the depths of mediocrity plummet back the other direction. I learned yesterday that Camas Davis (along with seven other employees) has been laid off from Portland Monthly Magazine. As you may know, there was a change in the editor a few months ago. Some editors are an insecure lot.  When they come to a new publication, they want to stake their turf and get rid of anyone they feel threatens them. It's the small penis syndrome, but er… in a woman. She's peeing in all the corners
This is not only a serious blow to the city but the sound of a magazine in the throes of mediocrity. They will slide back into the ooze they came from, and we'll finally be freed from mind-numbing banter and the Top 100 Proctologist lists. Trust me, you don't want to renew your subscription.
I've never met Camas, but I've been told by an amazing number of people that she's not only a brilliant editor and writer but a terrific person as well. I consider her the best food writer in Portland. Let's hope she finds something in town, but I have my doubts the way local food press is heading.
Last summer I was starting to reconsider whether Portland really needs this site. Since then the food coverage has gone to hell. Guess I'm going to stay around.
---
Is Gourmet magazine going to fold?
Rumors of Gourmet magazine ceasing to have a print edition are rampant. From 24/7, a Wall Street Analyst:
"Gourmet Magazine will probably not see the end of the year. Its parent company, Conde Nast, can no longer rely on the huge profits of the newspaper portion of the Newhouse family business. The magazine operation needs to go on a diet.  Conde Nast reaches the "food" market several ways. It owns Gourmet, Bon Appetite, and epicurious.com.  Conde Nast simply owns too many titles in this category.  From 2004 to 2008, Gourmet's ad pages have dropped from 1,364 to 955, with a 24% drop last year.  January's ad pages were down another 32% according to MIN. Gourmet can survive since it has a competitive audience of web visitors to its food site, but it will have to migrate totally to its website."
---
Still struggling, Gracie's in the Hotel deLuxe has hired yet another chef
This one is Mark Hosack. previously worked at Hudson's, Red Star Tavern, Pazzo, and most recently, Lucier, where he served as Sous Chef.
---
Speaking of new chefs and struggling restaurants, Saucebox also has a new chef: Gregory Gourdet.
Shockingly, I wasn't invited to the media preview. He's been around a bit: Jack's in LaJolla, Mercat in New York, and as chef de Cuisine for Jean-Georges at his Chinese/Modern Asian Restaurant, 66 in New York. I'll eventually go back for an updated review, but not before the myriad of rumors about Saucebox's imminent demise calm down.
---
Could Morgan Brownlow be looking for a job?
From Craiglist:
"Lauded Chef for Hire: Opening chef and founder of clarklewis."

"He would love to come cook for you in any event situation. Public or Private. Please contact to personalize you [sic] event now !"
He should get a bulk discount for ads.
---
SFGate.com has an interesting article about a restaurateur who is so angry about negative online reviews, he's decided to do something about it.
Restaurateur Chris Hemmeter, founder and CEO of the E&O Trading Co., has another approach to the ranks of self-appointed restaurant critics: Follow everything that's written every day. To do this, he has enlisted the help of a Mountain View company called BooRah, which today will launch a new "reputation management" service for restaurant owners. The 2-year-old firm, which started as a restaurant search site, is expanding to create summaries of everything that's being written about a particular dining establishment. It uses technology developed in-house to analyze the sentiments in online reviews and then generate scores, rankings and summaries.

The reports, which will be available to restaurateurs for $14.95, will detail top review sources, overall ratings and top sentiments among reviewers, and track trends over six months. It also summarizes percentage ratings for food, service and ambiance. The site (boorah.com) has a database of some 600,000 restaurants across the country, and has identified more than 2.5 million reviews.
I'd never heard of BooRah, but they have a big Portland presence. People have way too much time on their hands.
---
A recent study in the Journal of Wine Economics found that wine judges tend to be less than consistent when judging wines.
From the Los Angeles Times,
In a study published Wednesday by the Journal of Wine Economics, Hodgson wrote that only 10% of the judges were able to consistently give the same rating, or something very close, to the identical wine sampled multiple times in a large blind tasting.

At the opposite end, another 10% of the judges gave the same wine far different ratings, ranging from worthy of a gold medal to deserving of no medal at all on successive tastings. The remaining 80% of the judges also varied in their ratings, but by a narrower range.
Hmm…