[Note from FD. Michael seems to be in a pithy mood this week. These opinions are his and do not necessarily reflect those of PFD]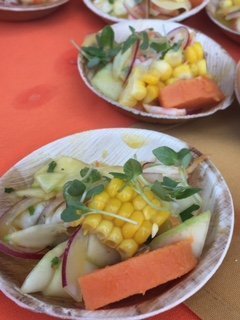 Friday was a work day for me. I was feeling the effects of not enough sleep all week, but still managed to get my Feast on over the lunch hour and after work. Some further observations:
The Grand Tasting at Pioneer Square is a fixture and a short walk from work. It lets Feast host all its many food industry sponsors who, in turn, get to promote themselves…and hand out samples. What I've noticed the last couple years is that this event is just a great boozer. Beer, wine and cider—three of the major food groups—are all abundant. Remember this for next year if you can only afford one event. Best covert day drinking opportunity around.
Geoff Latham. Is the guy a mensch or what? Of course, he's a great promoter for his company, Nicky USA, but he obviously loves to eat and seems to be a sponsor of everything. I'll never forget when, at my last minute request, he came up with two whole pig heads on short notice. So, bless you, Geoff…even though you also support the pathetic Oregon State Beavers and never invite me to your pre-Feast fancy dinner.

Tommy Habetz – Bun: Green Chile Cheeseburger

Night Market was last night. Love this event. Tent after tent of—wait for it—food samples, plus the opportunity to meet out of town (and local) chefs. The Latin music at the outset was outstanding. Not quite the Wall of Sound from the early Grateful Dead era, but volume still managed to rattle the ground and make bodies move.

Ran into Jannie Huang at Night Market. Wife and co-mom to Carrie Welch, Feast founder with Mike Thelin. I think Jannie might have been mad at me about yesterday's column. She scowled, which made me cry. That's OK. The tears dried quickly in the delightful early evening sunshine.
Good to see Eli Cairo there for Olympic Provisions (eat me, USOC!) showing off his wiener.

New Season's

Michael Solomonov was also at Night Market slinging donut holes for Federal Donuts. His main shop, Zahav, in Philly is possibly the best Middle Eastern restaurant anywhere. Solomonov's story is inspirational…and he's just a helluva nice guy. He helicoptered in for about 24 hours before heading out to promote a new book.

Clarifications from yesterday: found an expert on edibles who said the amount of THC in the weed salt I was given yesterday was only enough "for a mellow body buzz." Thanks. Also, I take back part of what I said about the TV personality from yesterday. First, she's not "second-tier" but rather a news "anchor" (interpretation: able to read a teleprompter without stumbling too often). Second, where I said "annoyed reptile," I really should have said "molting iguana."
Too tired to hit after party last night. Got home from Night Market. Hung with the dog. Watched bad football game. Getting old. Slept nine hours last night. Feel good. Going to get "Smoked" tonight.