BON APPÉTIT Presents Feast Portland 2019 is Bigger and Better Than Ever With Fresh Looks, New Events, and Introducing "The Big Feast"
Festival Leader Feast Portland is Back September 12-15 with Returning Favorite Events and Exciting Changes; Tickets On Sale June 7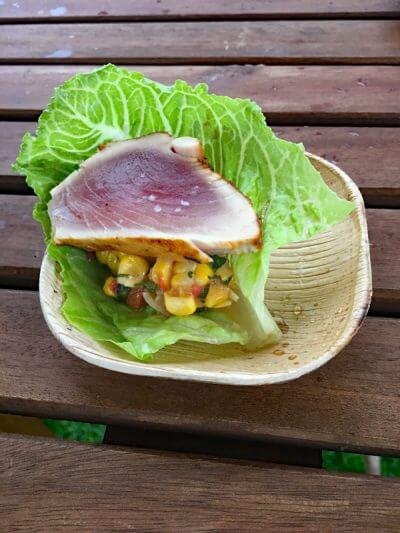 FOR IMMEDIATE RELEASE – In its eighth year, Bon Appétit Presents Feast Portland is bigger and better than ever, including a total reimagining of its daytime Grand Tasting event, now "The Big Feast" at Tom McCall Waterfront Park.
With its expansive one-of-a-kind large-scale events, collaborative dinners, intimate classes, thought-provoking panels, and more, Feast Portland 2019 will host 50 events over the four-day festival in Portland, Oregon, Sept. 12-15, 2019.
Feast Portland 2019 tickets will go on sale tomorrow, Friday, June 7 at 9 a.m. PST at feastportland.com.
This year's festival brings back fan-favorite events with fresh looks and locations, as well as exciting new concepts and collaborations. As a leader in the festival and culinary community, Team Feast is also adding more balance to the event, with wellness-minded programming for attendees, including Feast's first-ever family-friendly event, the return of Zero Proof and more non-alcoholic event options throughout the weekend, and all-new, industry-only "Before Parties" with chef-guided trail runs, yoga and meditation classes.
"From The Big Feast, which will be everything you loved about the Grand Tasting and a whole lot more, to our first family-friendly event, and a focus on wellness and balance, this truly is our biggest year yet," said Feast Co-Founders Carrie Welch and Mike Thelin. "It is important to us to lead as a festival and reflect even more of what we're all learning together by listening closely to what our communities are telling us."
"Team Feast knows how to capture Portland's passion for food," said Adam Rapoport, editor in chief of Bon Appétit. "From intimate dinners and immersive classes hosted by some of the country's best chefs, there truly is something for every food lover."
FEAST PORTLAND 2019 EVENT HIGHLIGHTS:
East Coast vs. West Coast – RoseQuarter Commons, Thursday, Sept. 12
It's a bi-coastal Battle Royale when two teams of renowned chefs represent their home turf and the classic flavors that define them at Feast Portland's main event kick off. Forget the regional food stereotypes – East Coast vs. West Coast will focus on dishes that tell a story as rich as what's being served, featuring iconic and city-defining restaurants from Portland, New Orleans, Boston and more.
Night Market – Zidell Yards, Friday Sept. 13
Night Market is a celebration of global street food made possible by 20 trend-defining chefs from L.A. to Bangkok, plus winemakers, cocktailers, brewers and more. Night Market 2019 will highlight the cuisine of South and Southeast Asia.
The Big Feast Presented By New Seasons Market – Tom McCall Waterfront Park, Saturday, Sept. 14 and Sunday, Sept. 15
Feast's classic daytime walkaround Grand Tasting event has been reimagined with a new name, new location, and new dates. With its new location at Tom McCall Waterfront Park, The Big Feast will triple in size from previous years at Pioneer Courthouse Square, though tickets sold will only grow by only by 20-25% creating a guest experience similar to Feast's evening events with more space to wander, chill and interact with the stellar local and visiting artisans, winemakers, distillers, brewers, cidermakers, tastemakers, and others that make Feast so special.
 Smoked – The Fields, Saturday, Sept. 14
The line-up says "amazing food experience" but the vibe will feel more like the summer camp of your youth. Smoked is a showcase of live-fire cooking by 20 of the country's most heralded chefs. Expect unexpected food, top-shelf drinks and outstanding wines from Oregon and beyond, plus all of those Wet Hot American Summervibes.
Brunch Village – The Redd on Salmon Street, Sunday, Sept. 15
This year, the event dedicated to Portland's favorite meal breaks out of its eggshell. Brunch Village goes international, representing the food traditions of Japan, Australia, Lebanon, the Philippines and more as we raise our Bloody Mary glasses and salute breakfast around the world and moving to an eye-opening new venue – inside the main hall and outside on the plaza of The Redd on Salmon Street.
The 2019 lineup of Feast's popular mid-size walkaround tasting events will include returning favorites and all new themes:
The Late, Late Show: Noodles with Andy Ricker, David Thompson, Ivan Orkin, Kyo Koo, and Tony Thien
Franklin Barbecue & Friends with Aaron Franklin, Chris Shepherd, Matt Vicedomini, Earl Ninsom, Eric Nelson, and Rodney Muirhead
Vegetables: A Love Story, Continued with Michael Solomonov, Reem Kassis, Joshua McFadden, Sam Smith, Justin Woodward, Karl Holl, Sara Hauman, and Kasey Mills
Vaguely Spanish with Nick Perkins, José Chesa, John Gorham, Javier Canteras, Scott Ketterman, Althea Grey Potter, Maylin Chavez, and David Briggs
Melty Fest Presented By Tillamook –Feast's first ever family-friendly event! Featuring Peter Cho, Gabriel Rucker, Tommy Habetz, John Gorham, Maya Lovelace, Howard and Anita Hsu, Joe and Katy Kindred, Michael Scelfo, Jace Krause, Matt Carr, Justin Sutherland, and Kasey Mills
These intimate, once-in-a-lifetime collaborative dinners are curated by Team Feast in conjunction with the chefs themselves, often inspired by a specific cuisine, social movement or personal story. The 2019 Dinner Series line-up includes:
Bon Appétit Hot 10 Dinner with Nick Perkins, Angela Pinkerton, Tom Cunanan, and Nite Yun
More Zero Proofwith Gabriel Rucker, Gregory Gourdet, Michael Solomonov, Matt Jennings, Callie Speer, Eric Nelson, Patrick McKee, Eric Joppie, and Gina Helvie
Gregory Gourdet + Edouardo Jordan + Dolester Miles + Kwame Onwuachi
Troy MacLarty + Sarah Minnick + David Tanis
Doug Adams + Fermín Núñez + Karl Holl
Andy Ricker + David Thompson
Elias Cairo + Jeremy Charles + Brad Leone + Chris Cosentino
Vitaly Paley + Maksut Aşkar
Cathy Whims + Melissa Perello
The Joy of Cooking With Naomi Pomeroy and Michael Scelfo
Feast's trend-spotting Drink Tank Presented by Imbibe panels, taking place this year next to The Big Feast at Waterfront Park, provides guests with a lineup of high profile local and national beverage industry experts to guide them through an intimate tasting and discussion of top trends in beverages. Feast's 2019 Drink Tank topics will include: cannabis & cocktails, brut IPAs, alternative sparkling wines, and the new tropical cocktails.
These immersive classes take learning to a delicious next level. The lineup of classes includes: Thai Food with David Thompson, Market Cooking with David Tanis; an historical Portland food tour by bike with History Bites; New World, Old Wines: A Washington Wine Library Tasting; Ice Cream Dreams with Salt & Straw's Tyler Malek; Chocolate on Chocolate with Cloudforest; Shake, Shoot, Sip: Take The Best Cocktail Photo With Westward Whiskey; and Clear-Headed: Zero Proof Cocktails.
WHY WE FEAST
Feast Portland continues to be a festival with a mission, having donated over $400,000 to hunger relief charities since its inception in 2012. In 2019, Feast continues its long-time collaboration with Partners for a Hunger-Free Oregon, a statewide nonprofit organization that raises awareness about the problem of hunger and solutions, advocates for more programs and policies to end hunger, and connects communities to food resources. Feast 2019 will also benefit Oregon-based charitable partner, Urban Gleaners, which collects and redistributes over 70,000 pounds of food every month, feeding more than 5,000 people every week through school pantries, summer free farmers markets, and Mobile Markets at low-income housing communities.
"It's always inspiring to see so many people come together to create and enjoy delicious food, while also celebrating victories to wipe out hunger," said Annie Kirschner, Executive Director of Partners for a Hunger-Free Oregon. "Being a partner of Feast Portland elevates the work and has helped us make huge gains this year, like passing a historic "hunger-free schools" law. The awareness and donations mean we can keep chasing after a day when all of us in this state can afford the food we need."
"We are grateful to partner with Feast Portland in furthering our mission of keeping Portland well fed," said Tracy Oseran, Founder and Executive Director of Urban Gleaners. "The Feast team goes to great lengths to bring awareness and action to a problem that impacts us all. Because no one should have to worry about where their next meal is coming from, especially children."
MORE INFORMATION
Visitors and media guests are encouraged to expand their festival experience by visiting tastemakers' favorite mouthwatering spots in every corner of Oregon. Travel Oregon's "Trails to Feast" inspirational itineraries give a firsthand look into Oregon's bounty – meeting the farmers, fishermen, winemakers, foragers and food artisans who contributed the ingredients behind Feast. For more information or to plan your tasty adventure, go to traveloregon.com.
Members of the media who would like to cover Feast Portland are encouraged to apply for a 2019 Feast Portland Media Credential here, the deadline to apply is Monday, July 15. All applicants will be notified by the end of July regarding their credential status.
To learn about becoming a festival sponsor, please email sponsorships@feastportland.com.
 ABOUT FEAST PORTLAND
Bon Appétit Presents Feast Portland is more than a food and drink festival. It's a movement that celebrates the diverse food and beverage community in Portland, Oregon and around the world. The festival is grounded in a sense of place, telling the story of the chefs, winemakers, brewers, farmers, artisans and makers in Oregon and how they connect with and inspire the rest of the world. Feast represents Oregon the incubator: a place where chefs, restaurateurs and entrepreneurs redefine what it means to be a leader in the 21st Century; a think tank where conversations about mindfulness, balance and leadership in food and beverage intersect; and a platform to showcase the most inspiring ideas and personalities from our city, our region, our country and worldwide. Through expansive one-of-a-kind large-scale events, intimate hands-on classes and collaborative dinners and thought-provoking panels, Feast has welcomed guests from around the globe and donated more than $450,000 to hunger relief charities helping to fight hunger in Oregon.
ABOUT BON APPÉTIT
Bon Appétit is where food and culture meet. The award-winning No. 1 food lifestyle brand covers food through the lens of cooking, fashion, travel, technology, design, and home. As the leading arbiter of taste, its home-grown talent and tireless dedication to recipe testing separate it from the competition by miles. Bon Appétit has been named to Advertising Age's A-List for eight consecutive years, including Magazine of the Year 2013 and 2017, Brand of the Year 2015, and Digital and Video recognition in 2019, and has been named to Adweek's Hot List every year since 2012, including Hottest Food Magazine in 2013, 2017 and 2018. Bon Appétit has also been nominated for 32 National Magazine Awards in the past six years, including wins in 2014 for General Excellence and Photography, in 2017 for General Excellence, and in 2019 for Social Media. For more, visit www.bonappetit.com.
ABOUT PARTNERS FOR A HUNGER-FREE OREGON
Partners for a Hunger-Free Oregon believes that all Oregonians have the right to be free from hunger. Hunger-Free Oregon raises awareness about hunger, connects people to nutrition programs and advocates for systemic changes to end hunger in Oregon. Feast Portland has made it possible for PHFO to connect tens of thousands of children to nutritious meals in their in communities across Oregon. When 1 in 5 kids are food insecure and communities of color face hunger at even higher rates, we must all work together for bold change. By addressing its root cause, poverty, and increasing access to programs like school and summer meals for kids, we can help end hunger in Oregon. Raise awareness of hunger and PHFO's mission during Feast Portland by using #WhyWeFeast or visiting oregonhunger.org.
ABOUT URBAN GLEANERS
Urban Gleaners collects delicious, fresh food before it can go to waste and gets it to kids and families living with food insecurity. They pick-up from a growing roster of donors including: restaurants, grocery stores, corporate campuses, event sites, colleges and universities, farms, and food wholesalers. Then they distribute the food to over 60 sites in the Portland Metro area, at schools, Mobile Markets, parks and apartment complexes, and through a variety of community service organizations, where families can shop for food to take home for free.